CDs/LPs - DEMOS - OLD STUFFS - FANZINES - GIGS
--------------------------------------------------------------------------
CDs/LPs/Eps reviews:
# / A / B / C / D / E / F / G / H / I / J / K / L / M
N / O / P / Q / R / S / T / U / V / W / XYZ / Compilations

JACK SLATER (GER) Playcorpse CD'01 SELFRELEASED
The first thing I've noticed here is the very professional sound for an autoproduction! They would remind me a lot of VADER and also some CANNIBAL CORPSE at the time of "Vile" and "Gallery of Suicide" could be named, by moments they've got some more complex stuffs in the vein of DEVILYN. But well, while it remains on a more than decent brutal level, nothing really turned me on... On more time the black mark of averageness has taken it place! We're fucking damned! Unfortunately no killer riff or really outstanding stuffs occurred here... It's the kind of CD that can be cool for the big Brutal death fan, but more is needed to Crush the weak and explode the falacious anal conceptions of a moronic pregnant! Elements of MORBID ANGEL/ ANGEL CORPSE could be found in some complex sounding two guitars harmonies riffs. They've got somekind of a small funny touch in the vein of SANITYS DAWN's "Mangled in the meat grinder" CD.
Sometimes the tracks are a bit disorganized (maybe I should start drinking vodka before reviewing?). The cover isn't good. It's brutal sounding and well produced, but in my ears the final kick is fucking lacking! Express your inner warguts and it'll be good!! More war from the inner guts of hell is needed to offer some ultimate music that crushed everythings and doesn't cease to exist once the band has split! When will the malediction of Averageness cease to curse the Underground?
http://www.jack-slater.de
JACK SLATER (Ger) Metzgore CD'04 CUDGEL.
Here's the second album of this German band that seems to have a decent following in Germany... and I don't understand why since JACK SLATER still don't do much for me. What you can hear is brutal death grind with lots of riffs and a good technical level... but apart from the technical and professional points of view there's nothing special here at all! Sounds like old ABORTED meets CANNIBAL CORPSE, some DYING FETUS, SINISTER, and some SINISTER for example... Nothing really original, nothing to kick the ass of a metal head who is in the brutal side of metal for a bunch of years. Some guys will find JACK SLATER cool, some will enjoy this album, but in my opinion it lacks of soul, guts and genius! I expect KILLER riffs from a band who released a second album on a quite big underground label!
http://www.jack-slater.de
JUDASWIEGE (Spa)/ MORIBUNDO (Spa)/ SÖNAMBULA (Spa)/ BARBARIAN SWORDS (Spa) Split CD. 2019. NEGRE PLANY Recs.
My challenge today will be to review this split CD composed of tracks from four Spanish bands. I initially thought I was kinda "cursed" and all the groups featured practiced raw black metal, or something in a very close genre, but the 4 have different styles, remaining globally into a "dark underground" world.
First crucifixion: JUDASWIEGE plays something fast and raw. This is clearly black metal, with strong 90's influences. In my hears it doesn't sound unlike IMMORTAL (Mostly "Pure holocaust", and a bit of "Blizzard beast" for few DM touches). There are lots of blast beats, fast parts, with few slowdowns. It's what we usually called "raw black metal" around 15 years ago. Decent stuff.
Second crucifixion: MORIBUNDO practices a style that sounds more elaborated and closer to the doomy. I would say it tastes like a mixture of doom, doom death and blackened death, with an atmospheric approach. I thought about EMPEROR ("IX Equilibrium" for some atmospheres, riffs and the more elaborated side), while NOVEMBER'S DOOM or ooold MY DYING BRIDE could fit for the doom, and some heavier DM riffs aren't unlike VITAL REMAINS ("Forever underground" which wasn't their most brutal album). This sounds professional. While some atmospheres/ keyboards parts are nice, I feel there are a bit too much of keys stuffing the audio spectrum... But I enjoy quite simple things nowadays, so...
Third cruciflagulation: SÖNAMBULA plays a style that also sounds different. It's sometimes more thrashing, sometimes more "death doom", and even punk influenced under some angles... I reminds me of early CELTIC FROST, but also CIANIDE, early SIX FEET UNDER, with a bit of SORROW (The 90's death doom band), and touches of ASPHYX for some doom. It's quite simple stuff, easy to listen to if you're in a "no brain shake" mood, but I already tasted more juicy recordings in the style (And I'm not always a fan of the drumming, perhaps it's a bit too convenient).
Fourth crucifixaculation: I already heard another release of BARBARIAN SWORDS where they played raw black metal full of blast beats... But here the style is different: It's "very" slow doom/ black, with scorched screams. It gives an impression of someone who blows a fuse in emptiness, or in a cold empty room. (Oh, there's a blast beat at the end of the last song).

This is quite minimalistic and raw stuff, not to the point of raw chaotic black doom (A la Abruptum), but remains a bit in the same spirit.
Judaswiege: https://judaswiege.bandcamp.com
Moribundo: https://moribundo.bandcamp.com
Sönambula: https://sonambula.bandcamp.com
Barbarian swords: https://barbarianswords.bandcamp.com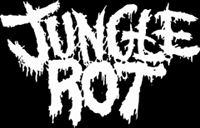 JUNGLE ROT (Usa) Dead and buried CD'01 SEASONS OF MIST.
The previous CD of JUNGLE ROT, entitled "Slaughter of the weak" was quite cool, old school death with nice heaviness and grooves.
But this new one doesn't turn me on for a pence, it's slower, heavier, the grooves are less present and the death metal beats doesn't beat at all. They have lost the fresh and catchy parts of their first CD. They even sound like SIX FEET UNDER by moments!
This might be an Ok/ quite cool one for those who like their Death metal slow, slow, groovy (a very little) and heavy. Pro heavy sound.
But JUNGLE ROT should urge them to be more energized and intense as the boomerang they brutally sent to slaughter the weak will probably come back right in their face!

JUVENES (Pol) When heroes will rise CD'02 NO COLOURS.
Presented as an answer to BATHORY's "Blood fire death", JUVENES is in fact very much influenced by the cult Swedish Black metal band, but I wouldn't call them an "answer"!
In fact, this band is very much influenced by old BATHORY for an old ripping like thrashing side and for some harsh sounding vocals.
Some leads are also in the old Quorthon's vein, a riff reminded me of INCUBUS's debut CD.
They also achieved to find a drums sound that was similar to some bonus tracks on the JUBILEUM Volume 1 and Volume 2 comp CDs.
Some tracks are heavier, a bit atmospheric (with synths), and more influenced by "Hammerheart". But these tracks sound a bit hesitating to me.
This album influenced by all BATHORY's epochs didn't offer something I found memorable, but it may be cool for those who have used (to the point of unearability) their old BATHORY's vynils and can't find anything to satisfy their old need for blackened aggression.
http://www.no-colours-records.de/
>> NEXT PAGE