----------------------------------------------------------------
INDEX INTERVIEWS GUESTBOOK
----------------------------------------------------------------




BRUTAL DEATH FROM BRAZIL!
1. Hello! Are everything rotting in there? To begin the slaughtery dissection with, give us a biography of VOMEPOTRO and introduce your band to the hungry and angry readers!
HAIL G.!!! LET'S GO...VOMEPOTRO WAS FORMED IN 1996, OUR PURPOSE IS TO PLAY BRUTAL DEATH METAL WITH SICKLY LYRICS AND TO CRUSH THE MIND FROM ALL CRAZY METAL FANS LIKE US! THE BAND RECORDED TWO REHEARSAL DEMOS, OUR NEW DEMO CD IS CALLED "LIST OF THE DEAD" IT HAS HELPED US TO SPREAD OUR INSANE MUSIC, THE REVIEWS ARE POSITIVES, WE HAPPY WITH THIS MOMENT!
2. When I listen to VOMEPOTRO, I hear some early DEEDS OF FLESH, old CANNIBAL CORPSE, old SANITYS DAWN... with few melodic leads of nicely skilled guitars emerging from some KRISIUN, MORBID ANGEL... or even DEATH! What are the musical influences of VOMEPOTRO? Will there be more nice leads in the following songs? (It brings a little touch of class many broootal bands don't have...)
THANKS G.! ALL PEOPLE EULOGIZE OUR GUITAR LEADS, THE BAND IS GLAD WITH THIS, THE LEADS ARE VERY COOL BECAUSE KLEBER IS MY BROTHER, HAHAHAHA!!! I'M JOKING!!! WELL, ABOUT THE INFLUENCES…YOU ARE SURE WHEN SAYING THAT OUR MUSIC HAS EARLY DEEDS OF FLESH, KRISIUN, MORBID ANGEL, DEATH AND I CAN PUT ON THIS LIST BANDS LIKE SUFFOCATION, VILE, CARCASS, SLAYER, KREATOR, DEICIDE, CANNIBAL CORPSE, INSISION, DISGORGE, SKINLESS, SEVERE TORTURE, ANGEL CORPSE, MALEVOLENT CREATION AND MANY MORE!!! THE NEXT SONGS WILL HAVE LEADS BECAUSE IT IS VERY IMPORTANT, LIKE EACH RIFF CREATED BY ME AND KLEBER.
3. What does the fuck VOMEPOTRO stands for? It tastes like some massive discharges of vomit influenced your pervert mind in to choose this moniker... But I want to understand the whole putridity! Is it a Portuguese word? Does it stand for "Vomit putrid"? Does vomit take an important place in the metallic existence of VOMEPOTRO? (According to the regurgitating vocals of your vomiting throat, I guess he could answer "Yes!")
AH AH AH !! YOU ARE CRAZY LIKE US MAN!!! OH YEAH, YOU ARE THE FIRST PEOPLE OUTSIDE BRAZIL THAT UNDERSTOOD OUR NAME, VOMEPOTRO IS PUTRID VOMIT, IS A WORD CREATED FOR US, "VOME" COMES FROM THE VOMIT, "POTRO" IN OUR LANGUAGE MUST BE A COLT (HORSES SON). VOMEPOTRO CAN BE A "HORSE VOMIT" TOO, YEAH…SO INSANE!!!
4. The first song of your last demo "List of the dead" reminds me quite a lot of the first SANITYS DAWN album "Cryptic menu"! The gore bizarrity flows quite well through the pores of the rancid cadaver! Are you conscious about this rot-alike similitude, or was it a matter of rotting coincidence? What kind of alcoholic state of mind did you have when you composed this song?
I DON'T KNOW SANITYS DAWN BUT IT MUST BE A KILLER BAND!!! I COMPOSED THAT RIFF AND IT'S HARD TO CREATE SOMETHING DIFFERENT NOWADAYS, BUT IT IS A COINCIDENCE, I WAS INSPIRED WHEN COMPOSED "ABORTED FETUS", IT'S SO BRUTAL, INTENSE…EXPECT TO LISTEN OUR DEBUT CD AND HEAR THE VOMEPOTRO BRUTALITY!!! ARRGHHH!!!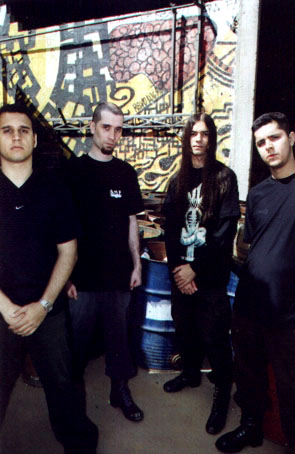 5. The previous VOMEPOTRO Demo was less efficient than the current ones, it was common Brutal death, while the new songs from "List of the dead" are more entertaining and resonating the putrid way! So, I'm quite intrigued to know what happened in the band between the two demos! Did you change the de-composer? Did you begin a long and painfully deep heavy-drug trip? (That erases the mind, but expands gore much more!)
IT IS VERY GOOD TO HEAR THESE WORDS FROM YOU GUY!!! WELL, I BELIEVE THAT YOU ARE COMPARING THE "NECRODEMENTED" DEMO CD WITH "LIST OF THE DEAD", WHAT CHANGED IN THE BAND WAS ME AND KLEBER BECAUSE ANDRÉ AND MAURO STILL PLAY WITH US, WE'RE COMPOSING THE NEW SONGS AND I THINK THAT IS THE DIFFERENCE, EACH GUITAR PLAYER HAS HIS OWN RITUAL TO CREATE RIFFS, AND RICARDO (PULGA) IS A GREAT MUSICIAN TOO!! BUT LIKE I SAID, THIS IS THE MOST DIFFERENCE.
6. There are talks for a VOMEPOTRO CD to be released on the label of Hacker (UNHOLY TERROR Zine)! How did the meeting occur, and did he made large sexual offerings to convince you about releasing your morbid beers in his own Teutonic brewery? What should we expect from this album? Will there be only new songs, or also old songs being re-recorded?
WE SENT MANY COPIES FROM THE "LIST OF THE DEAD" DEMO CD TO MANY ZINES, WEB-ZINES, MAGS AND UNDERGROUND PEOPLES AROUND THE WORLD. I KNEW UNHOLY TERROR AND SENT ONE COPY FOR HIM, HACKER HAVE A FRIEND CALLED SONKE, SOME DAYS LATER, WE RECEIVE ONE MAIL FROM SONKE AND HE SAYS…"I LIKED SO MUCH YOUR DEMO CD", WE BECAME FRIENDS AND I SAID THAT VOMEPOTRO WAS RECORDING ITS DEBUT CD. DAYS LATER SONKE SAID HE WAS CREATING A LABEL WITH HACKER AND HAD INTEREST IN RELEASING US! THE ALBUM IS READY, I NEED TO SEND ONE "ZOMBIE GONE VOMIT" COPY, WE HOPE TO SIGN WITH THIS GUYS…LET'S SEE
7. It's commonly known many Brazilian bands totally worship KRISIUN and absolutely want to sound as close as possible... but it is boring in my opinion! Most of Brazilian bands seem to sound the same, and some (many?) have problems to play that fast a decent way... So, tell us your opinion about it and give us a nice brutal overview of the Brazilian extreme metal scene! Do you feel an energetic come back of the old school Thrash metal style (with many new bands popping up like toxic mushrooms ready to infest and rape our minds), as well as what we can feel in some metallic European countries (Not our gay France at least...).
OK, KRISIUN IS AN INCREDIBLE DEATH METAL BAND BUT IN BRAZIL, WHEN ONE BAND APPEARS TO THE WORLD, ALL THE OTHER BANDS WANT TO FOLLOW!!! IT HAPPENED WITH SEPULTURA, AND IT WON'T BE DIFFERENT WITH KRISIUN. WE HEAR MANY BANDS AND DON'T WANT TO BE ONE MORE ONLY, WE ARE VOMEPOTRO!!! COPIES ARE ONLY COPIES!!! WE HAVE GOOD PLACES TO PLAY HERE BUT THERE IS NO SUPPORT FOR MANY BANDS, OUR SCENE IS STRONG WITH MANY LABELS, SHOWS BUT EVERYTHING IS LIMITED, YOU WILL HAVE SUPPORT WHEN GET RECOGNITION OUTSIDE BRAZIL! IT'S SAD…BUT IT IS A REALITY IN OUR COUNTRY. CONCERNING BRAZILIAN BANDS I CAN SAY WE HAVE GOOD BANDS HERE LIKE NEPHAST, FORNICATION, FUNERATUS, ANARKHON, CLAWN, PATHOLOGIC NOISE, MORTIFICY, CATACUMBA, ABANTESMA, GESTOS GROSSEIROS, QUEIRON, SIDE EFFECTS AND MANY MORE!!
8. What were the last albums/ demos that turned your trephined skull inside out and let the burning liquefied brain flow on the rotten soil? (Hope the Brazilian ground is filled with the toxic remains of hundreds metal brains!) You can also give us a trop 10 of the best demos, and another top of the best albums you heard, if you want...
THIS IT'S HARD!!! THERE ARE MANY DEMOS AND CD´S BUT I'M GOING TO TRY!!!
10 – DEPRECATED "DERADING HIS CREATION"
09 – CANNIBAL CORPSE "THE BLEEDING"
08 – ANTHRAX "AMONG THE LIVING"
07 – KREATOR "EXTREME AGRESSION"
06 – INSISION "BENEATH THE FOLKS OF FLESH"
05 – DYING FETUS "DESTROY THE OPPOSITION"
04 – DEEDS OF FLESH "IMBREEDING THE ANTROPHOFAGY"
03 – CARCASS "NECROTICISM"
02 – SLAYER "(ALL ALBUMS!!!)"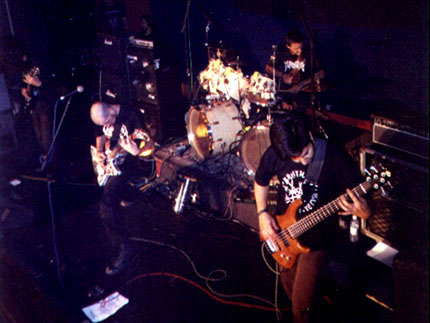 9. Are you well known in the Brazilian Underground? How would you place VOMEPOTRO on a scale of obscure recognition:
1 - Totally buried in the deepest fields of the underground.
2 - A few diehard underground bastards know the name but it's still hard to find some space.
3 - The Brazilian brutalizing bastards know us quite well, the stuffs sell cool. Nice headbangings during gigs.
4 - All the Brazilian DEEDS OF FLESH fans know us and we're interviewed in a good amount of zines, the future is more than promising!
5 - Fucking hell! All our stuffs are sold out even before it's released!! I can see VOMEPOTRO shirts in every town!! Peoples brutally aggress me for autographs when they recognize me!
AH AH AH!!! THIS QUESTION IS VERY FUNNY!!! WELL, EVERYTHING WE WANT IS TO RELEASE OUR FULL–LENGTH AND GET SPACE INSIDE THE SCENE WITH ATTITUDE, HUMILITY AND THE DEATH METAL FLAG!!! CONQUER NEW VOMEPOTRO FANS THAT LIKE OUR SONGS. MAYBE ONE DAY TO MAKE A TOUR OUTSIDE BRAZIL. WE'RE WORKING EVERYDAY, I BELIEVE THAT THE FUTURE IS MORE THAN PROMISING!!!
10. Apart from the prevailing musical homosexuality, and numerous jumping hardcorish frogs, what do you know about France?
EVERYTHING I KNOW ABOUT FRANCE IS YOUR PASSION FOR MUSIC, FOOTBALL, MOVIES AND WOMEN LIKE US IN BRAZIL. FRANCE MUST BE WONDERFUL TO LIVE IN AND I HOPE TO COME HERE ONE DAY!!!
11. What's your opinion about:
HUTT – HUTT IS VERY GOOD AND "SESSÃO DESCARREGO" IS KILLER!!!
MESEMON ECROF – I DON'T KNOW THIS BAND, THE NAME SEEMS LIKE IT MUST BE A GOOD BAND.
SARCOFAGO – THIS BAND IS A LEGEND, MY FAVORITE ALBUM IS "THE LAWS OF SCOURGE"
NIGHTWISH (There can be an only good answer, right? Ah Ah) SHE IS SO BEAUTIFUL BUT THE BAND IS A SHIT!!!
FINNTROLL (There can be an only good… Ah Ah!?) NO WORDS…
CRADLE OF SHIT (Our flow of vomit shall infinite remain! Ah Ah!) THEY SUCK !!!
FRENCH FOOTBALL TEAMS – I WOULD LIKE TO KNOW MORE ABOUT YOUR TEAMS
THE NEW DOOM TREND – NO WORDS
12. You certainly know there was an old Brazilian band called AGRESSOR that played old school death thrash! Our French readers already know there was (and currently is) a French band called AGRESSOR that plays some kind of Death/ thrash... And I recently discovered there used to be an Estonian AGGRESSOR that played fine old school death with old BOLT THROWER heaviness of similarities!
Did you already hear some of these aggressive bastards? What's your opinion about their music? Do you know other bands using the AGRESSOR moniker? (No, you aren't hallowed to visit www.metal-archives.com to answer this question! Lol).
OH YEAH! I KNOW THE BRAZILIAN AGRESSOR, BUT ONLY THE NAME? THESE SIMILARITIES ARE COMPLICATED, BUT THERE ARE SO MANY BANDS WORLDWIDE THAT IT HAPPENS! NOW, VOMEPOTRO IS THE ONE!!! THIS IS OUR PURPOSE, TO HAVE A DIFFERENT NAME TO ESCAPE THESE PROBLEMS.
13. What was the worst review you ever had in a zine? Do you think it was full of sense or not really down to earth? On a personal point of view, do you prefer to read too enthusiastic (but not very honest!) reviews or do you prefer to get a few disinterested lines?
EACH REVIEW IS IMPORTANT, POSITIVE OR NOT, IT'S VERY IMPORTANT! I HAVE NO CHOICE THAN TO READ REVIEWS OF THE BAND, BUT I BELIEVE THAT SOMETIMES IT CAN BE A PREJUDICE. TO CONCLUDE I'LL SAY… DON'T BELIEVE IN EVERYTHING THAT YOU READ!!!
14. After about 10 years of brutalizing death metallic activity, what motivates you to keep on molesting your instruments and raping the sexiest of the sexiest undead bitches? ;-)
YES!!! IN 10 YEARS OUR HATE GROWN! MORE STRENGHT EACH DAY!!! TO PROVE OUR INSANITY "ZOMBIE GORE VOMIT" WILL BE A NEW STEP IN THE VOMEPOTRO HISTORY! WHAT MOTIVATES ME? I DON'T KNOW, I WANT TO PLAY MORE BRUTAL, TO KNOW NEW CRAZY METAL FANS LIKE US, AND IF POSSIBLE TO CONQUER MORE RECOGNITION INSIDE THE SCENE!
15. You actually don't have a website... Tell us why! Don't you think you miss something really great as you might you organize fiestas with the other VOMEPOTRO musicians: all masturbating each others' cocks while reading the mighty messages and hallucinating on how much VOMEPOTRO is a great band?! Ah Ah! At least, I'm pretty certain some bands can't get enough of it! Ah Ah!
YOU ARE SURE GAB! NOWADAYS A WEBSITE IS A PRIORITY BUT IT'S UNDER CONSTRUCTION AND IT WILL BE ONLINE SOON. CONCERNING FIESTAS… I DON'T KNOW, BUT I PREFER TO SUCK THE VAGINAL SECRETION WHILE READING THE MESSAGES OR TO DRINK BEER! BUT ORGY IS INSANE TOO!!! AH AH AH!!!
16. Which person living the more far from you would you feel the closer?
MAURO AND ANDRÉ LIVING FAR FROM ME AND KLEBER, BUT THIS IS NO PROBLEM BECAUSE WE REHEARSE IN THE WEEKEND, TALK EVERYDAY AND WE ARE GOOD FRIENDS.
17. Alright, this interpuke is almost over! It's time for you to vomit the last remains and let us know about the future vomiting projects of VOMEPOTRO! Use this opportunity to tell us about the merchandising you currently have for sale! Thanx for your time, and keep it morbid! Greetz!
FIRST OF ALL I WOULD LIKE TO THANK YOU, GAB, TO BELIEVE IN VOMEPOTRO, TO GIVE US THE OPORTUNITY TO PUBLISH THE BAND AND EXPRESS MY IDEAS! SO, THOSE WHO WANT TO KNOW MORE INFORMATIONS ABOUT MERCHANDISING, WRITE IN OUR ADRESS... FUTURE PROJECTS? WE'RE GOING TO RELEASE OUR DEBUT CD "ZOMBIE GORE VOMIT" IN THE BEGINNING OF THE NEXT YEAR AND WE'LL MAKE GIGS TO PUBLISH THE ALBUM IN BRAZIL! BUT MAYBE THE VOMEPOTRO CAN PLAY ONE DAY IN EUROPE, WHY NOT ? SUPPORT THE UNDERGROUND AND THE TRUE METAL BANDS!!!
Website: http://www.vomepotro.pop.com.br
>