----------------------------------------------------------------
INDEX INTERVIEWS GUESTBOOK
----------------------------------------------------------------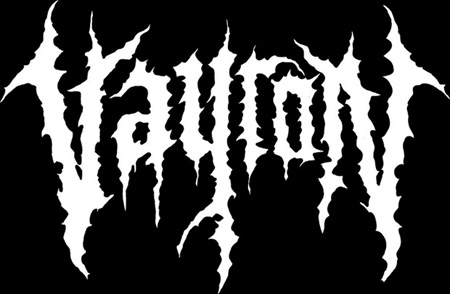 1. Hello, how are you? In the early morning, do you rather drink cold coffee (Without sugar), or vodka?
Cold coffee mixed with vodka, this is a current hot topic. The explosive awakening!
2. VAYRON was born from the ashes of SILURE, can you tell us more?
Clément (guitarist, vocalist/ composer) decided to leave the band, so we created a new project with Martin (Unanswered Rip) on guitars, and Pepone on bass guitar (Unanswered/Orifist) who also started to roar in the microphone. There are still Micka (Aodon) behind the drums and Seb (Orifist) for lead guitars.
3. In the compositions of SILURE one could find a quite black metal side, while it's not the case in your new rehearsal tracks I could listen to. It seems to me your current style is sometimes more "modern" in the way of playing, yet with a good old school side... Do you confirm this feeling?
(Everyone answering) At the level of influences, it deals with the old school, but with some modern influences from time to time, and there are more ambient parts. Martin composes the main lines and everyone brings his own touch. It can remember of CANNIBAL by moments, also DEICIDE or even PESTILENCE, because Martin is a very big fan and it can be felt in the composition.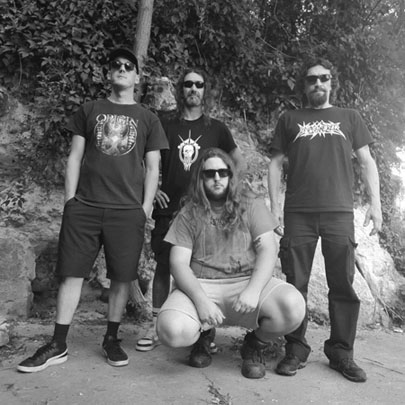 4. What does your band name mean? Should it be pronounced the french way (Véron) or in an English manner (Vailleronne)?
It is pronounced VAYRON (Yes, Vailleronnnnn) the English way! For the joke, it's only we were fed up fishing the silure, this fish is 3 meters long and more than 100 pounds heavy... Soon you will need a trawl to take it out from the water! And since we broke our ultra heavy fishing lines, we started fishing the Vayron (Vairon). That's all, there's no meaning, but it makes us laugh! We needed to move on, but we are all more or less teasing the fish... So we keep on swimming in the troubled waters... (Laughing).
5. You are currently working on the recording and production of a first demo. Can you make a little introduction? What should the listeners expect?
The demo was released not very long ago, and since we were lazy to answer the interview of Nihilistic Holocaust (Yes we are late to answer, so some things occurred in the meantime ahah), it's now available. It was recorded by Nick Tarlton at your bassist Pepone's house. It is a "made in home" setting, he comes and puts his microphones/ console in the kitchen (There are stuffs in every rooms, a bit everywhere in the house, but he came with a production that's not bad at all).
The demo was released beginning of October and it's available on Youtube (Search for "Vayron Death metal" or "VayroN démo 4 titres " ) and Bandcamp. This said we will never thank enough Fedrick Vinciguerra who did the artwork of the demo.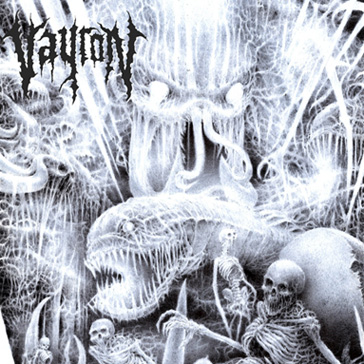 6. If you had the opportunity to rerelease this future demo on a nicely old school format, would you rather choose the audio cassette, the vinyl Lp, 78 rpm vinyl, the reel-to-reel, or Minidisc... (Yes the last two aren't very widespread, and even very ancient, but some labels have fun with these formats in 2022 (For example with the album of Demilich)). Since we are talking about formats, would it be a good idea to release a limited "Die hard pack" edition with a syringe? AhAh. Or maybe with a metallic fish scale?
For the moment we will release the demo on CD in cardboard sleeve, and if possible we'll do some tapes (via Nihilistick) and a few t-shirts.
7. If you had the opportunity to produce a video clip, what could we see inside? Perhaps an underwater vision of everything that evolves in the muddy ponds, or a close view of the clouds during severe weather and a violent thunderstorm?
We didn't think about this subject for now, we will play a few gigs first to get our hands dirty, and then we will see! First gig at Lembarzique on the 17th of December 2022 with TANKRUST and Red DEAD...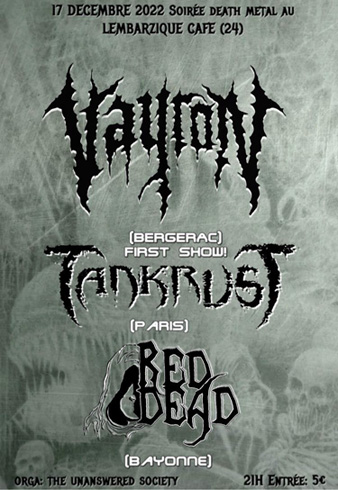 8. Which year did you discover Death metal? Which bands did you listen to the most at the beginning? And which formats was it: Cds, vynils, cassettes? Do you still listen to some of them?
For the older guys in the band, it was at the end of 80's on cassette format.
9. Concerning your current playlists, are you rather an "old fart"' (Who enjoys only old stuffs) or you aren't closed to some novelties?
(Martin) We are all listening to metal since we were young! Pepone bathes in death and old school thrash since he's a child, same for his brother Seb, even if his listenings are more open to 70's punk. Micka mainly listens to Black and death, and speaking for myself, even if I'm the younger guy in the band, I started with modern metal to finally focus on old school metal... Because I have troubles with all these nowadays' productions, it's always the same, the sound is the same everywhere, there's no energy... In short, I much prefer to bang a good old Massacre ("From beyond") or "Cause of death" by Obituary rather than the last Kreator.
To finish, I find quite a lot of new bands try to play old school music, and this is frankly cool! I'm in particular thinking about Creeping Death, Skeletal remains, Inhuman Conditions, Power trip, and all these bands. The old school production, a very cavernous voice with a lot of reverb... That's what is good!

Web pages:
https://vayrondeathmetal.bandcamp.com
https://www.facebook.com/profile.php?id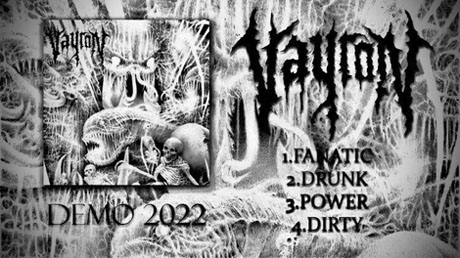 >