----------------------------------------------------------------
INDEX INTERVIEWS GUESTBOOK
---------------------------------------------------------------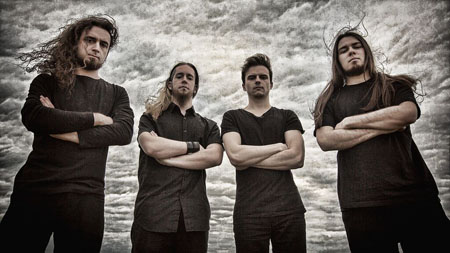 TECHNICAL DEATH FROM FRANCE
WITH AN OLD SCHOOL FLAIR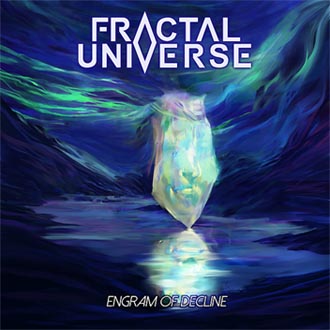 1. Hello, I discovered your band live recently in the north of France, and I enjoyed your technical Death metal quite well. Can you introduce FRACTAL UNIVERSE to those who aren't familiar with it?
Fractal Universe is a progressive Death metal band formed at the end of 2014 in Nancy, France. After the release of a self-produced Ep entitled "Boundaries of reality" in 2015, we released our first album "Engram of Decline" via Kolony Records in 2017. Since our birth, we played 120 gigs in the whole Europe, including appearances in festivals such as Hellfest, MetalDays, Motocultor and many others.
2. During the gig in Douai, I noticed two kinds of compositions came out... There are the most extreme ones, close to fast and brutal death metal, and the mid-tempo ones to be closer to "progressive"... Are these two styles you regularly melt together in your compositions, or is there some kind of evolution since some tracks would be older than others?
Before all we aim to offer diversity in our compositions, and to give an unique touch to each song. I wouldn't say the death metal side and the progressive metal side are separated, we take influences from these two genres, and more...
During the gig in Douai, we had the opportunity to take the time and introduce a much larger sound panel to the public, this is more difficult when you can play 30 minutes maximum.
3. Your music is fast, technical, but I enjoyed the fact contrary to many bands in the tech-death style, you don't sound completely modern (Understand: Very plastic, totally fractured at the level of rhythms, totally altered with softwares) and one can find a metal atmosphere to be quite close to end 90's or early 00's... I think about the later DEATH releases, or a bit of MORBID ANGEL (Mid old)... Why aren't you doing as everyone else? Would you say you have quite old school roots for a technical band?
We attach a lot of importance to the fact of keeping an organic side, a living aspect in our sound and our production, especially during gigs.
I wouldn't really say we have old school roots, but Death and Cynic were without a doubt a big influence on my younger years (Both bands released albums that were very ahead of their time), and I think you can feel it somewhere in the compositions of the band.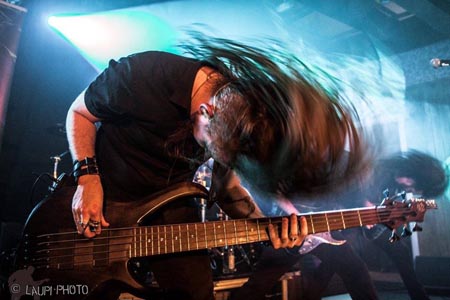 4. It shouldn't always be easy for you to play in little bars, when the acoustic conditions aren't the best and there sometimes aren't monitoring loudspeakers... Is it easy to play tightly when the sound is reverberating a bit, and to offer an audible sound when it's rather a cavern atmosphere?
It is true the conditions aren't always easy, but we always achieve to come out with something decent. For example we did a meticulous work on the sound of our instruments. Our guitars aren't excessively distorted, so that it remains quite clear, and we always try to adapt our settings according to the acoustics of the room.
Concerning the monitoring loudspeakers, we use in-ear monitors. So we are able to get a quality sound in every conditions.
5. You have a quite technical level. Does it require a hard work to technically maintain yourselves to this level? How many hours do you spend weekly to work on your instruments, or to rehearse as a band to be really tight?
I couldn't answer with a precise amount of hours, but this clearly requires a daily and serious work for each musician.
We generally rehearse on weekends, when we do not play live, and almost always the day before any gig.
6. Your first album "Engram of decline" was released a bit more than one year ago on Kolony records. What were the feedbacks of the listeners and underground medias? Are you still satisfied with the whole?
We globally received very good feedbacks from the international press. This really encouraged us to work on some new compositions and to always play more live on stage.
You will always find something to improve, and this constant questioning helps us to progress, but I'm still satisfied with the global outcome.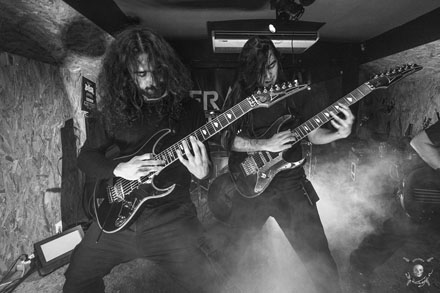 7. Can you tell us more about the album cover artwork? This is a painting that looks quite old school, I like it... Who painted this artwork, and why didn't you choose something in the Photoshop style?
The artist who produced it is named Shad. He is responsible for all our visuals. I should add that despite of the painting aspect, it was conceived on a computer.
His artistic personality is quite unique, and stands out from what you currently find in the metal scene, I think this is what we immediately liked with him.
8. You have probably begun the composition of the following... How many new songs do you own and what does it resemble?
Exactly, the next album is even totally recorded and produced! I would say it draws itself in the continuity of the previous releases, developing our musical identity further. We aimed to put more emphasis on the dynamics in the inside of the compositions, and on the organic side.
You will soon have the opportunity to discover the new songs for yourself!
9. Why did you choose the FRACTAL UNIVERSE name and what does it refer to?
The theory of a fractal universe somewhere refers to the theory of everything, it aims to unite general relativity and quantum physics. If we achieve to demonstrate the worlds of the infinitely big and the infinitely small are governed by the same laws, the universe acquires a fractal structure, this is a vertiginous perspective!
Why did we choose this moniker? I like to think our compositions have a fractal structure somewhere. There are elements the listener can notice at the first listening, such as the energy, the emotion of a song, the melody...But to grasp the entirety of the thing, he will need multiple listenings, he will discover new details and get closer to the essence each time..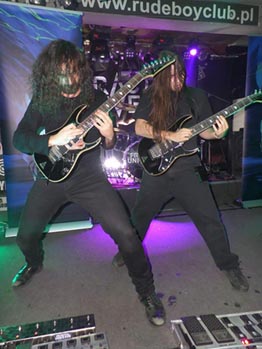 10. You come from Nancy, France, is there an interesting metal scene in your area? Some bands are worth the listening?
The town of Nancy is loaded with talented musicians, in particular under the influences of the Music Academy International. Unfortunately, there are fewer and fewer places were these artists can perform live.
Speaking about bands from the Lorraine area, I could advice Deficiency, Wheelfall or Sphaera.
11. I didn't follow the evolution of technical death metal too much, could you advice a few recent bands or albums in this style? And to be more precise, would there be bands with quite "old school" roots to be worth the hear?
Concerning the "new" artists I could quote The Zenith Passage, Virulent Depravity or Virvum. The new albums of Gorod or Obscura are also excellent, showing they are still some of the masters of technical death. We can also quote our friends of Red Dawn, they have a quite old school side that would surely please you!
12. If you could travel in space and time, to attend a gig of SPAWN OF POSSESSION in Sweden in 2003, or to attend a gig of PSYCROPTIC in Australia the same year, which would you choose? (The second Psycroptic album "The scepter of the ancients", it was quite something... Great record... But then you have the right to prefer Spawn of Possession)
Since I'm a big fan of the band, I think I would choose Spawn of Possession. I had the pleasure to see them in 2012 during the "Incurso" tour, with Obscura, Gorod and Exivious, and it would be interesting to attend such a band at its beginnings!
13. What are your future projects? Something special to announce? It's the right moment.
As I evoked earlier, our next album is already complete, and we are impatient to share it with the metal fans! I can't reveal more for now, but we will have big news to announce at this level very shortly!
Do not hesitate to find us on social networks to follow our activities!
Listen: https://fractaluniverseband.bandcamp.com

Website: https://www.fractaluniverseband.com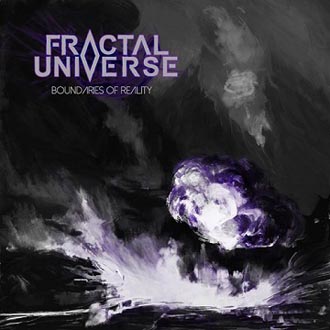 >