----------------------------------------------------------------
INDEX INTERVIEWS GUESTBOOK
----------------------------------------------------------------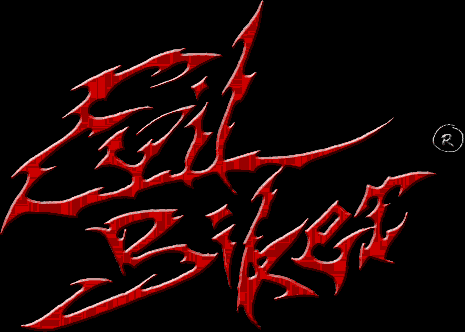 Here's an interview of EVIL BIKER, a french extreme label that only begins to make peoples speak about them with the release of a split EP with MORGUE and LAST DAYS OF HUMANITY.
Nothing to add, everythings are in the interview!
1. Introduce EVIL BIKER to us.
Hello! EVIL BIKER Records, this is a label specialised in dans the Brutal stuffs an, until now into vynil releasesWe started in 1999 with the MORGUE / LAST DAYS OF HUMANITY split Ep that peoples enjoyed a lot. Now, we've released seven 7Eps, including two ones in collaboration with Bleurk prods, and one with Gast ar C'hast Rcs and I feel like I'm ready to work on some CDs and 12'LPs! We also take care of a distro list, of a website, and since a little moment of gigs' organisation. Last week, we did a gig with MALIGNANCY / GODLESS TRUTH / CEREBRAL NECROSE / FIST OF FURY and ULTRA VOMIT… fantastic, and I'm ready to organise another one ! !
2. What motivated you to create the label at the basis? (bands, fanzines, the fact of meeting some peoples...). Was it a trigger or was the idea running in your mind since sometime?
Ronan and I wanted to release an album since several years, we're collecting the MPO estimates since we're at school!
After the releases of several tapes, we weren't interested anymore into the tapetrading. We wanted to offer some music on a final format, it asked us more work and more rigidness. Personally speaking, I liked the Split Ep series that were released by Seraphic Decay and Relapse, I wanted to do my own gore 7Eps series! Then, the motivation of the bands encourages me to succeed in good terms the project.
3. EVIL BIKER exists since a good amount of time, but we're only really starting to hear about it. Is it because yo now have got a website, or did you change anything in the way the label works?
Everythings are really faster since I've changed my computer!! And since last september, I've finished my Psychology studies to try to study in the music thing, or in any case in the thing that better fits to my tastes.
So, I've got more time for the label, and I do it more seriously.
I've really got the motivation to make of EVIL BIKER a good label, but there's still a lot of work!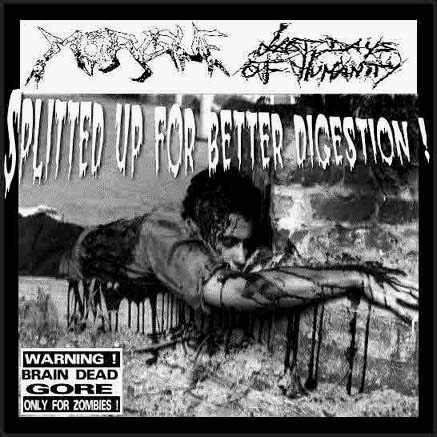 4. How many peoples are working in EVIL BIKER? Have you got some other Underground activities? What were your previous underground projects? D
There's myself, Laurent, who deals with almost all the stuffs between the website's update, the distro list, the contacts and releases.
Ronan is the creator of the website, he also find a lot of informatic solutions, and he finances some releases of the label.
Guillaume takes care of the administrative thing.
In Anger, there's a good amount of friends! Thanks to Seb & Tony (Ossuaire distr.), Sam (Mat'sa), Vincent (Vomit the Soul zine) and Gwen, argeuh argeuh argeuh ! !
David, from FLATULATION, also helps us a lot. He works during all the year on Relapse and Metalysee's tours and takes with him some EVIL BIKER and BLEURK (his label) promos.
Beside the label, I try to do a cool amount of things in the music.
This week I'm working for free in an art manifestation in Angers, it makes me able to learn a lot of things about the promotions and some cultural manifestations' organisation.
Before, I was taking care of the diy tape-label AR GLAZIK FALLAKR, but I became bored of collecting tons of unhearable noise tapes... I've forgotten the thing, and Ceedrik from DESECRATOR reproached it to me lately!!
In fact, I'm in the metal Underground since 1992 with the release of the BORN TO GRIND comp. tape, and I was helping to distribute the french fanzine ANTHROPOMORPHIA ! It's old, it goes back to the time when GURKKHAS were still called DAB !
5. How many time do you spend each day, each week to look for the fact the label and website works positively?
Oulàlàlà ! ! ! A lot of time, but really less than what would be needed!
It represent almost two full days in a week, without taking in account themany phone calls and the gigs... I update the website each week, it's important that the website must be alive!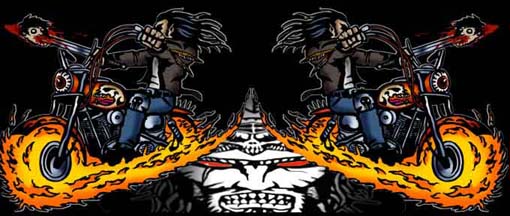 6. In your opinion, what are the strong points of EVIL BIKER and the matters of fact paying in its advantage?
Seriousness and perseverance! I'm now more thinking about being efficient and concreticizing new projects. I was also lucky to get the opportunity to release the MORGUE/ LAST DAYS OF HUMANITY split Ep at the very beginning, and later to meet David, from FLATULATION.
7. You must have goot a good mount of contacts in the Underground, this resulting from your various activities.
Are there some new extreme bands that caught your attention, and this in France as well as in other countries? In your opinion, which acutal underground bands will take some importance in the following years?
In France, I was caught by the last shows of DESECRATOR and ULTRA VOMIT ! I think MORGUE will become an important band, and GRONIBARD an enormous phenomenon ! ! ! I also hope some bands like DISGUST, DEPRAVED, SUBLIME CADAVERIC DECOMPOSITION will multiply their amount of gigs and keep on their way ! ! ! The next albums that will kill in France: DROWNING, CEREBRAL NECROSE, DESECRATOR, FLATULATION, MORGUE… and I hope for some surprises ! ! I'm also waiting for the opportunity to listen to the GERBE OF LIFE album and to see them live, eh ! eh !
In the foreign countries, I want to quote PROSTHETIC CUNT, DECOMPOSING SERENITY who starts to play some alienic grind in the vein of the big masters, RUNNING GUTS ! ! I try to get varied pleasures, at the moment I'm quite often listening to ORIGIN, GORELORD, CYNERARY, INCESTUOUS, MALIGNANCY, AGIEL and the Deutsch scene: HOUWISTER, DISAWOWED, PYAEMIA… and some more "opened" styles with MASTODON, SOILENT GREEN…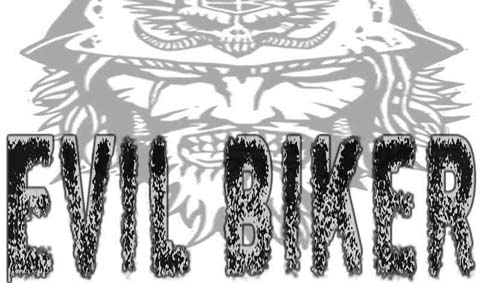 8. Do you think a band can correctly assume the promo without any external help (label, webmaster, manager) and at the same time to keep enough energy to put into its music to make it of a good quality?
In every way, there's somebody involved in the organisation and the promotion of the band. But, to pay for the services of a manager or a webmaster, it's another idea! We must respect the scales. At the beginning the band must do it itself, to little by little give these responsibilities to some trustfull professionnals. Il y a de toute façon une personne qui s'investis dans l'organisation et la promotion du groupe. De là à se louer les services d'un manager ou d'un wabmaster, c'est autre chose ! Il faut respecter les étapes. Au début, le groupe doit prendre les devants, pour déléguer progressivement le financement et la promotion à des professionnels de confiance.
9.Are you playing or did you play in a band beside the label? What are you doing in your professionnal life?
Yes, I play in DISGORGE POIREAUX, a Diaboleek Garden Sickness band. For now, we've recorded only a track, "Leek of putrefaction " that will appear soon on some compilations. This summer, we'll create a site and record some new tracks... it will be a good time!
I also played in some illustrious bands such as CARNAC ATTACK, BUZHUK, HENRY DEATH… does it remind you something ah ! ah !
I'm also a leeks farmer in the suburb of "Maine-et-Loire".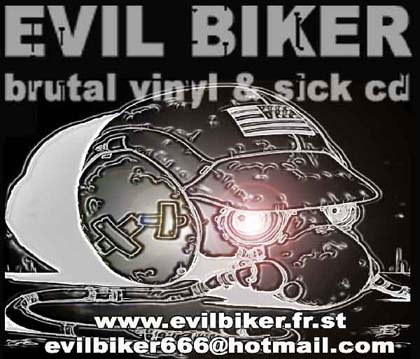 10. Are you listening only to metal or are you attracted, do you interest yourself to other musical styles? And if it's not the case, why?
I'm mostly listening to metal, it's natural for me. I'm listening to it since I'm 13 (I'm 26 now), half of my life ! ! But I'm opened to every kinds of music, I like the harsh, the jazz, the soul and the breton musics... and I must say I've got a particular feeling for the italian dance of the 80's... trust me, this is absolutely true ! On the other hand, I hate the average of bad albums, even in metal. I don't collect all what's released, only what kills me at the first listening!
11. Is there a special concept behind the name EVIL BIKER? Is there a link with the Marvel comic book character?
No ! I don't know the hero of the marvel comics book! I was rather thinking about Ranx Xerox ! ! Yes, there's a concept. Ronan and I, we thought about it when we saw the photo of a MORTICIAN fan coming from Texas on their website. We told each others, "Fucking shit, he's evil and that's clear... it's a biker!". The photo is now on the first page of the site... we must throw it away in fact: everybody think it's me! Well, this name is an hommage to this guy, and of course to Will Rahmer and Roger Beaujard !
12. In which way would you like EVIL BIKER to evolve in the future? Give us a few exemples of some labels that would represent your "ideal".
I want to crush Universal, but little by little ! ! No, I haven't got any real ideal label in mind, but I'm a fan of the labels as much as the bands that are on it... I like a lot some labels such as RELAPSE, PANX, OSMOSE and BONES BRIGADE and I'm quite nostalgic of NUCLEAR BLAST, MISANTHROPY and EARACHE… I whish EVIL BIKER won't be an ordinary label, as lots of labels that only make some money while releasing or sell back some pieces of plastic... at the end I would be as bored as if I were working at the factory! I'd like to make of EVIL BIKER a label that has got a strong identity, very much marled into metal.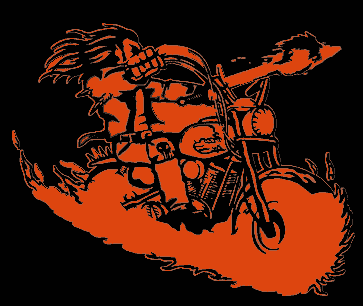 13. Can you tell us a few good ideas to make the promotion more efficient?
Humm… it's hard to say, I don't really dominate this thing. Since the beginning, we try to do anything else than releasing CDs by creating an interesting website, organizing gigs, creating stickers, posters... and this is maybe what, little by little, finishes by spreading our name!
As a whole, we try to get a clear, regular and well placed promotion.
A very strong collaboration between the label and the band is also a very important point, mainly at our level... if the band leaves us all the work, that's all... if they distribute our flyers to their gigs: it's happiness ! !
14. What are the future projects of EVIL BIKER? Your next releases and the other things?
At this moment, we're working on our next releases that'll come very soon:
CEREBRAL NECROSE / SOLDABLEURKTHAL split 7''ep
MALIGNANCY " Ignorance is bliss " 7''ep
Then, we'll prepare the LP version LP of the first MORGUE album: " Artgore ". It'll include an all new layout and a poster! We'll also release the first FLATULATION CD and the COCK AND CUNT compilation #2 this year. About vinyls, I want to keep on releasing the sery of split 7''ep with a release that'll include two american bands this time... It's just a bit too soon to announce the names!
We're also going to work on some tee-shirts, some patchs, badges.
We'll have some new gigs' dates to announce soon. We'll try to make the following bands play as much as possible: CEREBRAL NECROSE, MORGUE and SOLDABLEURKTHAL …
15. These last words are yours, something to add?
Fuck the commerce ! Thanks for the interview, I hope we'll meet soon, and ride your motorbike without your crash helmet!