EGORGED is a Brutal death band from my suburb (Ch'ti land lol) I saw live months ago! Even if their music wasn't original enough the whole was quite brutal enough! They were supposed to record a demon and since we didn't have news about them since some months, here's a little interview to keep informed! ZUPPORT DEINE ZOUTERRAIN!
1. Hello EGORGED! Do a little introduction to the band since you're unknown for most ! :)
Hello Gab! EGORGED was formed in august 2002 with almost the current line-up, the only difference was a change of drummer that occurred in june 2004. The band is composed of Antoine(DRUL) for the vocals, Seb behind the drum-kit, Ben(Gazoil) with the bass-guitar, Max (la Rousseur) and Nico (Krun) for the guitars.
2. How would you define the music of EGORGED? Your music reminds a lot of CANNIBAL CORPSE at the time of « Vile »… Is-it voluntary or did you abusively listen to this album? ;-)
A spiced and brutal sauce cooked the old way, that is to say we try to mix technicality and efficiency. Concerning the Cannibal Corpse influence it was very strong at the time of the previous line up, but things have changed.
3. At the level of the composition how does things occur? Does each musician write riffs? Have you got a catalyst of inspiration?
Most of the riffs are brought by Gazoil, and then worked on by the whole band. We take inspiration from human stupidity… instead of blasting with a machine gun, we crush with our riffs.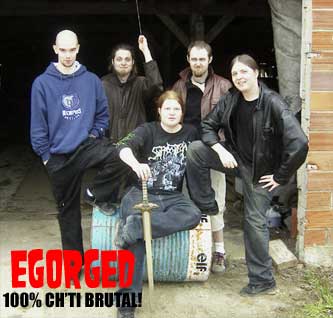 4. What do you lyrics deal with? Is it in the gore deliria as your band name could let us think about?
NO LYRICS… DRUL uses his voice as a rhythmical instrument… It's the final touch of musical execution.
5. You had to create a website while a demo was scheduled… but there was no news since then. So what's new ? How does your projects occur?
The fact our previous drummer left made us late a lot. The idea of recording a demo remains present in our minds, and concerning the website, it will follow the demon, we hope at the end of 2005.
6. You're based on Saint Omer. Are there few bands or a metal scene in there? If I don't mistaken, you're very far from the « Côte d'opale »! Have you got you relationships with the bands from these lands? (TORMENT, AMETHYSTE, the ex BYATIS guys...)
There are very few bands in our corner. Triballes are kinda getting some support actually, but we don't know anyone else for the extreme scene. We had the opportunity to play gigs with Amethyste, Byatis and Torment, and it was good ones. We want to say hello to the convicts pf CEREBRAL VOMIT who helped us quite well to play in their suburb. GRIND RULES!!
7. You played quite a lot of gigs in our suburb (Nord pas de calais)! What did you learn from a musical and personal point of view ? Did you discover some good bands that kicked your ass when you played gigs?
We actually played only 12 gigs, we only begin to feel well on stage and the public lets us know about it. Concerning the bands who kicked our ass (To speak with your words), YETTERING and TEXTURES as a part of it since it's the best bands we've played with.
8. A whole wave of old school Death metal, Thrash metal in a totally 80's style (without core nor modern influences) and speed metal begins to take some importance in the deepest underground. The new bands evolving in these styles are more numerous, and the elder bands are reforming. What are your feelings about this enthusiasming phenomenon?
Lately, we had the pleasure to see the come back of SUFFOCATION and they shew they kick the ass of all this Nu metal wave that couldn't last. Quite soon OBITUARY will double the heaviness of Death… DEATH METAL IS NOT DEAD!!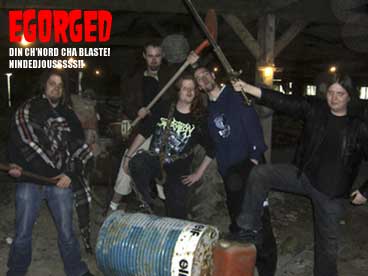 9. Are you listening to metal since a long time and with which bands did you begin the Death metal thing?
We begun with everyone's classical bands, that's to say: DEICIDE, CANNIBAL CORPSE, DEATH, MONSTROSITY, SUFFOCATION, MORBID ANGEL….
10. What are your five fave Death metal albums? Which are the five last Death metal albums that kicked your ass? And concerning the demos?
CRYPTOPSY: Whisper supremacy
SUFFOCATION: Everythings
CANNIBAL CORPSE: Bloodthirst
DEATH: Symbolic
SLAYER: Reign in blood
But it's really reducing..
For the 5 last best albums:
ORIGIN: Echoes of decimation
NAPALM DEATH: The code is red
CEPHALIC CARNAGE: Anomalies
NECROPHAGIST: Epitaph
SUFFOCATION: Souls to deny
11. What's your opinion about Black metal?
We like bands such as EMPEROR, BEHEMOTH, DIMMU BORGIR… but not much more. We aren't fans of the style.
12. If I had to ask you a question to better define the musical style, or state of mind of EGORGED, what would it be?
The pitta?... white or samourai sauce?
13. Ok that's all, this is the last question. Tell us about your future projects, feel free to conclude. Bye!
As we said previously, we think about releasing a demo at the end of 2005, and then we'll see. Thank you Gab for your devotion towards the underground and the extreme metal scene.
Email: krunozor@wanadoo.fr
>