----------------------------------------------------------------
INDEX INTERVIEWS GUESTBOOK
----------------------------------------------------------------



WITH DARKENED CREATIVITY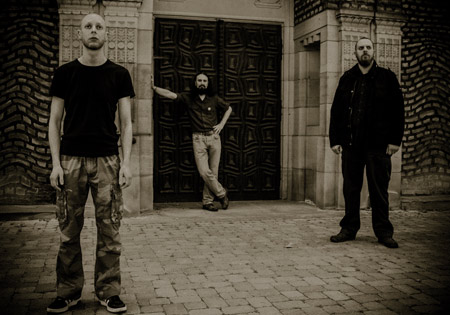 1. Hello! I did an interview of SOLEKAHN in June 2002, it's more than ten years now! We won't sum up the last ten years... So what happened lately with the band?
Olivier DB : Hello G., in fact I remember your interview from 2002 and I think our bassist answered the questions. The news is of course the forthcoming release of your second album "Nightlights", on the 14th October 2013. We are preparing this one since a lot of years, so obviously we are very happy and impatient for it shall finally be released.
2. Some quite strong differences between your "Suffering winds" MCD and the first album had caught my attention, first at the level of the style (More obscure, more death metal), then at the level of the production (More obscure)... Will we also discover this kind of differences with your second album "Nightlights", or would it globally remain quite close to the first one? How would you introduce this release in a few lines?
Olivier DB : In my opinion it is closer to the first album than the Ep, at the level of the shape. Concerning the essence, it's hard to say. I think the listeners will recognize our style but also notice it's not a copy of the previous one, because "Nightlights" is certainly even more varied. And there's necessarily a musical evolution, there must be an evolution otherwise the interest decreases in my opinion.
3. Who has created the cover artwork? Was is a proposition of your label? I feel the style changed a bit compared to your two previous releases that had something in common on a visual point of view.
Olivier DB : No it's not a label proposition at all, we were totally free. Olivier Antoni (A tattooist, illustrator and friend of ours) has drawn the eagle, then the remaining was created by myself. This time the logo has changed, this should be the reason why you associate the two previous ones easily. The atmosphere remains dark, as well as each of our covers, even if the colors in use are warmer and more luminous this time.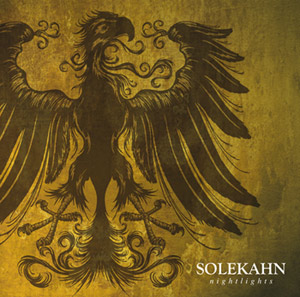 4. In august of 2012 your Facebook page pointed out your album was finished... But finally this will be released in October 2013. Did it take so much time to search and find a label? Or did this message only make reference to the finalizing of the musical composition?
Olivier DB : This is actually the search of a label that took an enormous amount of time since last year. We had tips, but finally each one found out to be unsuccessful, each after another. So we had to change our plans in the way, and I can tell you to find a label nowadays is really much harder than ten years ago!
5. What has lead you to sign with Mighty music? What did please you in their offer? (And what did they offer, it it's not too indiscreet)
Olivier DB : I can't talk about the details from the contract, but let's say it's the best offer we received at this time. For "Nightlights" it's a promotion and physical release in Europe. After all those years of absence, it's a good thing to have a structure such as Mighty Music behind us, with a solid distribution.
6. Since the release of your first album in 2004, Death metal globally became much more old school. The more modern or technical sub-genres became less prevalent, the obscure or retro sides are now much more present... Is this a global evolution to please you?
Olivier DB : To be honest I have no opinion about it, because I don't really pay attention to this kind of details. I don't try to analyze this or that tendency or evolution, I take music as it comes. But one thing is certain: The bands of good quality that really bring something become more and more rare.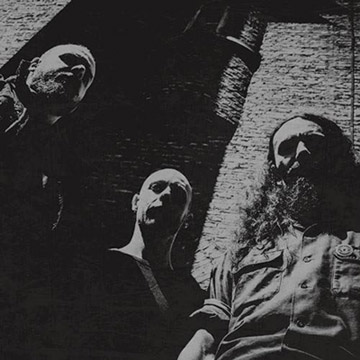 7. Sometimes Death metal became so old school again that it is closer to some kind of "morbid thrash" (Close to the 2nd SLAYER album for example) or some aggressive thrash (Close to the first album of the Swedish MERCILESS) than anything else... Can we still talk about Death metal in your opinion? I must say my entrails were used to things to be thicker and deeper, I'm regularly quite "disappointed" when listening to some albums currently sticked as so... Aren't you afraid your music might not be "old school" enough, or too "deep", for a part of the possible listeners?
Olivier DB : Talking about the various genres, I have a bit of problems to classify bands. In fact, I also don't really pay attention to this. I appreciate music, but the sticker it could come with doesn't matter. Concerning "Nightlights", after all these years I honestly expect nothing particular from the listeners. It was composed in a same manner than the previous ones… The peoples who enjoyed our style shouldn't be disappointed. Concerning the others, we will see where it leads us, there is no need to be afraid.
8. Your band name basically had links with the sun, the power... It's a bit curious since your music became very dark... But maybe we might still see a link with the luminous aspect the creativity can take? What meaning does the band name take for you these days?
Olivier DB : It's rightly the theme of the album. The fact some individuals might feel the obscurity as a light. So according to this point of view, our name takes a lot of meaning, because it's true our music becomes darker and darker with the years.
9. What are your best gig remembrances? We can imagine it was those that occurred in your area (Where you have a wider audience and a more important amount of contacts...)
Olivier DB : I don't know, there are some good and less good things during each gig. The best ones often occur when the audience is there, it's certain. But I have no particular remembrance to come to mind.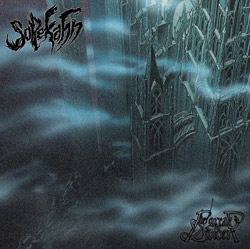 10. Which memory do you keep of the first album released on Sacral?
Olivier DB : I keep very good memories of it, Cedric Ridet (The label manager) was a guy of gold and helped us to be known on a wider spectrum. Our collaboration was really very interesting, as much on a business as a personal point of view.
11. Which albums did you like lately to the point of playing it again and again on your Hifi? Did you get into the last INCANTATION and IMMOLATION records, or maybe you prefer things to be less calibrated?
Olivier DB : The first thing that comes to mind with your question is the band CHAOS ECHOES. Their first Ep is really exceptional, I didn't hear anything so good since a long time! Then speaking about things to be more calibrated, the last DECAPITATED album also pleased me a lot. PORTAL is also a band I listen to quite a lot these days, as well as SIGUR ROS, HANK III and NIN.
12. Will the future gigs of the band gather quite recent tracks, or will you go back to the first MCD, or even to the first demo?
Olivier DB : There unfortunately won't be gigs for this album. Our drummer injured himself a few years ago (The drum parts were recorded in 2006), he is currently able to play only about 20% of our last album songs! So our next gigs will happen for the following album.
13. What are your future projects? You can add what you wish, I let you conclude...
Olivier DB : Our short term projects are to promote "Nightlights" in the best way possible, despite the absence of gigs. I'm also involved in a musical project with my friend Thomas Chassaigne from ASMODEE, that should be materialized in the following months. Speaking about the long run, future will tell... Don't hesitate to visit our web site (www.solekahn.com) for more details, the new album is already available as pre-orders. Thank you for this early interview.
Website: http://www.solekahn.com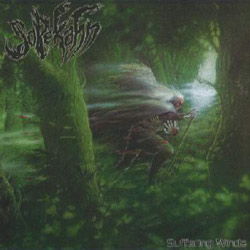 >