----------------------------------------------------------------
INDEX INTERVIEWS GUESTBOOK
----------------------------------------------------------------



SKULL FUCKED is one the Underground associations that move the more its ass in France: they print a fanzine, organize gigs (+ festivals!)
and they now run a label division.
An interview was needed to let you know more about these
underground activists!
1. Hail Phil, you belong to the SKULL FUCKED asso which publishes a zine, organizes gig and has got a division production now. It is always humanly possible to manage all this work? How many members is the asso composed of? Introduce us to all the SKULL FUCKED's activities with more details.
Hail Gab. For the moment everythings happens well, and even if by moments we are busy with all of this, we're are able to deal with it.
The Skull Fucked Productions asso is composed of two members only: Fred, who deals with the label, and myself, who takes care of the zine. About the gigs and festivals, it is Gilles - Ordalies association - which manages that.
It's necessary not to forget all those which help us and make the asso move it's ass: Alex (design of flyers and posters, contributor of the zine, mastering of the Skull Fucked's releases...), Nathaniel (main contributor of the zine), Gilles Maurice (contributor of the zine, help for the gigs, housing of the bands who play at the fest...), Thibault (barman during the gigs, he is the only one who remains sober!) and you Gab, our disjoncted webmaster!
2. About the new label subdivision of SKULL FUCKED, can you give us more details on the future productions and under which conditions that will occur ( How many copies will be pressed, promo, how do you choose the bands you sign...)
The first prod will be a Gerbe Of Life/Repudiate split CD, two good brutal french bands that shredds your head! 1000 CDs will be pressed ( including 500 promos and 100 cds for each group). At the Level of the promo, apart from the sendings CDs to zines, webzines, radios, gigs organisers... we'll spread 20000 flyers (on glossy paper) that will circulate in the world and we've bought adds in more or less underground mags. Gerbe Of Life and Repudiate will be included in Skull Fucked Fest (in October in Strasbourg - Molodoi with Inhumate, Blockheads, Profanity, Abrasive + a headline band!) and we will do al that we can to find other gigs .
We will also take care of the distribution and promotion of the first Byatis fulllength CD, but I can't say more about it for the moment.
For the choice of the bands we sign, it is rather simple: when a promo kills us (and I must say it's more and more rare nowadays) we contact the band. If the guys hasn't got the ambition to do a carreer in the vein of Morbid Angel's one (some guys will understand!) we offer the band the opportunity to released its production on Skull Fucked Prod.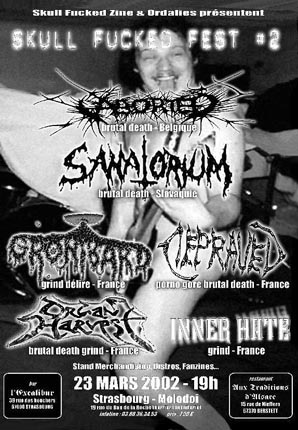 3. What's your opinion about the current French extreme scene? Are there some french bands that caught your attention? As I know you've got a good amount of contacts in other countries, what do you think about the recognition and the vision the metal heads from other countries may have about the french scene?
For the French extreme scene: there are more and more good bands, but the public is too much passive and the guys buy only the albums that gets 6 bombs in big magazines like Metallian.
Apart from Gerbe and Repudiate, I enjoyed well Byatis, Solekahn, Eradycate, Postmortem, Kabbal... The big problem in France is most of the bands are satisfied with a very small promo and they wait for a deal that would come by itself. They do not seem to understand all that is invested in the promo will inevitably have returns one day or another. Some bands even offer subscriptions to press their Cd!!!
Beside that there's Inhumate which became a reference in the french Grind style after the releases of three self-produced albums. I don't know too much what's the foreigners' vision of our scene, but a thing is sure, that interest them!
About your fanzine, did you ever get into troubles with some bands that would have been reviewed in a too hard way in your pages? Some guys would say in a too much "realistic" way (laughs).
No, we didn't get any problem at this level, even if Nathaniel has got a quite corrosive way of writing!
4. At the level of the stuffs' choice, do you review everythings you receive or does it happen that you send back the promo to the band because of the too "low quality" of the music? (But maybe a member of the zine can be considered as a "trash can" as he has to do the reviews of all the stuffs nobody wants to review in the zine's team?).
All the promos we receive are reviewed, even if that can sometimes be a martyrdom: 10 rotten cds at the following isn't speacially motivating... But anyway, these guys are here to help me: Gilles Maurice (the brutal specialist death/grind/pornogoregrindnoise...), Nathaniel (the defender of the true old school death metal!) and Alex! If we think about the whole quality of the demos/ CDs we receive, we can consider ourselves as 4 trash cans...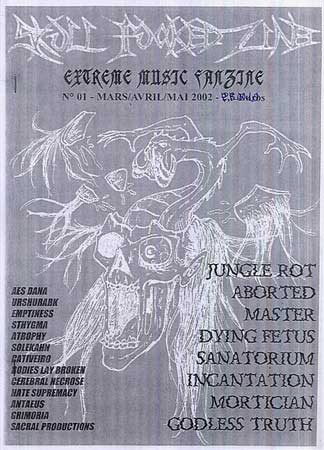 5. At the the level of collaboration between the several members of the asso, is it always easy to agree for the choice of the bands for the gigs and for the appreciations in the reviews? Maybe some members of the asso aren't into metal (like a manager for example) and if so, do they have their word to say? How does it happen?
For the moment there are no problems: our ideas agree for the concerts and for the zine, each individual is free to write what he wants to. We are all in the assocation mostly focused on metal, even if we're opened to other musical styles.
6. Do you think a band can manage to succeed in doing a correct promo and to keep enough energy to put in it's music (in order to release a CD of quality), and this without external help (label, webmaster, manager) ?
Inhumate achieved this, why wouldn't the other band be able to do so?
In my opinion, it is especially a question of realism and motivation.
Those who think they'll be able to live of their music while playing Extreme metal haven't understood anything... It is sure an external help of quality can make the progression of the band easier... but even without this help, it is possible to be recognized on the international underground scene by putting of yourselves in the promo. It asks for more time, that shouldn't always be easy to manage, but anyway you are motivated or you aren't...
7. Before SKULL FUCKED, did some of the members took part in other underground activities? Do some guys in the asso currently play in bands?
I think that it is useless to introduce Fred (from Inhumate!), he's involved in the scene since a good amount of years! Gilles plays in Naked Scarecrow and was one of the writer of a zine that was cult in Strasbourg, "Le petit Flibustier Illustré".
For my part, I ran a zine with my sister about three years ago, it was called "The Lost Realm" and was mainly devoted to the black metal. At this time, we were young, idiots and very close minded... that makes me laugh when I read again the only issue that was released. I also play the drums in two bands: my main project hasn't got a name for now, and I'm into Unformed (ex-Cerebral Commotion) also.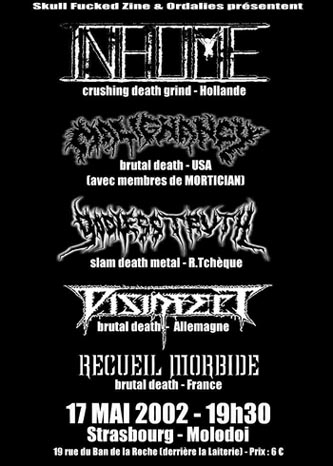 8. Are you listening to other styles of music and if not why?
I listen to a bit of hardcore (Brightside, Arkangel...) and Seb (drummer of GOL) recently made me discover a really good band: Morcheeba. It is perfect when you get up or to smoke a big funny cigarette! I also enjoyed " Degradation Trip ", the new album of Jerry Cantrell...
9. In your opinion, does the perfectly executed music with a superb production and a perfect packaging has got a sense?
This music is sensed for those who consume the music, not for those who are passionated by the music.... I don't put in question the work of the guys who do this kind of music, but I think it completely lack if interest. It's only polluting more and more a scene that's ever very saturated! But well... as there are some guys to enjoy this kind of music...
10. Does it happen that you feel like a "Beholder of human stupidity" (Laughs!! This question may be totally understood by some french readers only as it does a reference to some years ago's obscure UG activities based in France. )
It is sure that many human beings' behaviors seem absurd to me, but I am also a human being and I don't escape this rule... And even if I am confronted with the human stupidity in my daily life, I don't pay attention to this anymore. It's better to give of your time to more constructive activities.
11. Waht are the SKULL FUCKED's future projects?
We want to boost the bands we sign as much as possible, to develop the zine and the fests (+ gigs)!
- Gerbe Of Life/Repudiate split CD available in October.
- The issue 2 of Skull Fucked Zine will be available at the end of September with the following content for the moment: Possessed, Pentacle, Kadath, Serious, Archaeus, Cropment, Skull Fucked Fest #3 report: Blockheads, Inhumate, Profanity, Gerbe Of Life, Repudiate, Abrasive... more infos soon!
- The Skull Fucked Fest #3 will occure in October 2002 in Strasbourg (Molodoi) with Blockheads, Inhumate, Profanity, Gerbe Of Life, Repudiate, Abrasive + headliner. The exact date will be announced at the end of August. Price: 7.50 euros, the tickets will be for sale before in the Fnacs network or by classical mail.
12. These are the last words, thank you for having taken time to answer!
Thank you for this interview Gab! At this times (04.30 A.M) I haven't got lots of things more to add...
For a chronicle and a possible interview in the zine send your promos/demos to:
SKULL FUCKED ZINE & PROD
3, rue Catherine de Bourgogne
67000 STRASBOURG
(France)
skullfucked@noos.fr (zine)
skull.fucked.prod@ifrance.com (prod)
gilles@ordalies.com (fests/gigs)
gabsk@wanadoo.fr (webmaster)

WEBSITE: http://www.skullfucked.ht.st