----------------------------------------------------------------
INDEX INTERVIEWS GUESTBOOK
----------------------------------------------------------------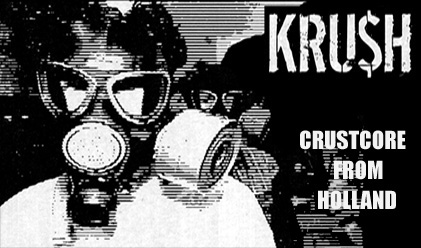 Welcome to KRUSH motherfucker!! Although this dutch band doesn't play extreme metal, their Crustcore has enough power and energy to kick the beer-filled ass of some metallers as it did for me! Maniacs of Good crust in the vein of DISRUPT should put an hear on these, coz even if it's not bloody original, the punch and feeling are intense enough ! Energetik D-beat crustcore with some old school punk filled in for your punching pleasures! Read and feel the core!
Please do an introduction to KRUSH!
Kru$h is a crust/grind band from the west of Holland. The band was formed in 1996. On the moment we have five members: Dennis (vocals), Jack (drums), Michel (bass), Miranda (guitar) and Ronald (vocals).
Stupid question: how would you define your music? Crust, Krust or Khrushcore?
If you give us the above choice: Crust for sure!
In reality we play a mixture of crustcore and grind.
As well as your music, your band's name KRUSH is simple and efficient! Any other reason than the simple crushing side for this choice?
The idea when looking for a name was simple: It had to be be short and powerfull. We came up with Krush. In one of our first logo's we added the dollar sign. We think the five letter word 'Kru$h' gives a good idea what the band is about.
Crust is a very simple style of music, and a lot of stuffs have been written into this style through the years! Do you manage to use something to motivate some new ideas and enthusiasm?
It may be simple but it's still powerfull and never lost it's appeal. Playing, and meeting people is our motivation not the complexity of the music.
Your music reminds me of DISRUPT (Which Crust band isn't influenced by this great band?), where they a big influence? Which bands were the biggest influences for the style of KRUSH?
It's true they were a big influence. When our drummer wrote the first songs he had the sound of Disrupt, Disgust and Disfear in mind. Next to these bands, Extreme Noise Terror, Napalm Death, Discharge and Terrorizer are an influence. But also a lot of (Dutch) bands we see or play with leave their traces in our music.
It seems to me there have been some special line up changes, the previous guitarist is now the drummer while the one who was drumming is now behind the guitar... What were the reasons for this? Does it change the way you compose the tracks and the style of the band?
There's a good explanation for these line up changes. Kru$h originally started as a project with the idea to release only one tape. Our former guitarplayer and current drummer wrote 10 songs. He formed a band with two friends and his brother. He asked nine other people to write lyrics for a song and record it. After that things moved fast. A German friend of us released the recordings on his label and we were asked to do some live shows in Holland and Germany. We played our first few shows with four singers, two guitarplayers a baseplayer and a drummer. Throughout the years two singers, one guitarplayer and our drummer left the band. Not with a lot of trouble but with change of interest in things.
In 2000 our guitarplayer switched to drums and Miranda was asked to join us on guitar. This last line-up change resulted in a steady line-up for the last three years.
I think all bandmembers will agree that Kru$h really started off with this last lineup change. Since then enthouiasm grew and this is reflected in our songs and on our shows. Looking back Kru$h evolved in this time from a group of musicians playing crustcore to a crustband with total heart for what we are doing.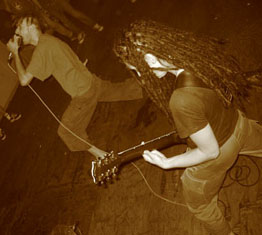 There are more Grind parts on your new tracks, do you feel closer to this musical style as may need something more extreme? Is it a natural evolution of the whole KRUSH's style, or is it simply a coincidence?
Like it took us some time to form a steady line-up, it took us some time to find a steady Kru$h sound. We started out playing almost only crustcore. Slowly we integrated more and more grindcore into our music. This because we prefered our short fast songs more than the slower ones. An other reason for the style change is playing with other Dutch bands like 'My Minds Mine' and Mihoen. Seeing their energetic performances gave us a good push in the fast direction. Now we got to the point we found the mixture of crust and grind we like.
The split Eps I own are very good quality, and it's surprising for some Crust/ Punk oriented releases! What's your opinion about the bands you have shared the split Eps with?
It's true a lot of releases in the crust/grind scene lack good recording quality. This is a shame because with creativity and a lot of energy you can get good results. We record our stuff ourselves with a lot of help of close friends. We are lucky to have acces to a cheap studio. This studio is run voluntary by friends and has the goal to record stuff for young bands without a big studio budget. If you combine this with the use of a computer for mastering and album cover design a good quality recording can be made without spending a lot of money.
After releasing our first EP, Thorsten from Beyond records asked us to do a split release with the German grindcore band Spinebender. There are some good songs on their side of the EP but I think the sound could have been much better. We played with them a couple of shows before they split up shortly after. I liked them live but I heard they played much better shows before. With the exception of Heiko, their former drummer, we lost track of the bandmembers. I have to admit I don't know what they are up to these days.
For our next release we asked the Dutch crusties of Distroy. We knew them from their liveshows in Holland. Although young, they play oldstyle crustcore we like a lot. When we toured together for a week in 2002 through Germany, Switzerland and Belgium we found out we made a good choice releasing with them. Good shows and we had lot's of fun. Distroy recently had some lineup changes as well. The drummer left to 'Lamme Hoer' and is replaced by former Malignant Tumour drummer Johan and there is a vacancy for a new baseplayer. I advise everybody to keep these guys in sight, either with Distroy or with any other new project of their members.
There's also a Grindcore band coming from Montreal/ Canada who uses the KRUSH name, they have released split Eps swith AGATHOCLES and UNHOLY GRAVE. Did you know that? Did you get in touch with them?
We found out about the Canadian Krush after our first 7'' was released and decided not to change our name because of that. Although we are aware of the Agathocles and Unholy Grave splits we never heard their music. We never got in touch with them but this does not mean we don't want to. So if someone knows an email address or has some of their mp3's they are welcome to send it. To avoid confusion with the Canadian Krush we added the dollar sign to our name. but to be honoust we don't really mind about the issue. I hope the Canadians feel the same way.
What were the reasons for forming KRUSH? Was it only to have fun and play good music, or was there also a goal to express you vision of life? Did you always use committed lyrics or did you start to use some later?
When Kru$h started out as a project, the singers were asked to write down lyrics about their view on society or any kind of subject wich somehow, or in someway, bothered them. This resulted in lyrics with themes like religion, work and hypocrisy in people. This hasn't changed through the years but our major focus is different. What we like to express is very simple: ''Get of your ass and shape your own life''. Don't just question society, but also try to build a different one.
What's your opinion about bands who doesn't use commited lyrics, but say anything and nothing about gore, shit, videogames?
For us lyrics are important but there is more around. I don't think there will be a chance Kru$h will write a song with goregrind alike lyrics. But we do not mind if other people do.
Would you kick a shitfungrind band's guy or would you respect him as he's a human being? Even if is music is nothing more than pure noisecrap and his lyrics are simply stupid and senseless?
I think being friends with the guys from the local goregindnoiseband Intumnscence says more than enough. By the way, there is a lot of good noisecrap around ;-)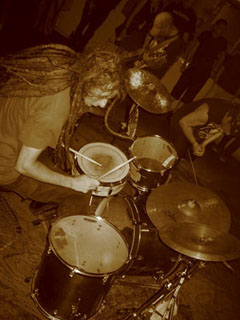 How do you feel when you see all these 'metallers' dressed with spikes, leathers, (only) Black clothes, black and white corpsepaint and watching you with their evil eyes as you don't wear a CRADLE OF FILTH Tshirt? They have became so true evil christmas trees! Ah Ah!How does the extreme metaller react to your music in general?
Mmm… I can't remember such an incident ;-).
Although it's mostly punks at our shows also metalheads seem to like our music. That's ok, even if they have corpsepaint.
What are the fucking clichés you can't bear in the Hardcore/ Punk/Crust scene?
Although a lot of punks claim to think for themselves and look further than what the 'corporate media' has to offer there are a lot of dogma's within the scene which are never questioned. All believes should be questioned on a regular basis and dogma's should not be a part of the punkscene.
A member of the band also runs the ROADKILL label. Does he release only the KRUSH releases or ar there other bands on the pressing list? Give us more infos about it!
Roadkill was formed by three friends including our drummer. The goal of the label is it to release the music of their bands and projects if they want. This can be any type of music. Among the last releases are next to Kru$h stuff a Toner Low / Far Tor Vow split EP (stoner), a Danny Ramirez (Singer/Songwriter with a morbit twist) CD and a Mad Loggers / H21 split LP (Rock). The label has been around for a couple of years and probably will stay active for a while. If you want to find out more about them you can check their site (www.roadkillrekordz.com).
I don't know much about Crustcore... Some actual bands you could strongly advice me in the style?
Well, Skitsystem, Wolfbrigade and Drop Dead will do the trick. From the benelux area we recommend Distroy and Visions of War. If you are interested in crustcore, there are more than enough good quality releases coming out on the moment.
Give us the whole KRUSH's releases list! Is it still all available? Are trades welcome?
We have released 3 EP's
Kru$h, Murder Rhythms double EP, 1998, Beyond Records.
This is the release with 10 different singers. Not like our current stuff but still good stuff.
Kru$h/Spinebender split EP, 1999, Beyond Records.
More fast but with an even faster Spinebender
Kru$h/Distroy split EP, 2002, Roadkill recordz.
Last release with rocking cruststuff of Distroy
We are interested in trade or any other deals. Please check our website (www.krush.info). If you want to hear us first: we have a lot of mp3's for download on our site. There will be new songs on there soon.
What are your future projects? Conclude this interview!
We finished recordings for two more split EP's which will be released in the next couple of months.
First a split EP with the Brazilian hardcore/crust band Gritos de Alerta. We came in contact through members of Sick Terror when they toured Europe. This EP is co-released by Terrotten Records (Br) and U.P.S. records (NL).
The other split is gonne be put out by a friend of us on his label Spanky Planky records. It's gonne be a split with the Canadian Hardcore band Haymaker.
For spring 2004 we are planning a two week tour to Hungary and some other Eastern European Countries. We have played in Czech this year and were amazed by the enthouiasm of the people. Hope to see more of that. If it works out we will pass Poland, Czech, Slovakia, Kroatia and Slovenia.
But please check us out on our website and download some mp3s. Drop a note if you want.
Website: www.krush.info
>