----------------------------------------------------------------
INDEX INTERVIEWS GUESTBOOK
----------------------------------------------------------------



Introduce us to FATE in a quite short way.
In September 1994, the adventure begins with Nito (batt), Stef(guit) and
kramb(bass/vox)...September 1996, David (guit) joins the band,
we record our first demo "Distress". A few concerts here and there...
In march 98, Denis joins the band (the day of his birthday !)
June 98, we record a demo in a more melodic style, this demo has never been really distributed... Our music begins to evolve more and more and in October 98, in a really more crushing and brutal style we released the 5 tracks MCD "Va te faire enculer" (Translation: Go fuck yourself). March 2000, we ask Boox(ex-guit. of Machiavelik) to join us to do the scratchs on some platines... April 2000, we record "No Sense"...that was sold around 1000 copies...June 2002...we've got 6 new tracks....and it has still changed quite a lot eh eh eh.....
What are your inluences? Are you listening to metal only or are you attracted, do you interest yourself to some other musical styles? And if this isn't the case, tell us why!
Our influences are some bands like : Dying Fetus, Cryptopsy,
Cephalic Carnage, but also Dillinger Escape Plan, Converge,
Coalesce, Cave In...
We interest ourselves to quite a good amount of varied styles : grind, deathcore, HxC, rock (Elvis rules !), jazz, hiphop, dub, reggae, Drum&Bass,
electronic musics of all kinds (hiphop, ambient,hardtech, house, tech,
electro....)
What were the CDs that killed you these last months?
Knut "Challenger" that has got a big sound!!
Burnt by the sun "soundtrack..."
Lock Up "Hate breeds suffering"
And there are some stuffs that wasn't released recently but we discovered it these times...
Converge "Jane Doe", Strife "In this defiance", For The Love Of "festering...", Inside Conflict "Unearthed..."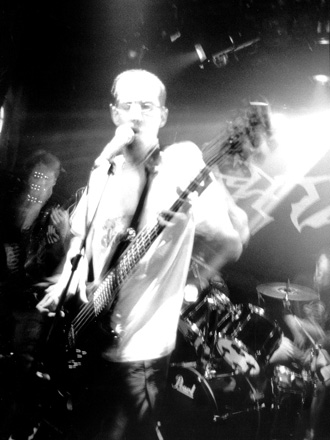 What is FATE's goal?

We want to compose a very intense music that's varied, dynamic and well composed... (And it takes some time!)
Our goal is also to take some good time altogether...Smoking stuffs,Blast, Beer !
Your band's name "Fate" means the destiny. Do you think one can take the "control" of his fate or eternally remain a victim? (This question ain't really a question as you're playing Brutal Death metal, a music style that's rebellious at its basis).
When you'll have played some Brutal Death that's really brutal and revolted for several years, do you think you could fall in somekind of desillusions and tell yourself "Shit, after all it's useless to get revolted against everythings" and to fall in a more depressive delirium such as what Lee Dorian did when he left NAPALM DEATH to fall in a totally opposed and almost masochist delirium on the first CATHEDRAL album? Do you see yourself playing a corrosive style one day?
-----------------
op op there are 3 questions here...well, so
1/ To take the control of your destiny...? it's possible for some, with a lot of will, it's very difficult or impossible for some others who live in other parts of the world...

2/ In fact I don't play to get rebellious, I play in FATE before all for the pleasure to do a music that's at the same time powerfull and aggressive. The lyrics I want to put on the music doesn't express a rebellious side but a given vision of what surrounds us. To revolt yourself is really more than simply doing some music, such as what we're doing, with a very small distribution. etc...
3/ No, not really...

Do you conceive the musical extremism in any other way than by the complexity of the tracks that include a lot of surprises and with a good technical edge?
For me to be extreme doesn't essentially means to be fast or technical. It can be basic, efficient... And the breaks on which you can feel the mosh parts coming, it's also really extreme!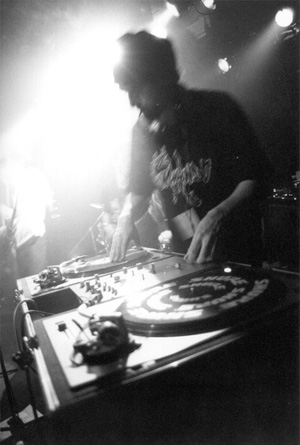 A member of the band uses some scratch turntables on stage. Do you achieve to mix this element with your Brutal death in a positive way? What were the reactions of the Die hard Underground Brutal death fans about this subject?
In fact, the including of the scratchs came slowly? When we recorded the album, Boox had just joined the band and couldn't be really present on the recording. Since this time, 2 years have passed and he has really increased, he'll be able to express himslef on the next album ;o)

The "die hard" fans weren't all against our choice. Some has certainly criticized us... In general (gigs) the feedback is positive.
Can you introduce us to "Le commando", the association of wich you're a part? It's concept and it's several activities...

The COMMANDO is the collective, the association is called GoodWays... the goal of the collective is to create some links between the members of each band so that they pass themselves some good opportunities (gigs, merchandising, distro, studios...) and to spend some good time at our rehearsals to listen to some big sound !!!!
The goal of the association is to concretize all the projects of the collective: concerts, promo, prod...

The main concept of the commando seems to be quite near of an urban guerilla delirium, a state of mind that would be nearer of Grindcore than of the Death Metal that's as a whole more into the Gore or satanic sides, but one can also feel somekind of a "hip hop" touch at the level of the logo's design.
Am I right? What do you think of the gore bands with more light lyrics (even if it's as expressive)? In what kind of cities do you live? What are the reactions of the neighboors about your music?
The theme of the Commando is more base on the conflits, the injustices than on the gore, in fact...we've got a few problems with the artworks but despise of it it's cool. There's in fact a hiphop touch on the logo, it fits better to the "urban" spirit, we're almost all coming from inner cities. Peoples reactions aren't too bad, they only think it's some noise !!!
Do you think a band can do a good promotion and keep enough energy to express in its music so that it would be of a good quality without any external help? (label, webmaster, manager)
Yes, but the needed ressources must be available and you must be able to share the tasks. We're quite lucky for this: Nito takes care of all the printings, I'm running the website (under reconstruction), we haven't got any manager but Xela has helped us a lot and Nito has taken back the booking, Deniz takes care of the merchandising... In short, it works, but you also need a good amount of money to record something good and without the help of a label it's not heasy...
The studio, have you got rather a good or a bad remembrance of it? Do you prefer it or are you rather at the right place when you play gigs? Give us your vision of a FATE gig!
This is a good remembrance, we remained 10 days in the studio. It's not easy to stay concentrated while the others are recording their parts or when we're doing the mix. But it was anyway a pleasure ;)
The next recording will be done around 2003 on a french label...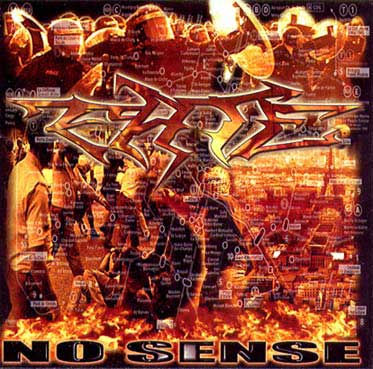 What do you think about the french extreme metal scene? Is there some bands that you specially appreciate musically or on an human point of view in France? What's your opinion about the recognition of the French scene in the foreign countries?
There are some really motivated peoples that are mentally opened and entreprising. I think about Inhumate of course, Blockheads, Morgue, Loathing (marseille), Imperial Sodomy, Eyeless, Es la guerilla... The crews, labels, distros, radios, and the zines are to numerous to quote them but they'll recognize themselves, and we thank them for their support.
The french scene seen from the foreign countries... to say the truth I don't know too much the impact of the most known bands in terms of percuniar numbers. For "No sense" the feedbacks from the other countries was quite good but it remains difficult to be well distributed in foreign countries without trades.
Have you got some other musical projects? Such as the members of GOTHIC who run a techno hardcore project... Maybe you run some not musical projetcs!
Yes, we've got a project that's called "THE SHUT UP FARM", line up : Nito
(guitar), Neboo (drums), Boox (Bass), 2Fré (vocals), Kramb
(vocals), some tunes in a Rock / Grind style that's between Milligram and Nasum, it includes Rolling Stones cover...
What are your future projects?
At the time, composing a lot for our next album.... it's coming, a bit of patience...

These last words are yours, thanks for your time!
Thanks to all those who follow use and support us, thank you for this interview that I lost and I had to do again(!)
Some gigs are scheduled, www.lecommando.com , we'll let you know!