----------------------------------------------------------------
INDEX INTERVIEWS GUESTBOOK
----------------------------------------------------------------

After a first demo that remained confidential, the French band ERADYKATE prepares a first ultra brutal death metal album, directly influenced by the ultimate American scene. As they have just been joined by a drummer of flesh and bones, ERADYKATE has now all the chances to kick your ass ! Julien ,the vocalist of the band, introduces us to the beast during this interview realized by Jean of IN EXTREMIS Webzine/ Radioshow
Could you introduce ERADYKATE to the readers to begin this interview?
ERADYKATE was formed in march 99 , by Pornopork (guitar), Brutal Killer (vocals and guitar) and Anus Ripper (bass). We started with a drum machine and we tried several drummers or second guitarists (to replace B.K for the guitar). The line up is complete and stable since this last summer with Nostradamus (second guitar) and Rectum Cruise for the drums.
Which were the feedbacks to the "Worldwide Sodomization" Demo? And are you satisfied with the feedbacks ?
First of all, it's entitled "Worldwide Sodomination" (and not Sodomization) that sounds more funny ! This 5 tracks recording dates back to march 2002, before Nostradamus and Rectum Cruise joined us. We never released this demo, so there were no feedbacks. Nevertheless, we have anyway sent a few CDr without covers to do a bit of promotion without much hopes, even if as a whole all the reviews where positive.
In April you'll record your first album. Can you tell us more about it?
We have kidnapped the mother of Adrien from Snakebite Prod. (who is also a member of Tartopoil), to release the album on his label. We made this poor woman suffer the worst ill-treatment and humiliations (micro-wave toaster in the ass, clitoris in the ham cuter, fingers in the nose…), the ransom was fixed to a recording at Bud Records' studio in Bordeaux (Voracious Gangrene, Bloodshed, Zubrowska... ) next April, this recording followed by a release on the snakebite label. As no contract is signed, this deal isn't sure 100%. The CD will include the 5 tracks of the demo (with a drummer !) as well as 3 new tracks that are ways more extreme.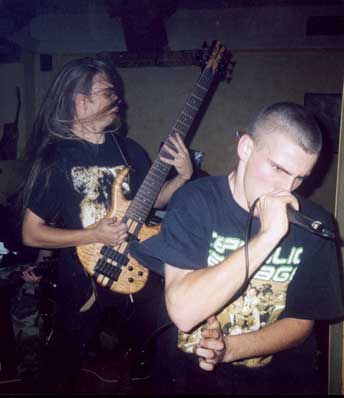 Are you searching for a label or a distributor?
We have ever gained the quality label « 100% pure beef », we're actually have the prestigious « Red label » as a goal. (These two labels are used in France to show which meat isn't genetically modified or else… Gab) For the distribution and promotion, we hope the work of Snakebite will be good.
The death-metal of ERADYKATE seems to be rather marked by some American bands. What are your influences? How do you compose your music?
Our main influences were in main line Monstrosity , Suffocation and Dying Fetus, but since about a year we move towards some more European influences (especially the Czech scene): Intervalle Bizzare, Melancholy Pessimism, Cryptopsy, Meshuggah, Obscenity; But we also have to say as ERADYKATE is very marked by the use of bancal measures, we own a lot to Primus and Admortem (r.i.p) we have listened to during our nice childhoods.
We mustn't forget we are very influenced by the pastis and the beer. About the compositions, a musician shits a track with his own anus, and we work back his excrements during the rehearsals.
What are the themes your lyrics deal with? Is it important in your eyes?
Our favorite theme is the sodomy, done in varied and unexpected situations ("Anal Sex with a Leper" , "Sodomize the Armless Child with a Pneumatic Drill", "Je Vais te Brutalé l'Anus") But we are also opened to any kind of perversions ("Fucked Through a Gash in the Stomach", "Défloréee à la Machette", "the Abortive Baseball Bat", "la Philocoprie dans le Bavoir"). We've put into music a real pornographical poem of Guy de Maupassant :"69". All these lyrics are mainly here to remind of our love for the well done work (because we try to write correctly, especially in French), the whole on a totally inexisting message, as long as it's funny.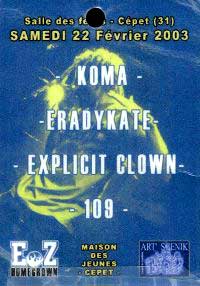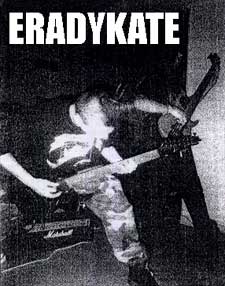 You've recently played a gig of the Violating Europe Tour that occurred in Toulouse, with Vile, Inhume and Disavowed. How did this experience happen? Do you keep some good remembrances of it?
You forgot to quote Spawn Of Possession that was the best band of this gig in our opinion. This gig that was organized by Adrien and Brutal Killer was a very good night, these peoples were very nice and occurred to be enjoyers of chips and candies battles in the backstages. They all seem to have appreciated our set (and our scene clothes), that's quite encouraging for us. We keep a very good remembrance of it, we've all finished drunk and we can't complain about it.
What are your projects at the level of gigs? You seem to search for dates.
We're absolutely opened to every kind of gigs as it remains a priority for us. We'd mainly like to play in other suburbs than ours, mainly in the North of France, because the metal scene is really less moving its ass in our suburb.
Let us know how your relations with the remaining of the French scene are. Are there some bands you especially support?
As we haven't played much gigs for now, we haven't got many relations with the French scene. We only know personally some bands of the south of France, including some who have unfortunately split up, such as Voracious Gangrene and Imperial Sodomy.
We especially support Inhumate, Fate, Gorgasm, Sublime Cadaveric Decomposition and H-Tray. Some of us also play in other bands because we're motivated to make the scene of our suburb live : Brutal Killer plays in Zubrowska (brutal death-core), Disphoria (HxC) and he's a part of Kavern (black-core) with Pornopork; with a bit of luck peoples will hear about these bands !
The last words are yours. If you want to speak about another subject that's important to your eyes…
Pastis, tenderness , beer, love, vodka and poetry... Thanks for your interview, I beam your ass! Brutal "nutz" Killer , Pornopork et Anus Ripper.
Email: Nutz.1664@wanadoo.fr