Little flowers, little sisters and Big BRUTALITY!! Allright, this is a small interview I did for another webzine that finally didn't see the light of anything! The main «editor» was a too arrogant piece of shit to be able to deal with a webzine (Lol, what an inhuman piece of work!). There was no need to loose an interview that remains cool, even if it's quite short. So here are the questions, and answers of Christian (drums).
MOUTH WIDE OPEN! FACE THE DEFLORATION!!
1. The first cult question is now escaping my putrefied mouth, we all know it perfectly but it one time more has to be answered : Introduce your band ! And give us a biography.
DEFLORATION was founded by Bertram (guitar), Marko (bass) and Christian ( drums) in Pößneck/Germany in Spring 2001. At the beginning they played Rock in the old Hellacopters style.But sometime it was just boringand we made first attempts to create Death Metal Songs. We really enjoyed the new style and later Uwe(vocals) completed the line-up. The influences were and are bands like CANNIBAL CORPSE; SUFFOCATION and so on
2. How would you define your musical style ? What are the biggest influences for DEFLORATION? Between the Brutal death and the Death metal riffs, you do not have more melodic riffs from here and there, nor tiny ass-licking melodies... ONLY BRUTALITY! So you probably listen to Death metal strictly and exclusively! Which metal albums did you play a lot these last months?
We play brutal death metal without too much melodies but also with moshing grooves. Our biggest Influences are Cannibal Corpse, Suffocation, Dying Fetus and Malevolent Creation. But ware also listen to other kinds of music like Heavy or Trash Metal. At this time I like these following albums very much, Aborted - The Archaic Abattoir, Severed Savior - Brutality is Law, Iron Maiden(all), Dew Scented - Issue IV
3. Tell us more about the band name: DEFLORATION! Is it due to personal experiences or was it only chosen because it sounds brutal? Do you know the band DEFLORACE?
Yeah right! The band name only was chosen because it sounds brutal. But sometimes one of us is an Deflorator! ;-) I have heard about the Band Deflorace many times. I think they've played this year on the Fuck the Commerce Festival. But I have never listen to their music till this time! But I will listen!!!!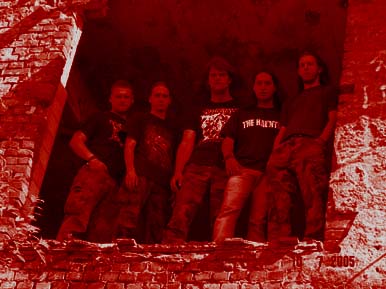 4. Who is the main composer in DEFLORATION? Does everybody bring riffs and ideas, or is there a main burning soul procreating most of the livid abominations of the technical? :)
The main composers in Defloration are Bertram(git) and Christian(drums)! They bring most of the guitar riffs and arrangements ideas but sometimes other band members are also involved in songwriting.
5. What's your opinion about the social lyrics, the gore ones or the ones whose spirit is nearer of the pure Death metal spirit: those strictly based on the destruction of mankind, morbidity, hatred and the annihilation of any kind of life?
In my opinion I would prefer the social lyrics or the fantasy ones. The typical death metal lyrics or the gore ones a very boring with the time and always the same. I Think a good band must also have good lyrics!
6. Why do you play Brutal death metal ? What does Death metal means for you ? Are you the same individual in " everyday life " and in the band?
I play brutal death metal because I love this kind of music. I like it to play such fast and groovy stuff! All other music styles would be boring for me. Also the partys and Festivals are the best, nice feeling, many beer and cool bands. I am always the same person in band and in daily life. I needn't adjust me I am who I am!
7. Germany seems fullfiled with Brutal death and old school Death bands,to the point there might be brutal gigs in every big town each week end! ARGH! Do you think there's a reason for this ? Is the beer so hot in germany or is it due to the big amount of enslaving-factories? Any new coming German bands we should check out urgently ?
I dont know why so many bands exist in germany. I think the german metal scene is relativ big and so many person would like to play metal music. In fact heir exist really good bands in Germany. If you like check out Fall of Serenity, Sinners Bleed, Gomorrah, Death Reality, Deadborn and many others! ;-)
8. Your last Demo sounds very professional and as brutal as an infernal asspounding big piece of steel! How were the feedbacks? Did you get some label offers?
The critiques of the worldwide underground were fantastic and SUFFER PRODUCTIONS decided to release the two demos as a split CD with Spanish Strangled in March 2005. Later we entered the Soundlodge Studios to record our first full legnth. With this material we get a deal with REMISSION RECORDS which will release our debut album called "Dripping With Blood" at the end of 2005.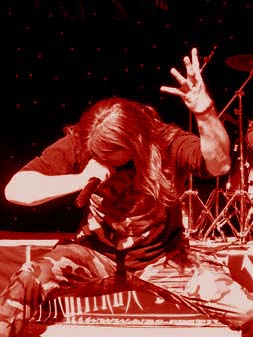 9. Try to find 4 efficient marketing arguments to convince the death metal fans of buying your demo! It might be even harder now many peoples download Mp3s and buy very few stuffs... but once you've succeeded it's an even better reward! Right?
There are 4 only 4 words: Brutal, Sick, Fast and Cheap! ;-)
10. What would you change into these bands' music to make it worth the listening? Or at least more fitting to your tastes?
DIMMU BURGER (Nothing I like it very much)
CRADLE OF FILTH (no comment uargh)
UNLEASHED ( in the early days it was cool but now it is to boring for me)
ANOREXIA NERVOSA ( i dont know the music of this band, perhaps the band name? :-))
NIGHTFALL ( I dont know this band)
GLOOMY GRIM (I dont know this band)
HAMMERFALL ( The first LP was cool but know it always the same and more bad)
OBSCENITY ( I like this band and one of the famous german death metal band)
DEFLORATION ( I would change nothing! ;-) )
11. What's your opinion on DEICIDE's last releases? Don't you think it lacks of deep inspiration and creativity? While the 2 first CDs of the band were deeply satanic/ vicious with great riffs coming from the deepest pits of hell (the whole showing a totally promising and "innovative" band a its time), their last albums are quite flat and rather uninteresting as they disappoint all the hopes the maniacs could have put in them. Let me know your opinion about it!
I couldn't say too much about Deceide! I Like the first LP but in general i don't like their music and I think Glenn Benton is an asshole!!!!!!
12. Would Satan laugh as you eternally rot?
Yes he would be happy that from this time nobody laughs about him ! I dont like religious ,Satan and so on!!!!!
13. Now it's one more time the moment to answer the final cult question! I leave you the last words to conclude this interview! Add whatever is needed!
At first i would like to thank Gab for this Interview. I hope everybody of you will buy our first album called "Dripping with blood" at the end of 2005 and perhaps you visit us live sometimes. Thanks. Death Metal RULES!!!!!!
Websie: http://www.defloration-deathmetal.de
>