I was quite surprised when I received DEEP VEINís first demo, because even if the band is still young, they have a morbid feeling as well as an obscure mood I didnít expect much from nowadays French bands. It shows the merciless winds of the old school are striking back to crush any kind of moronic false metal! Ah Ah! As I ever told this before, this band reminds me some other formations I knew from their demo years who evolved in something better with rehearsals, beers and experienceÖ

Introduce the band and do a biography!
DEEP VEIN was created in January 2001 by Cyril (drums) and myself, Jim (Guitar). We were a part of a Doom death band from Poitiers, BLOODTEARS. We had started to build tracks the two of us, and Lorenzo (vocals and ex BLOODTEARS) joined us. Later (around 2002) I left BLOODTEARS to concentrate on DEEP VEIN. Sylvain (guitar) and Jťrome (Bass) joined us quite soon after that.
Our first gig occurred on the 26th April of 2003 in Lusignan : it wasnít good! Since then, we have done some other gigs and we recorded a demo.
The name of the band, DEEP VEIN, seems to have links with the bleeding, and the abyssal deepness of hatred. Tell us what it means for you !
In fact Our name comes from ĎDeep vein thrombosisí : itís an abnormal coagulation of blood that can lead to death since the brain isnít irrigated anymore. One can also do a link between old school/ Deep vein, a music that takes its influences from the beginning of Death metal (80ís and 90ís).
At the level of the riffs I found you are influenced by the American old school and obscure brutal death scene of the 90s (IMMOLATION, INCANTATION, ENCABULOS) as well as by a more ancient Death metal of the 80ís (old DEATH, old MORGOTH, a bit of PARADISE LOST's beginnings). Would you add other movements or some bands in particular to this list ? (Maybe DEICIDE ?) Are there some kinds of music you eternally want to be out from DEEP VEIN ?
Yes you are totally true, and I would add the old MORBID ANGEL,BOLTTHROWER, CANNIBAL CORPSE, PESTILENCE, SUFFOCATION, CARCASS, AT THE GATES, AGRESSOR, the thrash metal with SLAYER, TESTAMENTÖ and many others! On the other hand I donít like the musical direction bands like SOILWORK or IN FLAMES tookÖ they were really more interesting at their beginnings.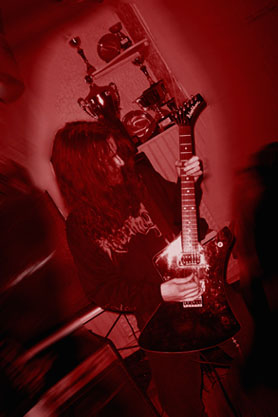 Your compositions sometimes fall in the bleeding and the mortuary ! With a feeling modern Death metal bands have a really hard times to find back ! What are your musical motivations that seems totally out from those of nowadays extreme metal wave ? Whatís your opinion about American Brutal death, ultra technical brutal death and deathcore ?
We privilegiate before all the insane side of the music. We donít bet on the quickness of playing because on one hand it asks for a technical level we havenít reached, and on the other hand we arenít interested in playing a noisy maelstrom during gigs, because of the instruments and material we use. Of course I enjoy bands such as HATE ETERNAL and DECREPIT BIRTH, but are they able to play their music live in good conditions that doesnít sound messed up? Iím rather a consumer of the hypertechnical things in the vein of PSYCROPTIC and YATERRING, but I can understand it may bore some peoples. Speaking about Deathcore, Iím ok for DYING FETUS who mixes Death and Hardcore in an efficient way.
A whole movement of old school Death metal, Thrash metal in a totally 80ís style (without any core nor modern influences) and speed metal is actually beginning to tale some importance in the deepest underground. The new bands evolving in these styles are more numerous, and the older bands are also reforming. What are your feelings towards this enthusiastic phenomenon?
Itís important to take notice of the influences pioneer bands such ad DEATH, MORBID ANGEL, NIHILIST had. If these bands (and others) didnít exist, the style would be very different nowadays, if it would have existed. I understand some do not listen to these bands, but to negate their impact is stupid ! Personally speaking, I find it excellent some new bands impregnate themselves with this old school feeling and they later play it their own way. Of course some will complain and say itís not original. Itís hard to be original nowadays, so we try to compose some good tracks, itís a good beginning !
Speaking about the reformations, some such as the NECRODEATH comeback are excellent, but itís really obvious it occurred for financial reasons. Nowadaysí market isnít the same than 15 or 20 years ago. So itís cool to see again DESTRUCTION, EXODUS, AGENT STEEL, DEATH ANGELÖ but they arenít back only for the music.
What are the crowdís reactions during your gigs ? How many concerts did you do and how did that occurred? Do the guy who doesnít enjoy morbid music much appreciate your music ? Your style isnít as direct as Brutal death or Grindcore (on an impact point of view) and a given state of mind is needed to enjoy it.
We played 6 gigs since the beginnings of the band and we had as much good reactions (Pogos and headbangings) than failures (Peoples looking at us with crossed harms). I can understand that, since peoples donít know us itís a normal reaction. I think to decently enjoy our music, a few beers can do the trick ! More seriously speaking, we aim to have varied compositions, with tempo changes and breaks (without abusive technicality), so that we arenít bored when we play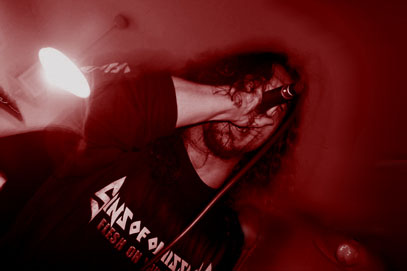 Do the alcohol and substances that modify perceptions enter in the game during the composition of the tracks? How does it usually occur (How many beers for a setlist, amount of destructed anusÖ) and do every musicians Contribute to the musical composition ?
The compositionsí basis comes from Cyril and myself, then we work on the articulation with the other guys. When we compose, we stay sober as itís easier to build the tracks. Then, during rehearsals itís different, we drink and smoke few joints !
I noticed your drummer hasnít an old school kind of playing while his drumming is more technical, and maybe more varied. What do you think of it ?
Cyril venerates Gene Hoglan (ex DEATH, DARK ANGEL) , Sean Reinert (ex DEATH, CYNIC), and Richard Christy (ex DEATH, BURNING INSIDE). He experiments a lot and hew works his drum patterns until it pleases him. Itís sometimes a bit boring but it gives something more to our music!
Do you enjoy POSSESSED, GRAVE or AUTOPSY? Listening to their first albums, the words ĎDeath metalí take again all its sense ! The metal of death! Morbid, shabby, brutal, insaneÖ
The bands had an enormous impact on Death metal, itís certain ! I know a bit these 3 bands and Iím fascinated by the macabre and dirty production one canít find back in nowadaysí sterile releases.
For example, DEICIDEís album ę In torment hell Ľ isnít a problem at the level of the compositions, but the too clean and clinical production doesnít fit this band.
Are you listening to metal since a long time and with which bands did you begin Death metal ?
Iím listening to metal since about 9 or 10 years. The extreme side progressively took more place with SLAYER, PANTERA, SEPULTURAÖ and then CARCASS, DEICIDE, CANNIBAL CORPSE, DEATHÖ and now ANATA, DECAPITATED, CRYPTOPSYÖ I like to discover new bands, even if itís the most obscure ones.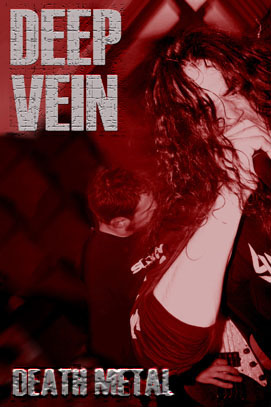 Whatís your opinion about Black metal?
Iíll speak for myself : I enjoy MAYHEM, DISSECTION, ASMODEE, SATYRICON, ETERNAL MAJESTY, DARK FUNERALÖ I like the insane and dark side of this music, I try to incorporate it in our own music. Iím mostly interested in music, Satanism isnít for me and I even donít speak about the fascist things !
How is the extreme metal scene in your suburb? I think thereís PULMONARY FIBROSIS whose vocalist runs the METAL FURY radioshow (100% Extreme metal from the pits of hell!)
There are some good bands in Poitiers, thereís of course PULMONARY FIBROSIS who released a split CD with THORWALD (Slovakia) in 2003, we have ever played with them. Thereís SYPNOSYS (Old school thrash death) who released an album this year. We doesnít lack bands but places where to play. Then most of the time, bands play in bars and where they can. Hopefully Pascal from METAL FURY is here to propagate the Metal of death! Him and the guys from PULMONARY FIBROSIS have helped us quite a lot in the beginnings as they made us play with them, while we even hadnít got a decent recording. I want to thank them one more time.
You recently released your first demo! Do an introduction to this release and try to convince the reader of buying it !
The demo is called ę Reign of decadence Ľ and contains 3 tracks. We did the recording in two days and mixed the whole stuff during an afternoon in a little studio situated in Poitiers. I think any extreme metal fan whoís open minded can enjoy our demo, even if we arenít brutal nor Grind. If you are a maniac of the 90ís scene you can be interested in our demo ! The call to old school fans is launched !
What are your future projects ? Itís you to conclude this interview!
Weíll be a part of a compilation CD released by SKULLFUCKED Prod , it will contain 14 other bands as well. It should be called ę The French underground series Ľ and it has a strictly promotional goal. A track from our demo will be a part of it, it will give metal fans an overview. Itís scheduled for the end of march/ beginning of April.
Weíll play at the GRINDZOR FEST (Near of Tours) on the 10th April with our friends PULMONARY FIBROSIS, ILL DIVINE, GASTRICK BURST, BASTARD SAINTS, IRAE and possibly the Slovak band PYOPOESY.
Thanks to you Gab for your honesty and the interest you shew towards the band.
Contact: Cbeautour@aol.com
>