OLD FUNERAL - 15th February 2003. Os Kommune, Norway.
Private birthday party of Tore Bratseth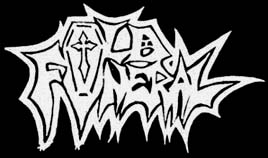 Hell, I am lucky enough to make a gig report of the most cult and underground gig of the year 2003. As a matter of fact, only 200 people have seen that, and I feel forever honored to have been invited at the Tore´s 30 years birthday party!!!That OLD FUNERAL should play there with the reunion of the original line-up, only for this gig, was a surprise. But hell, Tore was kind enough to tell it to me before... And how do you want me not to become crazy while knowing that in advance???? Tore on the guitar, Olve/Abbath on the bass and vocals, and of course Padden on the drums.... Argh, they haven't played a gig together since 1991 or 1992. Can you imagine that? To give you an impression of the total class of Tore and his band mates, I have to tell you a bit what happened to me before I arrived at the place. I was with a friend of mine and we had to take the bus to go to the birthday party place that is 35 minutes south from Bergen, lost between two mountains, not so far from Lysekloster (where the picture of the first IMMORTAL cover has been taken). But we took the wrong bus and had to walk something like 5 or 6 kilometers in order to find this fucking place we didn´t know how it looked like. Hopefully we managed to find it, but the OLD FUNERAL gig had already taken place!!!!!!!!!! AAAAAAAARRRRGGGHHHH!!!! We just missed the cult for one hour! I was happy to have found the place and to meet Tore as well as some other dudes, but quite disappointed to have missed the most cult thing of this evening. When I told to Olve and Tore that I had not seen OLD FUNERAL, they said it was possible that they take their instruments one more time... WHICH THEY FUCKING DID!!!!!!!!! Incredible! These guys played the OLD FUNERAL gig again only for two French losers! Can you imagine that? And once they were on stage, Tore dedicated the gig to me!!!!! Argh! I will never forget this moment!
Actually the stage had a drape with the word "ALLRIGHT" written on, back the drums. This because Tore is always saying this word, maybe one time per sentence! hahah! He´s so fucking fan of MOTÖRHEAD that he always says this word! And then the concert began with a cover of the almighty CELTIC FROST: "Procreation of the wicked". AAAAARRGGHH!! I think that i could have died at this moment already! Uh! Uhrgh! As I am too young for having seen the true CELTIC FROST on stage, I enjoyed this song covered by another cult band! And believe me it was the pure mayhem in the small audience! hahhah! I made Tore drinking beer while he played the guitar, and did a lot of stage diving! Ha ha ah! The Norwegian aren't used to this tradition, it seems, but still they received my shoes in their faces! hahahahaah!!! And then the guys played the OLD FUNERAL song from the "Abduction of limbs" demo called "Skin and bones"... Olve was totally brilliant, he´s really a great showman. Showing the tongue and playing on his knees like Gene Simmons of KISS!!! Tore was quite furious too... I guess that the only thing he had in mind while playing was something like: "Alright! Alright! All fucking right! Alright!" haahahahah! Oh did I mention that Padden did the backing vocals on the CELTIC FROST cover? No?, Well it´s done now! ha! And this was totally cult when the end of the "Skin and bones" song arrived, because Olve began to break his bass on the stage like Cronos... Total madness!!!!!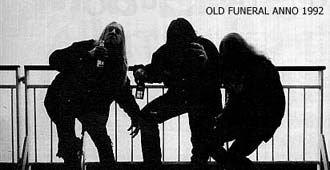 Yeah that was quite short, and only one song of OLD FUNERAL has been played at this event, but hey, it was worth to see, believe me! And after that, Tore began to play with his girlfriend on the bass, and Pez on the drums with his MOTÖRHEAD cover band called BOMBERS!!! It was fucking cool to hear all the Lemmy´s classics. Of course Grutle from ENSLAVED took the microphone on "We are the road crew", and Olve sung on "the ace of spades" if my memory isn't failing! It's incredible how this man is able to sing like Lemmy himself...
a great moment of Rock´n´Roll!!! The crowd was totally drunk and I have to admit that I never saw such a moving and banging Norwegian crowd! hahahah!!!
After the BOMBERS show, the band LOST AT LAST took the stage and began to play cover songs of WASP, JUDAS PRIEST, ACCEPT and stuff like that... But I can't tell you too much about that, as my brain was bathing in alcohol, and my stomach was busy to reject any relief of food that was inside him! hahahahaha!!!! Anyway, it was a hell of a party, believe me!!!!
And the organization was fucking perfect. I shall never thank Tore enough for having done such a cult party. Yeah it was far from the usual birthday parties where we all got bored to death with shitty music and stuff! Ha! This was a total cult to Rock´n´Roll! AAAAAAALLLLLLRRRIIGGGHHHHHTTTTTT!!!!!!!!!!!!!

Nathaniel