VIVISECT - Barbaric death Tape out now!

Filthy and morbid death metal from New Jersey, Usa.
Four songs gathered on a pro tape to exhume the 90's feelings and putridity.
It sounds like a mixture of early DEATH (First two Lps), some old AUTOPSY, and more early 90's US Death metal bands…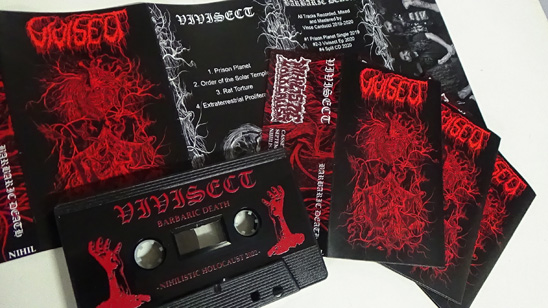 Listen here: https://youtu.be/O5qc7u0SAEk

Limited to 200 pro pressed tapes, with pro printed color covers,
released by NIHILISTIC HOLOCAUST.


Get a copy from these links:
https://nihilistic-webzine-distro.fr/Webshop/fr/24-news
https://nihilisticholocaustrecs.bandcamp.com

FEEL THE DEATH METAL EMERGENCY!
SUPPORT UNDERGROUND DEATH!