REINCREMATION Split: IMPUREZA, INGURGITATING OBLIVION...
IMPUREZA/ ARSONIST/ SUDDEN DEATH/ INGURGITATING OBLIVION
Split CDr out now on NIHILISTIC HOLOCAUST!
Color cover, almost 60 minutes of Death metal!

Death metal meets brutal Death the way to definitely kick your ass!

Morbid and obscure brutality, old school death frenzy, extreme savage grind, technical catchiness, fresh originality
are some of the feelings you'll find into this almost 60 minutes long split!
For Death metal maniacs who do not narrow to any style of our beloved morbid or extreme DEATH METAL!
Get it or fucking die!

Trades are welcome!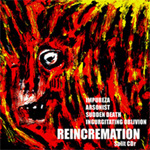 IMPUREZA/ France/ Extreme death metal with well integrated flamenco touches!
http://www.myspace.com/impureza

ARSONIST/ Sweden/ Brutal death the efficient way!
http://www.myspace.com/arsonistmetal

SUDDEN DEATH/ Germany/ Death grind with old school punch!
http://www.myspace.com/suddendeathmetalos

INGURGITATING OBLIVION/ Germany/ Extreme and morbid technical!
http://www.myspace.com/ingurgitatingoblivion

Trades are welcome! Tapes and CDr distros/ labels, get in the ring!!

Greetz
G.