HERPES (Fra) "Doomsday" demo CDr out now!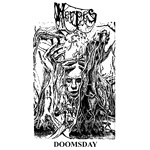 5 tracks of morbid Death metal à la AUTOPSY, with touches of DEATH BREATH, early DEATH...
It's heavy, punching and obscure!

Listen: http://www.myspace.com/cockmincer

Prices (Postpaid): France = 3 euros/ Europe = 4 euros.
Trades are welcome!

The tape version is still available from CARBONIZED CELLS Recs: http://site.voila.fr/carbonizedcells

Write now or get trapped in your coffin!