1. Hello. First of all could you introduce WRITHING to the readers?
We are Writhing from Detroit, MI, USA. Matt Deplancke on vocals, Greg Mastin on drums, Mike Nastasy on Bass, and Don Durr on guitar.
2. If WRITHING was an animal, what would it be, and why? Which animals would represent the best Death metal in your opinion, and more precisely your own genre?
Writhing would be the mighty lion. The King.
3. The kind of death metal you play isn't the most old school, it could remind of mid old Malevolent Creation, mid old Morbid Angel or Morta Skuld. This isn't the most usual thing right now in Europe where everyone wants to be so modern, so brutal, or so old school/ necro 80's. Would you say these bands are a bit more influential right now in Usa? Or maybe you spent much more time listening to your records than the new stuffs released in 2010-2012?
We're more fans of the older style of death metal(Morbid Angel, Malevolent Creation, Deicide) but we also like some of the more recent bands, such as Hate Eternal, and Behemoth, even though they've been around for quite awhile now. A lot of the bands in the US are leaning more towards death core, which is something we avoid.


4. Are you familiar with Morta Skuld, or would their possible influence on your music be my own interpretation? Are there other bands to quote that could be more representative than the 3 from the previous question?
I myself am not familiar with Morta Skuld at all. The bands that we could be most compared to are Morbid Angel, Deicide, Hate Eternal, Behemoth and Immolation. We have some hints of black metal throughout some of the songs as well.
5. Where and how did you record the "Indomitable" demo? There's some heaviness in the sound, I like it. (Don't tell me it was self produced, the production might be a bit too cool for that...). Does it represent something like an achievement for WRITHING, I mean in the evolution of the music, skills and composition? Are there a lot of differences with your first demo? (The style was maybe different, perhaps a little more thrashy?)
The EP was recorded at Dreadcore Productions. Writhing's first release(prior to my joining the band) was also recorded there. Indomitable is definitely a step up from the first release, in production, style, and sound. We're all happy with how it turned out, but we won't be going to that studio again. It's run in a very unprofessional manner, by someone who has a terrible business sense. He knows how to engineer and make things sound good, but that's the extent of his talents. As I said, we won't be going back there again.
6. Could you explain in a few lines the meaning of the "Writhing" word in your Death metal context? This is not a very usual word for peoples who do not speak English daily, from Google translator I understood it could stand for "Twisting yourself with suffering" but I'm not certain...
The best way to define the word, is to say the phrase "writhing in pain."
7. What were your first feelings when someone asked you to release your music on tape? Didn't it sound a bit like "What the fuck, I didn't know cassettes are still in use"? AhAh. Anyway how did peoples react when you shew your tapes on the merchandising table the first time? Are tapes better for listening to music while driving?
It was definitely different to be approached about releasing a cassette tape, but I know of a few bands who have had their albums released on tape, especially in France. We are happy with any medium that gets our music out to people who want to hear it.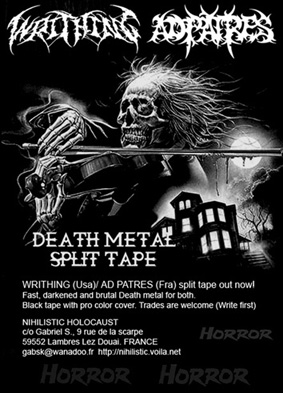 8. Speaking about formats, I saw you pressed some Cds through the CDBABY website. Is it still available and for how much? Well the real question follows: When I uploaded a song of WRITHING on Youtube, it told me some of the rights to this song belonged to a third party owner linked to Cdbaby. I didn't investigate so deeply, but it sounds a little frightening. When you ordered a bunch of Cds on this site, did it clearly notice a part of the rights would belong to them or something? They could become the first instantaneous "Unsigned bands major" without having informed any musician...
Not really too sure about that. CD Baby is a legitimate, above board site, and is yet just another way to distribute music. You send them your music, and they take care of the rest, by uploading it to digital distribution sites, such as iTunes, Amazon, etc.
9. Musicians are sometimes asked to compose songs on request. This doesn't occur in the most extreme metal genres, but would you be able to write songs on request, perhaps in the metal / heavy metal / rock categories? Or music would be a bit too much of something like "Let it flow" to have an orgasm on request? AhAh!
We definitely couldn't write a song on request. We spend a lot of time crafting riffs, verses, and transitions to make sure everything fits in a way that we are satisfied with. Some songs take less time than others, some we spend a couple weeks on, some we spend a couple months on. Putting together great songs takes time, and it's something that we never, ever like to rush, or force.
10. Are you doing the studio or session musicians sometimes? If you could choose, which bands would you like to play in the studio for or to play live with? (This question isn't strictly restricted to metal)
There's lots of bands we would love to play with. We'd love to be a part of the Metal Festivals that go on in Europe throughout the year. It would be huge to share the stage with bands like Slayer, Deicide, Morbid Angel; bands that we grew up listening to, and who have inspired us to play the music that Writhing plays. There's lots of people that I would love to work with; Erik Rutan, Mikael Akerfeldt. Even though he plays rock, I know Ryan Adams is a huge metal fan, I think he would be someone fun to work with on a project. I also feel the same way about Dave Grohl. Maybe he'll do a second Probot album and ask Writhing to be a part of it.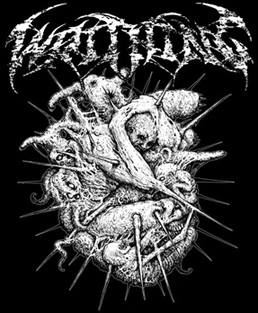 11. How is your relationship with mp3s and music sharing websites such as Bandcamp, Myspace, Purevolume, or perhaps Facebook and Youtube ... Also being sometimes a self produced "Artist" (Oh, well...), I happen to think it could be more efficient and I feel subject to a forced wedding, eventhought I didn't suscribe to a religion. (If you want to spread music without expenses, these sites will consume your time, and you're somewhat forced to use it) Are you quite satisfied with the feedbacks and amount of downloads? Did one of the "music spreading" websites work better than others for WRITHING?
All those websites are all great, and they all have something to offer. We've been very pleased with the response and feedback we've gotten for Indomitable.
12. Could we say the economical and financial crisis influenced the music of Writhing in a way? So, perhaps your next recording will be more angry or maybe darker?
While the economic situation here is pretty grave, it's not something we focus on when we write. Our next release will be even more violent and caustic then Indomitable, because that is what we're setting out to do.
13. Could we say the last album of Morbid Angel (Illud Divinum Insanus) influenced the music of Writhing in a way? So, perhaps your next recording will contain basic/ simple electro beats mixed with death metal riffs, or you keep it for the wanna goth my ass disco dancers? (I have no problem with old industrial electronic, but when electronic music is too simple (and becomes generic) it turns out to be boring).
Illud Divinum Insanus is one of the worst albums that has ever been released. Morbid Angel is such a great band, it's a shame that they put out such a poor album after not releasing anything for 8 years. If our next release has any resemblance to Morbid Angel, it will definitely be in the Covenant/Domination style.
14. Could you tell us more about the metal scene in Michigan? Is this a quite good state on a metal point of view, and were there good Death metal bands to check out in the past? (Maybe you even have your own "cult" local bands whose names still emerge from the past with fond memories... I see there was a festival called "Michigan Death Metal Fest", was it something big?)
The scene is Michigan is a little odd. Shows happen, but a lot of times the turnouts are not very good. There's a handful of solid bands around here who are doing good things, whom we've had the pleasure of sharing shows with; Scorned Deity, Saprogenic, Flesh Eating Flesh just to name a few. There's also a new band in Michigan called Konkeror who are very good. The Michigan Death Metal Fest was supposed to happen, but was then cancelled.
15. Have you got new songs composed and ready to be extracted from your brain? How does it sound?
We have a few songs that we have written since recording Indomitable. The new songs continue in sort of the same vein, but with a little more ferocity. We're pretty happy with how the new songs are sounding so far.
16. Tell us more about the forthcoming plans of Writhing; What should we expect in the coming weeks/ months?
We've been a little bit of a break for the last few weeks. Our most immediate future plans are to finish writing songs for our next release. Once the writing is done, and the songs are solid, we will head back to the studio. I'm thinking it will be in early 2013 by the time we start recording. It will most likely be a 6 track EP, which we will release ourselves, unless there's an interested label who wants to put it out. Time will tell. We are an unstoppable rotting machine, and we aren't going anywhere. Get used to it.
Web page: http://www.reverbnation.com/writhingmetal
>