----------------------------------------------------------------
INDEX INTERVIEWS GUESTBOOK
----------------------------------------------------------------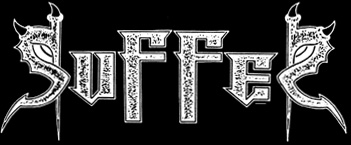 One more time lets go back in the good old school times of Death metal; when the Death metal scene was much more stronger, inspired and interesting, in the golden years of Death that lasted from about 89 to 91!
I decided to Exhume some old releases of the Swedish band SUFFER who recorded several releases in a quite South European style (not the Swedish Death trend of this time) and did it well with a good old School Death thrashing metal feeling! Thinking about some questions wasn't hard as SUFFER is a band I enjoy, and they evolved in a passionating epoch; but to find back the musicians wasn't an as easy task! Most of them seem to have lost the touch with the Underground metal scene; I even wrote at the snail mail adress that were written on the "On sour ground" Ep that dates back to 91 but this is now an invalid adress. Finally I hopefully learnt Pera who is now the drummer in NOMINON had been drumming in SUFFER for most of the band's existence, and he agreed to revive these old school times and answer my questions!
Read on and enter the old school once again!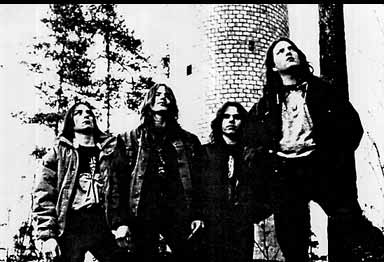 1. Ok! How do you do? I only own 2 release of SUFFER: the "On sour ground" Ep and the "Global warning" MCD. Can you do a biography of the band, and let us know all the stuffs that were released under the name SUFFER?
Perra: Sure! Thanks for asking even though it is 9 years since I quit the band. I am OK, but I am 100% sick, as my kidneys doesn't work so I have to do continuing dialysis treatment. Anyway, SUFFER formed in 1988 by Patrik Andersson (Bass), Jocke Ohman (Guitar/Vox) and drummer Conny Granqvist. The year after they released the debut SUFFER demo tape entitled "Cemetary Inhabitants". In early 1990 they brought in a second guitarist as well, in form of Morbid Magazine editor Ronny Eide. During the summer 1990 the drummer Conny lost interest in SUFFER, so I got called up by Jocke and a second later I was in the band. Back then I used to play in a band called Altar. In November 90 I did my premier gig with the guys, on the same bill were Dismember, Merciless and Beyond. And right before christmas we recorded the second SUFFER demo; "Manifestion Of God", this time we used the Sunlight Studio in Stockholm with producer Tomas Skogsberg which got us the sound and production we were looking for. We sold 500 copies of that demo, which is pretty good if you ask me. During 1991 we rehearsed alot and recorded three tracks in Sunlight, two for a EP-release ("On Sour Ground") and also a track for an unreleased compilation album. The EP was released a year and a half later, in 1993. The third track we recorded, "Wrong Side Of Life", was later released in a re-recorded version on the debut MCD. In January 1992 guitarist Ronny Eide left the band of personal reasons, but another guitar player was found in Uffe Samuelsson, which had only being in the band for two weeks before he did his debut performance on stage with SUFFER. We sent out exactly 51 promotapes before we got a positive response back from Napalm Records in Austria, which we ended up signing with for an MCD and a CD. First we released an MCD called "Global Warming" and that one was released during May/June 1993. Of course it was released at Sunlight Studio. During 1992-93 SUFFER played pretty much live and due to that we got the opportunity to release an live-7" EP, which became reality in December 1993 when the live-EP "Thrashing The North Away" was released. That Ep was very limited, printed in only 300 copies featuring the band live in Lulea, Sweden during May 1993. The two tracks featured: "Human Flesh" and "Wrong Side Of Life". In 1994, we did record the best work ever, if you ask me, with SUFFER. That meant the full-length CD "Structures". Beside Tomas in the studio, we also had some help from Fred Estby (Dismember) as well, I don't remember exactly what he was doing in the studio, but I can remember that he was pretty amazed by my drumming and the sound of the whole thing. Haha!! "Structures" was the last thing that SUFFER recorded in a proper studio, as far as I am concerned.
2. Was SUFFER the first band of its members, or did the guys play in some other formation before SUFFER? Why did you choose this band's name SUFFER?
Perra: I used to play in a band called Altar, that were previously known as Wortox. We did released a demo with Wortox named "The Unknown". Altar released a demo and a split-LP with finnish band Cartilage after I had left. The name SUFFER was choosen by the band after an idea from the first drummer Conny Granqvist, who is also responsible for the logotype. I guess they choosed the name SUFFER because we all use to SUFFER a lot every now and then. For me the name is perfect!
3. I think there was a notable evolution between the "On sour ground" Ep and the "Global warning" MCD. While "On sour ground" had many Death metal punching beats, the following MCD was more mid placed with few "Tempo parts". What was the reason for this in your opinion? Did you grow up as you felt less motivated for fast stuffs?
Perra: To be honest with you, no idea!? I think that you are a bit right, as we used to listen to a lot of different stuff back then (still do). When I first joined the band the whole scene was very huge and pretty brutal. As the time went by we got involved in a lot of various styles, that's actually one of the reasons why SUFFER disbanded in 1994.
4. The cool thing with SUFFER is even if the band was Swedish, you weren't sounding like ENTOMBED/ GRAVE/ DISMEMER, contrary to most of the Swedish bands. SUFFER sound more "Southest" European or American Death metal influenced, with bands like DEATH (old), PESTILENCE... Was it volunteer, or what made you sound different from your country's comrades?
Perra: I know that the vocals were very different from any other Swedish band at the time, that's the main reason. I remember that some people thought that we had to change the vocals just to became more popular. Fuck that! If we had change the way Jocke sang, then we had sounded pretty similar to the other acts in Sweden at the time. Instead we are still recognized to this date due to the odd vocals and strange drumming and riffing. Which is all good! On the other hand, we were all more into both Pestilence, Kreator and Death than the Swedish scene. Even though that we are/were friends with Grotesque, Merciless, Edge Of Sanity, Entombed, Grave, Dismember and Unleashed.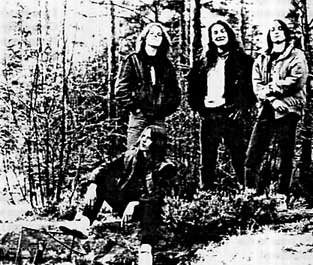 5. Who was the main music writer in the band?
Perra: Always the guitarists! First Jocke and Ronny, then Jocke and Uffe. But without Putte on the bass and me on the drums it wouldn't have become as complex. We always arranged the material together in the rehearsal room. I remember that in the end they all had a pretty rough time understanding my language behind the kit.
6. You recorded some of your releases at the Sunlight studios, with the guy who produced the old albums of ENTOMBED, GRAVE (etc) and gave them a fucking tremendous sound! But SUFFER hadn't got a typically Swedish sound! What is this shit?? Was it volunteer? Or maybe you didn't play the guitar on a bass amp?
Perra: Eh, I don't know what to say. But one thing, as long as I was in the band between 1990-1994 we ONLY recorded at Sunlight with Tomas Skogsberg. 1 demo, 1 EP, 1 MCD and 1 CD. We mixed alot more with the production then the rest of the bands, I guess, we wanted to have a different sound than the rest. Still, I love the Entombed sound, but it is always poor to copy other artists. Soundwise I am most satisfied with the "Structures" CD and the "On Sour Ground" 7" EP. And by the way, as far as I know there are no guitars on any of the albums recorded at Sunlight that are recorded on bass amp's, but on the other hand I don't know everything that was recorded there?!!
7. Let's talk about labels now. The "On sour ground" Ep was released on the NEW WAVE Records from France. Who was the guy behind it? You release your last official stuffs on NAPALM Records, was it a big label at this time? Where they efficient?
Perra: When it comes to the labels that we worked with I would like to say the following. New Wave Rds was cool because they were the first label to drop us a offer for an 7" single and a track on a soundtrack-LP. The EP was released 18-20 months too late and the soundtrack/compilation-LP was never released! We very upset at the time, but what could we do besides keep playing and rehearsing and stuff? New Wave was owned by a bloke named Aline Richards and he was just a regular French guy. Never meet him in person though, which is to his favor! 'Nuff said! Napalm Rds did released the MCD and CD in 1993-94. Napalm was back then ran by Max only and he was way more serious then the New Wave-guy. Napalm had released one MCD with Disastrous Murmur before we signed. In the beginning there was a lot of talk about putting us on a european tour with some bands, but as usual, that was just small talk. No, Napalm wasn't a big label at the time, we were the second band they ever released on MCD. But they had pretty good distribution through SPV in europe. Even though we released two CD's we never got the chance to tour on a more regular basis, unfortunately.
8. Many labels from the past where known to rip off bands, as they where meant to release Eps Lps, etc... But nothing happened or the band was sodomized for several reasons (the band didn't get paid at all, they didn't get their copies of the releases, the right artwork wasn't used, and shit like that). Did it happen to SUFFER or to any of the bands you were a part of? Would you like to spit in the face of one of these bastards if you could meet him, even several years after?
Perra: If you had asked me several years ago, I would have said YES! But no, I wouldn't kick anyone's ass just because of some missprintings or what-so-ever. I know that shit happens in the music industry all the time. I've been into it for too long too complain. I think I am much better to appreciate the good stuff instead of complaining about the bad stuff.
9. Do you know the track "I spit in your face" of the old band DRAGON?
Perra: I know the band DRAGON but not that particular song. I have to listen to them some day at my friend Lenny's (NOMINON bassplayer) apartment, as he have 5/10 of all Metal albums ever made on vinyl...Haha...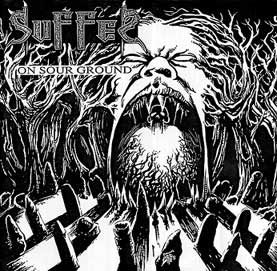 10. Why did SUFFER ceased to exist? I don't think it was coz of "recognition" problems since you had your tracks recorded and released on Ok labels... was it coz of musical differences? Or a fed up with Death metal?
Perra: We weren't exactly put in in the Death metal section. And to tell you the truth, SUFFER split up because I didn't want to continue playing with only Jocke and me plus two members from a old HC/Thrash-band called Kazjurol. First guitarist Uffe moved to Stockholm, and that lead to us only being a three piece for a while in 1994. Two weeks later bassist Putte quit, to start playing Rock'n'Roll in another band (In Between Days). So it was only me and Jocke left in a small village that had too much punk and hardcore people. Nothing wrong with that actually, but when it comes to playing Metal I prefer to play it with people who at least knows how to do it! And the two members from Kazjurol; T-ban and Pontus is both good friends to me, but I had played with them in a project called Mamaclaw earlier, which gave me a hint of what they are all about... And that has nothing to do with original death/thrash metal. Still, I did pick up some hardcore/punk attitude from them. Thanks guys!! So, it did had nothing to do with labelproblems or what-so-ever and absolutely nothing to do with us being fed up with gruesome metal, at least not me.
11. Where there some good old Swedish Death metal bands that got unnoticed (like SUFFER!) you'd advice us to check out?
Perra: It depends on what you mean by unnoticed? But If you got the chance, check out the following: Mega Slaughter (the most underrated band in the history of Swedish Death Metal), Grotesque, Utumno, Altar, House Of Usher, Interment, Tribulation (ex. Pentagram, and maybe not to be put in the death metal category, though), Excruciate, Decortication/The Everdawn, Nirvana 2002, Eucharist, Concrete Sleep, Obscurity, Wombbath, Carbonized, Necrophobic (still around!), Toxaemia, Pan-Thy-Monium (More psychotic Death/Prog Metal), God Macabre/Macabre End, Merciless (also still around!!!), Darkified, Crematory, Seance, Mefisto, Cripple, Unanimated... The list goes on and on!
12. Some members of SUFFER also played in other Death metal bands/ projects some years ago. Can you let us know more?
Perra: I don't know exactly what you mean? Putte (bass) did play in a Rock'n'Roll band on two MCD's called In Between Days. Jocke (guitar/vox) played bass with a Hardcore act named B.D.A on two MCD's. Uffe and me joined Serpent in 1995, which is a Doom band with three albums recorded. Ronny Eide (old guitarist) hasn't released any albums or played with any other band after SUFFER as far as I am concerned, he did got married though with a girl from Thailand. In the year 2001 I joined a Death metal band named NOMINON (formed in 1993), maybe that's the band/project you're talking about?! Besides that I've been recording two CD's with a progressive metal band called T.A.R as well between 1997-99 ("Fear Of Life" CD and "Tar And Feathers For The Millennium" MCD). I hope you are satisfied with that answer!
13. Some musicians of SUFFER were also a part of the band SERPENT, was well as some ENTOMBED members. Let us know more about it! Was something recorded? Released?? How many tracks did you own? Was it a studio band only or also a live outfit?
Perra: SERPENT formed in 93-94 by Entombed bassist Lars Rosenberg, Therion drummer Piotr Wawrzeniuk and Concrete Sleep bassist Andreas Wahl. In late 1994 Uffe Samuelsson from SUFFER joined and in 1995 I joined the band as well. By then SERPENT had recorded the debut album "In The Garden Of...Serpent" (Radiation/Nuclear Blast Records), but I am featured on the picture on the cover, even though I am not actually playing on it! On that CD the recording line-up were: Lars Rosenberg-Bass, Piotr Wawrzeniuk-Drums/Vocals, Uffe Samuelsson-Guitar, Johan Lundell-Guitar. The second album was released on my own label Heathendoom Music during 1997 entitled "Autumn Ride", line-up: Piotr Wawrzeniuk-Vocals, Uffe Samuelsson-Guitar, Andreas Wahl-Bass, Johan Lundell-Guitar, Perra (Me)-Drums. We have also recorded a third album during 1999, that to this date hasn't been relea sed. Recording line-up: Piotr Wawrzeniuk-Vocals/Bass, Uffe Samuelsson-Guitar, Perra (Me)-Drums. We are still searching for a label to release it, if we're not finding one soon we might release it on our own. SERPENT played some gigs during 1995-1997, since then we've only been a studio outfit. The only Entombed member that has ever been in SERPENT is Lars Rosenberg, and that was for the first three years. Me and Lars did also have a band in 1998 that were called Snakeye! Featuring Jonas (Guitar) from Unanimated and a singer I don't remember the name of, but Lars just stopped showing up and all I know is that he recorded an album with Roachpowder before he left and got married in South America. I talked to him some months ago, he's back in Sweden, but he's just wasted. Too bad, he is one of the best bassplayer I have been playing with, and for a while he was one of my best friends as well.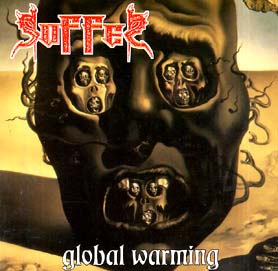 14. In the years of existence of SUFFER there was a terrible big bang in the Swedish Death metal scene! Cult obscure bands such has NIHILIST/ ENTOMBED, MERCILESS, CREMATORY (Fuck Germany!), CARNAGE, DISMEMBER, GRAVE, UNLEASHED and GROTESQUE appeared as well as many 2nd or 3rd zone formations like HOUSE OF USHER, NIRVANA 2002, CHRONIC DECAY, CREMATION, TRAUMATIC, SKULL... Was there a special aura surrounding Sweden in these dark years of damnation? What are your best remembrances from these times? Which bands did you get along with? What were the most crazy things you had ever done back then?
Perra: Never heard of Cremation? Anyway, I don't see Nirvana 2002 and the other bands you mentioned as so called 2nd and 3rd zone formations. They were around in '89-`90 all of them. I remember a lot of things from those days, of course, as when I meet Pestilence, Forbidden, Death Angel, Kreator...etc in 1990 and when I saw Therion, Cadaver and Entombed the same year. Yes, I might say that there were a special aura surrounding Sweden at the time, many gigs and people got along much better back then. Nowadays you might feel fucking old or something when you visit a underground gig. I used to hang out with the guys in the band SUFFER, and some other friends in Altar, Kazjurol, Tribulation and so on. The most crazy thing is definately when Jocke and me from SUFFER and some of the guys from Tribulation wired the half town of Fagersta with some black tape in 1992. That was just insane!! Anyway, the craziness didn't stopped after that... But that's the most bizarre story at that time. I might tell you another story later in the interview.
15. Which fanzines did you like to read in these times? Do you remember SCEPTICORE, INITIUM, PEARDROP, SLAYER (R.I.P since so loooong! Ah Ah)?
Perra: You're wrong! Slayer Magazine is still around! (Ah Ah I was laughing! Gab) I just saw the new issue, #16 or what it was?!! Metalion is just mad. I guess he will be doing his magazine till the day he die. But sure, I miss the "old" fanzine culture! Peardrop is for sure one of the better, but my favourite is Morbid Magazine, too sad it was only released in 5 issues. I once turned down an offer to start working for Morbid, but hey, I am only human. And I did my own fanzine at the time called MOULD MAG. 4 issues was released during 1990-92.
16. I'm going to ask you a "Where are they now" question. What has the various members of SUFFER became? I know Patrick Anderson is a running a label now. Do you still talk with some members of the band?
Perra: Patrick Andersson has never been running a recordlabel. That's me who is running a label, even though I am not that active right now, due to my kidney problems and so on. I started the label HEATHENDOOM MUSIC in 1995. I have released CD's with MEMORY GARDEN (MCD+CD), DARKLANDS (MCD+CD+CDs), FIFTH REASON (CD), SERPENT (CD) and INSISION (MCD). Before that I released 7" EP's with the bands: MEMORY GARDEN (2), ENTITY (2) and EVOKE (1) on my underground label MEGAGRIND PRODUCTIONS. Now, that was my way of making a long story short! Jocke Ohman has been playing with some local Hardcore/Punk/Rock bands in Fagersta as I told you a bit about earlier, plus that he has been working as a roadie to No Fun At All. Uffe is living in Stockholm with his family (2 kids and girl), he is working as a movie and soap-opera photographer. Putte is doing pretty much the same as Jocke, just fooling around with some local stars in Fagersta. The one I am talking to the most and propably will always stay in touch with is Uffe, he is one of my best friends no matter what! I did talk to Jocke and Putte nearly a year ago, but they are trapped in their own hometown and they are not doing anything special to get out of the situation either! Sad but true! Anyway, I told them that if they need a drummer for any thrash/death projects I am there!
17. I read a resurrection of SUFFER was attempted by Öhman and two former members of Abhoth (Some guys who played in an old Swedish obscure death metal band MORBID SALVATION ARMY, dating back to 1989). Did you know about it? Can you tell us more?
Perra: Yeah, I heard that Jocke was trying to keep SUFFER alive by getting new members from Abhoth in the band. But that didn't work out that well, as I remember meeting Jocke in early 1995, he then told me that the drummer couldn't keep up with my style of playing. One thing, my style might not be perfection, but it's bloody original. Anyway, I guess he was just disapointed that it didn't sound aggressive enough! On the other hand, you can't play like any one else but yourself, so I don't understand what that Abhoth drummer tried to prove by trying to play like me?! Still, I don't know if that was the reason for the end of SUFFER? But that is what Jocke told me in 95. Regarding Morbid Salvation Army, never heard of them and I don't know if there ever was a band by that name? As far as I know Abhoth was a band featuring some members from a norwegian band named Emptor. A band that featured Ronny Eide before he moved to Sweden to join SUFFER in 1990.
18. I didn't hear your "Structures" CD'94. How did it sound like? Quite heavy Death metal in the style of the previous MCd? Faster Punching Death metal with Grind blasts?
Perra: "Structures" is the best work of SUFFER, I think. Total extreme and very intense Death/Thrash with an original production. It's heavy, some comparsion can be made with bands like Death, Cynic, Atheist... Still it is a bit thrashier than those mentioned groups. Its 50/50, either you like it or hate it! I think you would Love it, though, if you think the MCD is great!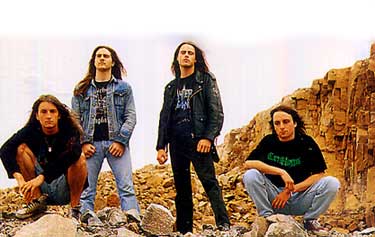 19. By the way, what is your fave SUFFER release (for its musical qualities)! And which SUFFER release are you the proudest to play on! (I mean for the kind of stuffs you play and the quality of your drum playing)
Perra: "Structures" is the best release. The drums is very extreme and possibly the best thing on the album... Well, its all good, but I am very proud of the drumwork on that one. I did track all the drums in just 7 hours, which amaze me still.
20. From all the bands you played in, what's the release you consider as the very best? On which release does your drum-playing kicks the ass the most in your opinion?
Perra: Top 3; 1) SUFFER "Structures". 2) T.A.R "Fear Of Life". 3. 3) SERPENT "Autumn Ride". But hey, I'm not DEAD yet!
21. Are you aware of the actual Swedish Death metal scene? Do you know REPUGNANT, KAAMOOS, VERMINOUS (For the old school side) or INSISION, SPAWN OF POSSESSION, STABWOUND and OBSCENE (For the Brutal death side)? Are you into the melodic Death metal scene that slowly plagued the scene, beginning with Gothenburg, few years ago?
Perra: Yes, some of them are my best friends! I did release the first INSISION "The Dead Live On"-MCD on my label Heathendoom Music. We have also played live with them with the band I play with nowadays; NOMINON. As well as Kaamos (Fucking Awesome Shit!!!) and Stabwound. Repugnant rips too... They told me that they will split now, but I hope that's not true! Obscene is from the same town as NOMINON (Jonkoping) and those guys are sick. Spawn Of Possession is just too much for me, there goes even my limit for insanity! By the way, do not forget Vomitory, they rules!!
21. How would you write SUFFER in Swedish? and how would it work for BESTIAL WARLUST? SADISTIK EXEKUTION (Please keep the "K"s!)? Big bosoms' bitch? I want to fuck you?
Perra: SUFFER = Lida! Bestial Warlust = Djurisk Krigslust. Sadistik Exekution = Sadistisk Avrättning. Big bosoms´bitch = Stora pattar hora! I want to fuck you = Jag vill knulla med dig / Jag vill ligga med dig.
22. Ok! Which question of this interview was the most shitty in your opinion? (I included some fillers, so come on and spit in my face! Ah Ah)
Perra: Maybe it was a bit repeating in the questions #18-20. Besides that I guess this interview is one of the 5 best interviews ever made with me and SUFFER. And I hope that you`re satisfied with this one as well, even though you were wrong about that Slayer Mag is no more and that Patrick Andersson did run a label. Ha ha...
23. Here's the final line, the conclusion. Add whatever you want, and spit in the face of whoever you want!
Perra: I would like to tell you about a crazy night in Stockholm a few years ago (around 2000-2001), when I used to work as a busdriver, this was before I got sick. Well, I wasn't exactly working this particular night, I was partying with my good friend Mike Wead of Mercyful Fate/King Diamond downtown Stockholm, as his project HEMISFEAR used to be signed to HEATHENDOOM MUSIC (no records were ever released though). We were out at some clubs and it got late, so we were heading home to his place, the only thing was that we had no cash to catch a cab so we had to go by ourselves. I said to Mike that there were busses going in that direction, but instead he told me that he should steal a bicycle and the very next second he was giving me a ride on a stolen bicycle without any kind of air-pressure in its wheels. Ha ha! That was fucking great. A few hundred meters from his home he just threw the bike in the ditch and the we walked the last bit. That's a story I'll never ever forget!! To end up this interview I would like to say hello and all the best in the future to the following individuals and artists: Petra Aho, Juha Sulasalmi, Lenny Blade, Jonas Mattsson, Uffe Samuelsson & family, Robban Kanto & TPL Records, The SUFFER-dudes, Abbe, Tomas Skogsberg & Sunlight Studio, Steve DiOrgio & SADUS, Rex Gisslén, Torbjörn Sandberg & T.A.R, Karlén & Merciless, Tompa Lindberg, Cabbe, David & In Aeternum, Tore Stjerna, Tomas & Insision, Jonas Granqvist & Metal Wire, Memory Garden-dudes, Mike Wead, and at last, Thank you Gab for this Killer interview. Hail all true Metalheads!!!
For contact: Perra Karlsson, Havsornsgatan 135, 556 14 Jonkoping, SWEDEN or email: nominon@lycos.com
>