----------------------------------------------------------------
INDEX INTERVIEWS GUESTBOOK
----------------------------------------------------------------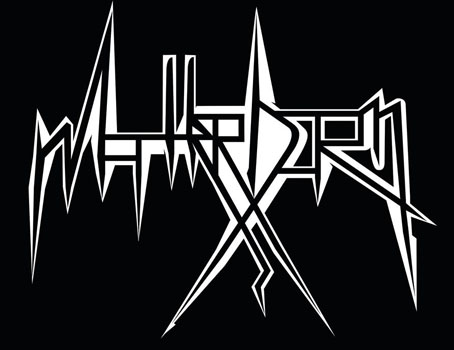 RIPPING THRASH THE OLD SCHOOL WAY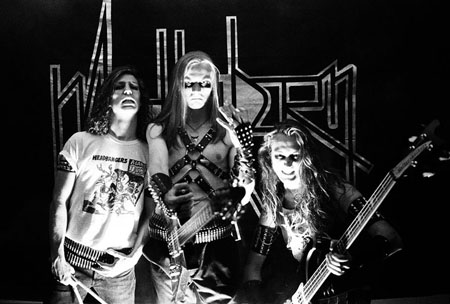 FROM SWITZERLAND
TO YOUR DEFUNCT SPEAKERS OF DUST!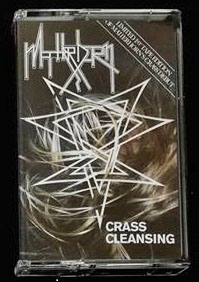 THIS INTERSPIKE ISN'T AN AUDIOBOOK,
(BETTER WEAR YOUR GLASSES)

1. What happened lately in the camp of MATTERHORN?
Our two partners Dying Victims Productions (GER) and Redefining Darkness Records (US) just announced our first time label vinyl! We preferred to not simply re-press our debut album 'Crass Cleansing' but rather bring you the advanced label edition. It's reworked, meaning part way re-recorded and coming with a new mix and mastering. Also, it is advanced to completion by the two bonus tracks 'Clarity' and 'Bydying' to provide an insight into our sophomore album… The playtime extended from 33 minutes up to full 49 minutes, so we think this is quite a new view on our band. It turned out absolutely perfect, despite the circumstances that we went to studio shortly before our tour with 'Deiphago' and returned to recording afterwards again in a complete but positive rush. Set to be released on November 22nd this year.
Other than that, we will play new material again in November and December during the nightliner tour with 'Dødheimsgard', 'Bölzer' and 'Blaze Of Perdition'. Still sheer unbelievable for us to get invited for such a capital ride, we're stoked! We work hard as hell to fit the expectations, mainly our own, speaking of being supportive and for our own shows exceed every performance from day to day. Presenting the band in its actual state. It's often hitting new ground, that's exciting.
2. Your first album "Crass cleansing" was released a while ago now... What has happened with this album since then? Are you satisfied with the distribution and metallic feedbacks?
The vinyl was self-released and Iron Bonehead Productions brought out the CD a little later on (June 25th) so yes, quite a while since our first coming. We're fine with how all went, despite that the engineering of the first reproduction, the band edition was not satisfying what also led to a distorted view on the band and we would have wanted our first impression to be rather distinct. Yet another reason to have 'Crass Cleansing' reworked towards how it should sound. Still we got lots of attention and possibilities to play dozens of shows, what was disturbing as we were quite a solipsistic band that, out of the sudden, had to come out of their rehearsal shelter. Nevertheless, we decided to play our first, self-organized tour in fall 2018, what became a very exciting, educational journey back then.
3. Does "Crass cleansing" stand for the fact of cleaning the dirty hairs through headbanging? Or the fact of reenergizing the muscles from the neck (In french we say something like "cut the crass out") through the same headbanging?
Back in our early days, just about to band and still months away from being a real band we already had the idea of using this concept and artwork. Before we even had one song, we already finished the cover artwork… We saw it as what must be the perfect Metal cover art, on the superficial layer the headbanging, of course… And on the meta layer it's a fiery storm of outraging, youthful and unbridled energy and aggression. It's similar with the album title: Personally allegorical for the longed relief, and artistically as a synonym for the latter days. We changed it from 'Cleansing Fire' what would have fitted the artwork photograph more to 'Crass Cleansing' at the point where we realized that it would be more poetic and fitting our ways of not doing everything after this generic, picture-perfect example of how you should do the Metal the right way, so you will look cool. It was too typical. That's also why we thought it would be cooler, in our understanding of that term, to come with a full album rather than a cassette tape with three noisy songs where no one can find a bad thing as there is so much sustain no one hears the magical errors or such or just because it is the way it's expected, as it's the everything-done-right-way and also generic and totally boring…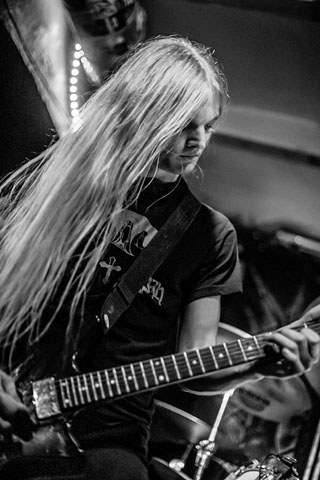 4. You play old school metal, but would you say you're rather influenced by early SODOM or early CELTIC FROST? The description of your style on Metal-archives is said to be "Death/Speed Metal", was this a couple of words you used at a given moment, or did it came out from a listener's brain?
Both are huge influences. Many would say rather Celtic Frost, for us one of the most iconic Metal bands of all time. And we believe to share more with the later speaking of spirit, attitude, approach and artistic aims than with the music itself. We often hear that Matterhorn is tough to pin down stylistically and surely not everyone is simply equipped to understand the deal fully at a first listening. We always just used the term 'heavy music' for what we do but we've heard and seen everything imaginable from 'black metal punk' over 'blackened speed thrash' to 'proto black-death' or plain Black Metal or Death Metal. What about 'poppened progressive extreme metal'?
5. Could we hear an influence of the first MERCILESS album "The awakening", perhaps more for the fresh energy and kind of "youthful enthusiasm" than the playing style itself?
A further clear favorite of ours and we can see the parallels regarding your point. But we didn't really have to be musically influenced for puberty...
6. I guess you're also tired with cover bands, they always play the same songs of the same famous bands, they "steal" the space of real bands that compose their own songs... But if this was a CELTIC FROST cover band, playing only compositions of the first albums, it could be another story?
You mean stealing as a compliment? Copying is the bad thing. Everyone has to start somewhere, just playing covers would may calm our thirst for thrashing but surely not be fulfilling. We have our reasons for making our lives about our band. We've never played a cover so far, we started learning our instruments just by our own for playing in this band and started with very raw own tracks. Since Matterhorn became a real band for us in 2017 - what was also the year of writing songs for the debut – we thought it would be cool to do an own interpretation, that's how you should do cover versions in our humble opinion. And it looks like we do that on our next album. Check out 'Clarity'!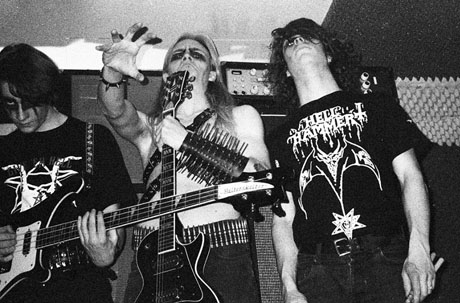 7. If Matterhorn was an alcoholic drink, would it necessarily be beer or would you choose another one?
This is an easy one. It would be a mix of all the alcohol in the world, very hard to enjoy but evoking hellish visions!
8. Some of the musicians from the band used to be a part of an old school metal zine and (If I'm not wrong) some black metal bands before... Can you tell us more?
I guess you speak of 'Grave Raids Mag'. That's our drummer Tim Tot's bastard and we contributed sometimes too. A really cool zine one has to get an eye on. One of those handmade printed mags, that brings you bands you wouldn't find out about so easy elsewhere. Tim even interviewed us, what was quite fun.
9. How healthy is the Swiss metal scene nowadays? Are there good new bands to pay attention to, or most of the Swiss "fame and flavor" is about old bands?
We have it all, the traditional bands, the trendy war metal bands and weird kitsch stuff too. And few very relevant groups! For us it seems very healthy. At this point, greetings to our friends in Deathcult, Antiversum, Temple ov Perversion, Dakhma, Kvelgeyst, Arkhaaik, Ungfell, Funeralopolis, Bölzer, Total Annihilation… And check out Megaton Sword (great voice) a brand-new band! These bands are often the ones to keep the scene alive, are organizers of events like Chaos Ritval (thanks for bringing Ved Buens Ende by the way!), Concilia Nocturna or the Basilisk Deströyers shows! Big time!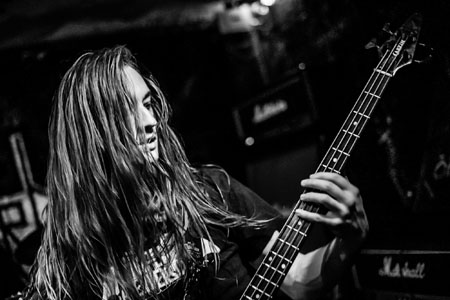 10. What's your opinion about the CORONER comeback? Do you feel concerned with some of their albums, or it might be too technical for your tastes? I heard they would record a new album, I'm not sure of how this could turn out...
Coroner is musically ingenious! But for us there is no comeback as long as they don't bring a new album with them – just a band covering own songs so far. Besides that I bet they're still doing very well live. Heard that too a long time ago and never anything about it since then.
11. Which recordings are you currently listening to the most? Do you believe the fact of owning a real record collection can influence the diversity and quality of your listening sessions? I mean when you're in a room full of tapes and records, you have more obvious quality choices than what a cybernetic bot can advise you for example...
We always have a tough time to answer this question, as each of us listens to lots of music all day long and we're a three piece…Open-minded for almost every music genre, taste and mood changes from one short moment. What comes to mind spontaneously would be from Kriegsmaschine 'Apocalypticists' or the new DNS 'Mardom', or outside the genre our everlasting long-time favorite albums like 'Hot Paradox' by Martin Dupont, 'Caverna Magica' by Andreas Vollenweider or Witchfynde's 'Give 'Em Hell' for brief example, the effort of starting such lists makes no sense at all. We think 2019 is a killer year for releases for example by Yerûšelem, Blut aus Nord, Funereal Presence, Vulture, Ultra Silvam, also liked the Darkthrone, Pissgrave, Sunn, Kriegszittern and as just realizing the list would go on and on, we stop here. And there's still a totally unbelievable amount to be released we look forward to very much…
12. What are you future projects? Something to announce to the morbid readers? Thanks for the answers.
Try out the new debut and come to our shows! And to you Gabriel, thanks thousand for having us in NH, it was very comfy!

Website: https://crass-cleansing.com

Faecesbook: https://www.facebook.com/bandMATTERHORN