----------------------------------------------------------------
INDEX INTERVIEWS GUESTBOOK
----------------------------------------------------------------


OLD SCHOOL DEATH FROM CHILE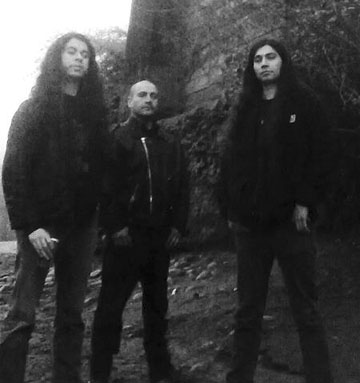 Here's an interview of the Chilean old school death metal band FERETRO. Some of you putrid readers might have noticed I released a split tape with them and SILURE in 2020. Well, it's not the easiest thing to release the music of a band, then try to interview them in an objective way… But I was aware of this conversation that was published in part on CONTAMINATED TONES webzine (Usa), and I thought it could be nice to publish the whole article here, to expand the propagation of morbid metal \m/
Notice the whole was conceived in October 2020, but in the current situation every projects are a bit frozen in time, so this "delay" might not affect the infos that much. (All questions prepared by Jon)




1. Please give a short history of Feretro's formation, and how the current lineup came together.

Hi Jon, well, the drummer and I started with band in the fall of 2005, Felipe was singing in a black metal project but he wanted to play drums, so I had some riffs and needed a drummer, we both loved death metal, and still we do!!. We used to play almost every weekend, although we lived in different towns 30 kms away. Within a year we had a trio line up and a couple of songs and covers of course.
Current lineup is almost new, Mauricio joined us on guitars in the summer of 2019, we were playing as a trio but we needed another guitar player due to the musical ideas for what we are working on, so we asked him to play with us and he agreed; and Rodrigo on bass joined us some months ago, we were looking for a new bass player, after the last one left the band for personal reasons, we know him since a long time and we knew he would be a great person to work with, as well as Mauricio, both of them are very good "musicians" and have already given some ideas and riffs for the upcoming work, which is cool, I think this is best line up Feretro has ever had.


2. Most of your releases have been released on physical formats, including the often maligned formats of CDr and Cassette. How important are physical releases to Feretro? Is digital and streaming music as popular in Chile and South America as they are here in the USA?

Yes, you are right, all of our works have been released on physical formats, I don´t like CD-r neither, but love good tapes, the thing is that we do believe this is the way it must be, in that way you can not only listen to the music, as in streaming, but also you can read the lyrics, observe and analyze the inner art (not only the cover), pictures, credits. I mean, it's not only music it's a whole work, sometimes everything is related, as king Diamond's works for example, and it deserves to be on physical format to be truly appreciated and totally understood, in addition of that you support the band by buying its work and help them at least to have some money to record once more in a future time.
I think it's ok if someone listen to music on the internet, I also do it sometimes and I have discovered some good bands, but if you (or I) really like an album, just go, look for it and buy it.
I can't tell you about the rest of the South America's countries cause I don't know their reality, but here in Chile I guess digital and streaming music is quite popular as well, but when it comes to Metal I have some doubts about it, cause there are many people who still buy, sell and trade music, at least most of the people I know who is into Metal buy Cds, tapes and vinyl; every day are new bands with great works released by underground small labels down here and overseas and those works are not in digital format, you know, that's the difference.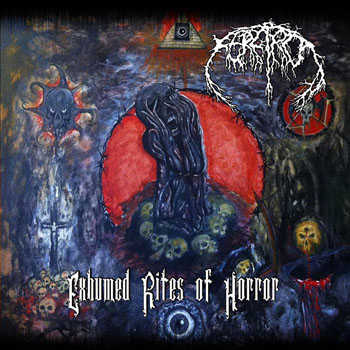 3. It's clear that Feretro is influenced by the old school death and thrash metal of the late 80's and early 90's, especially bands out of Florida and New York. What specific bands have been influential in shaping the sound of Feretro?

I would say we had and still have a variety of influences but may be the most important ones, speaking about music more than sound, were Pestilence, Obituary, Sadism, Sadistic Intent, Unleashed, Vioggression, Pentacle, Torchure and Death; now, the sound itself goes developing with the time and it depends of the equipment you have, of course we don't need nor want to sound so clear and clean as some nowadays bands do, we just want to sound as much real as possible, if you know what I mean, so we don't need too much stuff to sound the way we want.


4. What do each of the members add to the songwriting / arrangement of Feretro songs?

Till now I have done all the lines of the strings, I record them, then I give the riffs to the drummer and tell him the rhythms I think that fits so he starts to work with an idea and then adds or changes whatever he wants, that's the way we have done our works, but know, as I told you before, there have been some strings ideas from the new members, which is great.

| | |
| --- | --- |
| | ANALOG RESISTANCE! |

5. You have a current split release on Nihilistic Holocaust records with Silure. How did the cooperation with G. Skowron come about? Were you familiar with Silure before the split release?

Not at all, I haven't heard about Silure before Gabriel talked me about the split. We did a trade with Gabriel when we released our last e.p "Deathsolation" and a couple of months later he told me he was looking for a death metal band for a split with Silure and he wanted us to be there, we had no new material recorded and he needed something quickly, so finally we agreed to use the songs of a Cd-r promo which contains two songs from the e.p "Exhume rites of horror" and two from the last one "Deathsolation".


6. I haven't seen lyrics to your songs, but they seem to be standard death metal topics. What do you try to convey in your lyrics? Are there specific themes that interest your or that Feretro focuses on lyrically?

The main theme within Feretro is Death as a whole concept, you can even realize that by reading the names of our works, "your soul to DEATH…your flesh for worms", "EXHUMED rites of horror" and "DEATHsolation", so it could be horror stories, real ones, daily facts or whatever but always death will be part of the lyrics.
You can have a bunch of things to talk about death, from real life to the mysteries of it, every culture has a different way to face death, so you can dig as deep as you want to find inspiration to write lyrics.
Our next work, for instance, will develop the natural process of death in the human being, since illness till oblivion, passing through questions and fears, it will be a musical mortuary process towards the inevitable end of life.


7. Do you have plans to release a full length or new music any time soon?

Yes, we are working in our first full length which will be recorded next summer, so next year you will have putrid news from Feretro!!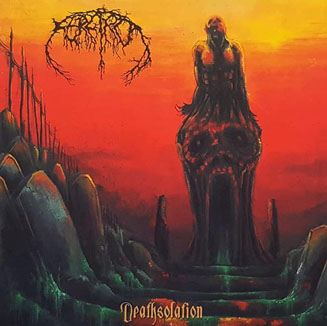 8. Do you have a strong local scene in Los Angele, Chile? Are there any local bands which you highly recommend?

Unfortunately we don't have a strong scene here in L.A, it's a small city with few dedicated bangers who are involved in gigs, bands, a zine and a label, and we only have one or two shows a year.
There are brutal bands such as Necrobastard (Blackened Deathrash), Autophagy (Brutal Death), Rotten Malefice (Death Metal) and Temmor (Death Doom).


9. Outside of Feretro, what other activities are the members of Feretro involved in?

Well, we all are professionals in different areas and have ordinary works, some of the guys have a family to take care of and stuffs, you know, when you are in the 40's you have a lot responsibilities hahaha, but Mauricio is the main man in Afasia, a great Death doom band, they are going to release a new l.p soon; Rodrigo plays guitar in Necrobastard which is about to record its first l.p; and I collaborate with Servant demonic Zine and The Iron Force Zine.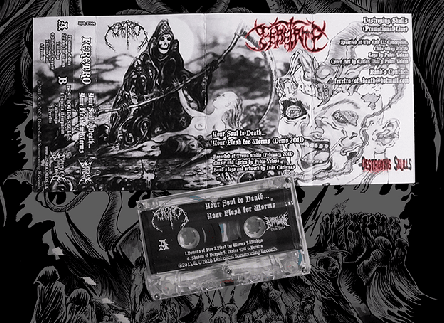 10. If I were to travel to Los Angeles, what would you recommend I see and do in your area? Are there any great natural wonders or parks to visit? Museums...

The only museum the city had was so damaged by the earthquake in 2010, but you can visit "Saltos del Laja" a beautiful waterfall, quiet near to the city, created by the eruption of Antuco Volcano, which you can visit by car in Laguna Laja National Park, it takes less than two hours form the city, there you can go trekking into different tracks, go fishing or swimming in the big Laja lake, you can climb the volcano or go skiing in winter, you can see a Condor flying in the sky if you are lucky, there are wonderful landscapes to enjoy.


11. Thank you for the time to do the interview. Feel free to add anything additionally which you would like to say!

Thank you Jon for the interest and space for the band, you will have rotting news from Feretro soon, in the meantime we still have Cds of our last e.p "Deathsolation" to sell or trade, 5 chants to death in the classic way, just write to feretroband(a)gmail.com
Support your local bands and zines, buy their works, go to their shows (when you can go after this fucking Plandemia!!!)
Beware! Soon the coffin will be exhumed and opened once more to let get out the pestilent sound of the new Feretro's vomits!!!

Feretro email: feretroband(a)gmail.com
Listen: https://nihilisticholocaustrecs.bandcamp.com/
Contaminated Tones webzine: http://contaminatedtones.blogspot.com