Coming after their very sympathetic first mini CD (that was released a few years ago) and after an appearance on the very Brutal "Created to kill" compilation, the Brutal band DROWNING hailing from Paris comes back with an ever better release: « Age Old Nemesis » that's released these days on Bones Brigade. Being a mix of Death Metal and Hardcore, their style should provocate some serious racings in the hearts of the ALL OUT WAR afficionados. Some Mega Brutal stuff that can be appreciated on a CD but must also be felt live.
Realized by email during may 2002, with Georges and Reggie (the two guitarists), here's an interview done by Jean that will let you know more about these poets of the 21th century.
Jean: You're releasing these days your first real album "Age Old Nemesis" on Bones Brigade. Can you introduce DROWNING, in a little history, to all those who still don't know your band?
Georges : We formed the band in 96, we had a different line up at this time, Reggie and I are the only ones remaining from the original line up. The line up has stabilized in 98 with Ridwan as a vocalist, Stéphane as a bass player, Doomé behind the drumkit and me (Georges) as a guitarist, and since this time play play as many gigs as possible.
We had a good amount of problems to release this album but it's here and we really want to defend it 100% on stage, whenever possible.
Jean: At the basis your style were very much Hardcore influenced (All Out War style), your music is more direct and sounds now more Death metal, while keeping some typically Hardcore breaks with some lyrics and an attitude that totally fit to Hardcore.
Do you still feel concerned with the Hardcore scene?

Reggie : To begin, it's true we love ALL OUT WAR, but the only fact of saying we're influenced by this band means we'll do Deaath-thrash-hardcore mix. We anyway always had some parts that are more extreme than them, and our way of composing is a bit different. For the songs writing, it's true we enjoy the variations in rythms that includes some breaks that give you the need to destruct everythings. The full of conscioussness lyrics describe our vision of things, even if a direct text can also be efficient. And about the attitude, even if it's very present in the Hardcore scene, it's also present in other scenes in my opinion. There are a lot of peoples playing music (or not) who try to be sincere in their thing. When a Hardcore band is Brutal, we all enjoy it in DROWNING: we all have bought the last HATEBREED CD that's devastating!!!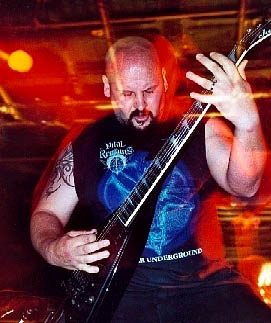 Jean: Your musical evolution reminds me the one of the belgian band CRAWLSPACE. Do you know them and what do you think of this comparison?
Reggie : We know CRAWLSPACE since a long time, even before we both released some things on RPP. It's always nice to meet them in the public or when we play some gigs together. Of course we can see a similar evolution as they were doing some HC, then they played some HC-Metal, some old school Death to finish on something totally in the Death-Grind vein on their next album.
Georges: we know several individuals who followed this musical evolution. But the guys of DROWING ware doing Death metal since the 90's in their previous bands (Nephragorius, Garden of Silence, Cemetary...). So we can't say it's new for us. On a purely musical side, we don't play the same thing than CRAWLSPACE and we never did. Each band has got it's identity.
Jean: You're signed on a quite Grindcore specialised label. Do you enjoy this musical style?
Reggie : Speaking for myself, I'm not very sensible to Grindcore, only a few bands like TERRORIZER, NAPALM DEATH (for a few tracks) LOCK UP or HATEPLOW interest me in this style. Anyway, I'm boring when it's up to speak about musical tastes, I don't like a lot of bands.
Georges: I must say we don't listen to pure Grind. As a whole we rather listen to the bands that play Death-Grind.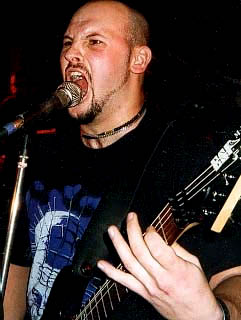 Jean: Your previous MCD that was released on RPP, the label from Bruxel, was also impressive. What were the feedbacks at the level of the sells and of the reviews in zines?
Reggie : We were quite disappointed when we finished the recording in the studio, we thought it would be catastrophic. The feedbacks and the sellings went beyond our expectations. We received some reviews from a bit everywhere in the world ( radios, zines, mags, ezines...).
Most of it were positive reactions, with encouragements for the following. We played some gigs with a lot of bands coming from various countries because of this. We hope it will get even better and amplifies with the album's release!
Jean: About the french bands, since some time we can notice a real enjoyment and a proliferation of excellent releases in the Death metal style (Devilium, Disgust, Imperial Sodomy... to name a few). Do interest yourself in the French Underground scene and which band do you particularly enjoy?
Reggie : Fate, Inside Conflict, Inherritance, Loathing!!!!!!
Georges : For myself, I'm very much into the French scene. I like to know what's released. I like Fate, Inside Conflict, Devilium, Gronibard… etc.
This is true the french bands are more and more pro and this is really good for our scene.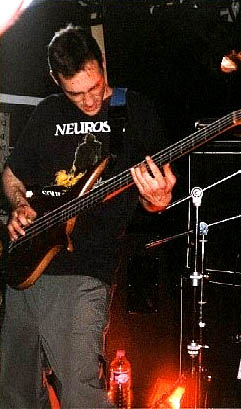 Jean: Have you got some opportunities of tours for the promotion of your new album?
Georges : For now, let's say we did a few gigs in some places of France and Belgium, but we are waiting for the feedbacks of the album to do a tour that would be really connected with reality. It'll also depends on the opportunities we're offered.
Jean: Did the score of the "Front national" (fascist politics in France) during the vote for the president in France chocked your?
Georges: With Drowning, we don't deal with politic, we're only doing some music.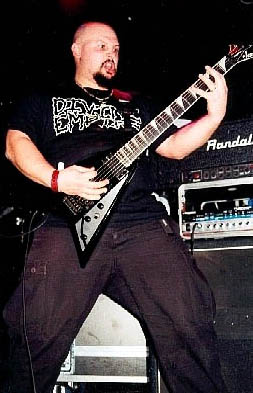 Jean: About the musical tastes of each band member, is it quite varied or are you mostly into Death Metal and Hardcore?
Georges : We all have got a passion for Death, Thrash, Hardcore or any other Brutal metal style. This is what we are listening to the most.
But we also enjoy some other style. Stéphane like the Reggae roots, Reggie and Ridwan enjoy some Hip-Hop (a few bands only)... and I'm listening to a lot of Death-Metal, Thrash, Black, Hardcore, Heavy.
As long as it shredds, I buy it.
Jean: Maybe some last words for our web fanatics?
Georges : Thanks to all those who bought our album and who support us. Thanks a lot for the interest in our band. These is because of guys like you some bands like ours keeps on progressing.
Thanks again for your support.
Website: http://listen.to/drowning
>