----------------------------------------------------------------
INDEX INTERVIEWS GUESTBOOK
----------------------------------------------------------------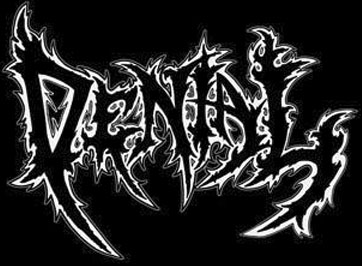 DEATH METAL FROM MEXICO
THE PLEASURES OF AUTOEROTIC MUMMIFICATION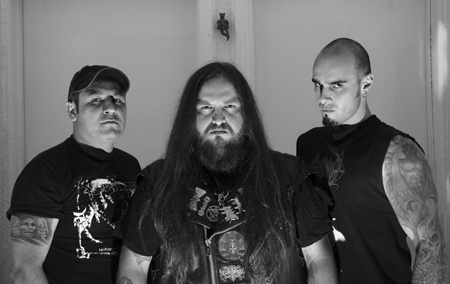 1. The macerating introspection begins, shout the first words to evocate the spirit of Denial, the words that awake our inner sleeping morbid interest...
Marko.- Denial, dead but dreaming, now has awoken once more.
2. Your first album "Catacombs of the grotesque" was released a couple of years ago, so it might be the right time to make conclusions... Are you still satisfied with the whole record? The feedbacks of the scene and rotting medias seems to be good, but I'd like to know your own opinion about it... Did you get any bad review at all? What was the most surprising about the welcoming of this album?
Marko.- Actually our album was released in late 2009, and we are very satisfied with the result, many things gathered for this Invocation goes out, starting with both Labels "Blood Harvest" and "Asphyxiate", the great artist Paul Carrick agreed to paint the frontcover for us, Dan Swano on the Mastering, the professional team in Evolution Studios and the chemistry between members was in the right Tune, no bad reviews came out.
3. When I listen to this album, I'm quite impressed by the most tortured and horrific moments... It doesn't sound forced or calculated, this clearly tastes like pure cadaveric sincerity! And in a way it could be a little frightening: Is life in Mexico so horrible and full of atrocities? What inspires you to compose so horrific moments? I wish more European bands had the same drive... But maybe their life isn't as painful...
Marko.- Life is awful when you are in the wrong path, doing the opposite to your desires… Places, countries, cities… It doesn't matter, darkness cover us all and that dwells inside and prevails, all that Stories and books we had read, creates an obscure vibe that screams for release through our music.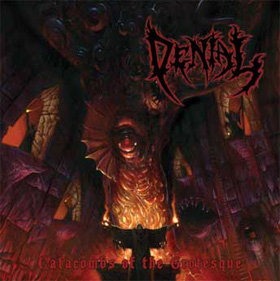 4. I know some of your previous/ other bands, and I should say it didn't reach the same level of emotional deepness or intensity... It might only be a personal feeling, but I can't get rid of the idea something more is happening with DENIAL... So I'd like to know which bands of yours you consider to be the most important, does every band take as much time and writing energies or is there a main outfit? Should DENIAL be considered as a subproject of another outfit?
Marko.- Denial Music is the one that defines me, the most important band to date for me, I always took my previous bands seriously, now with my bandmates I find the higher point of creativity and congruence.
At the very beginning Denial was forged to be a Recording Project only, but after the first EP "Immense Carnage Vortex", we decide to take this amorphous being to life.
5. How do you know when a DENIAL song is good enough to be burnt on a record? Does it need to be kicking, or another special manifestation is needed? Have you got something like an inner "morbidometer" or "killometer" that clearly shows you when the mood is good and the insanity is strong enough?
Did you already delete riffs because it sounded too much like an older record? (This might not always be easy to create fresh death metal, especially when your style is about total darkness and utterly rottenness... Which isn't fresh at all Ah Ah)
Marko.- Well yes… ourselves are the "morbidometer" for the songs, sometimes we write a song that we really likes and a few more days later we don't feel it the same way, so we trash it!!
We must feel the heaviness and dark vibe to flow with us… if not, we start over.
The "Catacombs…" album was completed about 3 times and we trash it entirely and re-write it 3 times!!!
6. Are you satisfied with ASPHYXIATE Records? At a point he seemed to have personal problems that slowed him down, but maybe the work on your album was quite good (I couldn't really say since a couple of reviews and interviews appeared in my close underground spectrum). Will you work with him again in the future, or maybe you received more necro appealing offers?
Marko.- Since the beginning Asphyxiate Recordings treat us with respect and offer us a good deal in order to satisfy both interests, that business relationship took us in to a friendship and I know he (Dave) wanted to start another project that will demand his time and attention fully, yes we could work together again gladly.
Good offers are always in Denial's doorstep, so we still working with Death Cult Swedish Label "Blood Harvest Records" and now the exclusive… with Great Death Metal supporters Pulverised Records from Singapore.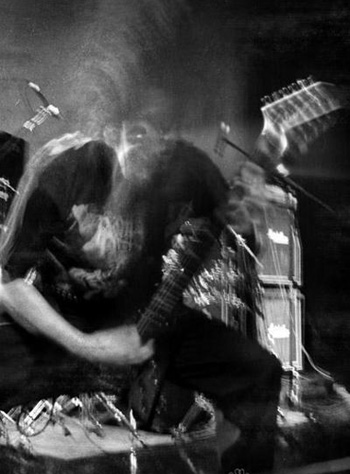 7. On a level of influences, you clearly like old Swedish Death metal, old South American metal and some Finnish stuffs... But is there more? Could you say from which lands your most horrific moments come from? (Because I need more héhé)
Marko.- We always follow and support those bands with Identity of their own, many Swedish came by, like Classic Entombed, Nirvana 2002, Crematory, Dissection, Necrophobic, but for sure Finnish Bands like Demilich, Disgrace, Belial, Demigod, Abhorrence, Funebre, Xysma, Convulse to name a few, also we share the taste for music from the 70's and early 80's when it was so much Darker and daredevil like Magma, King Crimson, YES, Emerson Lake & Palmer, Picture and hundred more.
8. I think you like old GRAVE very much... Which of their albums awakes the more rotting feelings in you? Do you also like what they did the last 10 years, or maybe you stopped following their grave digging career after "Soulless"? Don't you think many new Swedish bands lack the heaviness and burning obscure aura of old GRAVE? (Where has the dark red blood atmosphere gone?)
Marko.- We have drink and party thousands of times with Grave's "Into the Grave" and "You'll Never See", actually we share stage with them in 2007 along with Dismember, Incantation and Sinister and they did hell of a show playing "Into the Grave" Album almost entirely!
Swedish bands usually steps ahead doing really Original stuff, somewhere between the breed and the exceptional… they mislay the prime feeling of Death in the quest for new "sounds", eventually one of two options happen, they find their way back to basics or forever lost.
Nowadays, there is a few Darkness inhabitants that still draws breath and WE WILL KEEP INVOCATING ABOMINATIONS FROM BELOW!!!.
9. Can you tell us more about Paul Carrick, the guy who did the cover of your album? How did you get in touch with him and was it easy to cooperate? His usual paintings seem quite close to Brom, while what he did for you is darker and contains more sickness... Did you give him clear ideas of your wishes, or simply sent a record? Are you owners of the painting, or he only sent a picture and the right to use it?
Marko.- We look around hardly searching for the right artist to reflect the content of our album, we tried a few but they could not succeed, so during this search we found a Plastic Artist which specialty was Lovecraft Bestiary and as we were watching his previous paintings we were getting convinced that Paul Carrick was our man for the task, we contact him and actually he told us that he had never made a painting for a Band's Frontcover before, so he ask us a copy for the recently recorded album (Catacombs…) and the title, and what he had achieved was aweinspiring. He explained to us that he played our recoring and start to paint flowing with our music's vibe. We own the rights of the painting and the original stands on Paul's Collection.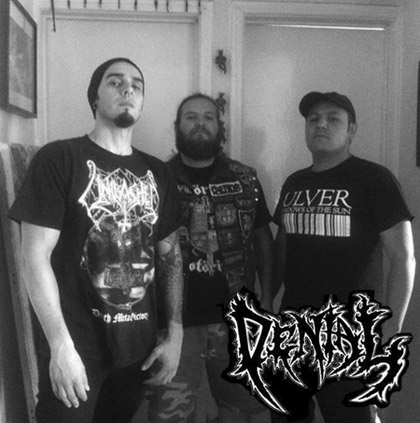 10. Your album was mastered by Dan Swano. I didn't hear the initial recording so I wouldn't be able to make the difference... Could you describe it and say at which level his work improved the sound of your record? What did he bring on the autopsy table and did this process take a long time? (He might have improved the dynamic, heaviness or clarity...?)
Marko.- Dan made a very good work on the Mastering, because of the Low Tuning, we needed an expert on this sound, this mastering helped to let guitars scream as it should without lose that obscure and dirtiness, the monster drums, the heavy-thick Bass Guitar and Cavernous Growls, so we ask Dan to do it, and it took a few days and we are very satisfied with the work he have done.
11. Do you believe in the pleasures of autoerotic mummification?
Marko.- Only on moments of Leisure (HA!!! Wtf??)
12. Did you already travel in Europe, and how did it feel? Didn't you feel quite disappointed by the metal scene or maybe peoples that weren't how you imagined? Do you think you could live in Europe, or you're too addicted to the Mexican lands, culture and ways of life? Now comes the megalomaniac question: What should Europe change to please you enough so that you agree to live here?;-)
Marko.- Yes, Personally when I went for an European Tour was great, we perform on Metal Bars and I saw many people really curious about a Mexican band touring Europe, they ask us questions like: "Are you here for Vacations? Because I can't believe you traveled all over the Atlantic ocean just to play!", Things like that! I was not disappointed at all… I spent great time knowing cities, bands, people, metal stores, buying CD's, trading stuff… I for sure give it a try, living in Europe, multi-cultural cities, so many places to see, but I always be fond of Aztec Soils, Land of the Feathered Serpent and Blood Rituals.
13. How do you say "Denial" in Mexican and why aren't there more bands using your mother tongue? I have no problem with metal lyrics vociferated in Spanish or Portuguese, it sometimes brings some anger and hot nervous appeal to the whole... Just for the morbid sake of it could you translate "Catacombs of the grotesque"?
Marko.- The Spanish word for Denial is: "Negación".
Even when we like and follow bands using their home language, we conceive Metal in English, because we were raised with those bands who sang in English, like Judas Priest, Black Sabbath, Uriah Heep, etcetera and phonetically is best suits.
Catacombs of the Grotesque it translates "Catacumbas de lo Grotesco"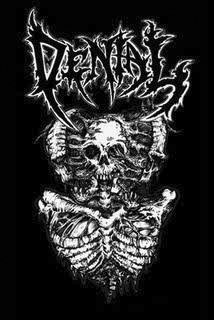 14. What comes to your mind when you read these words:
-Embalming of the living
-Embalming music
-Death metal without downtuned guitars
-French metal
-An Ipad to read metal zines
Marko.-
1. Imminent Death.
2. Bloodstained Art.
3. Chuck Schuldiner, Pestilence.
4.Massacra!
5.Excellent Choice of Portability.
15. Tell us more about your personal sexual affection for formaldehyde... Are you a collector of body parts and which awake the most nostalgia in you? Do you hope to disembalm these parts on day and re-assemble them to awake Mr Frankenstein? (Or eventually miss Frankenstein...)
Marko.- I like to collect all those parts from European Metal Girls, put it on my luggage and bring it with me to Mexico and Assemble with different faces every day, sometimes 2 faces at the same time, so, in that way, I won't get bored.
16. What should the morbid readers expect from DENIAL in the future? Did you compose new songs and are there plans to release it from agony in the coming months? Is there something more to say, have you got some merchandising? If someone wants to send you a morbid letters, where should they write? Thanks for the answers.
Marko.- Denial is now working on the Upcoming 7'' EP that will be released by Blood Harvest Records from Sweden soon in Autumn and we have signed with Pulverised Records for the Full Length, no release date yet. Also we have a new line up with 2 new members Alex Rubio on Guitar (Also Guitarrist in Sperpentum) and Huerta on Vocals (Also Vocals in Necroccultus), and of course the Original 3… Oscar Clorio on Drums, Ricardo Gil on Bass and myself on Guitars.
For Merchandise, booking or any info you can reach us at our Official Facebook Page www.facebook.com/Darkened.Denial
Thank you G for this Interview and interest!!
SANGRE Y MUERTE!!!! M.G.
>