----------------------------------------------------------------
INDEX INTERVIEWS GUESTBOOK
----------------------------------------------------------------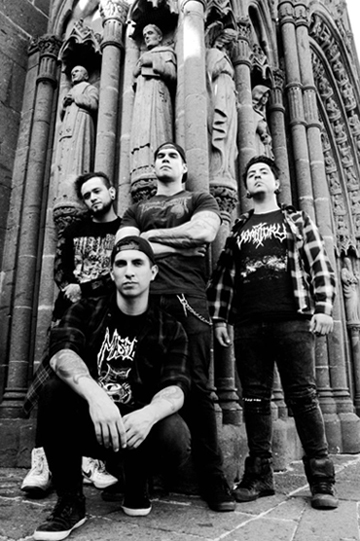 Interview by Arch from CABAL zine and Gabriel.




1. Hi, can you tell us the story of Cathartic? Because you seem to be a young band, and "Ceremonial Resurrection" appears to be your first recording, isn't it?
Hi, thanks for this interview! Cathartic was formed in July 2019 in Guadalajara, Mexico. By me, Erick Beltran as guitarist / vocalist and my brother Jimmy Beltrán on guitars. Bassist Jimmy Figueroa and drummer Carlos García to complete the lineup. In June 2020 Carlos García leaves the band and is replaced by Ángel Rosales. Yes, this is our first work under the banners of Cathartic, but we know each other from several years ago from our first band Iron Force.
2. "Ceremonial Resurrection" seems to have been well received in several countries, you got a deal with Concreto records (Mexico) for the CD, and also a deal with Destruktion records (Germany) for the tape edition. How did you do to have released on two labels ?
We want to spread our work, our music and vision around the globe, but we wanted to do it on the right way. We do our own psychal presskits and spread it to the world. For labels and fanzines only, with a personal handwritten letter. No streaming, no likes and followers, no big egos. And this is the case with Concreto and Destruktion Records. They received our music and we started to work together.
3. Dan Swanö did the mastering, why did you choose him and not another technician?
Dan Swanö is a very talented person and he knows exactly what he does. We knew that with his knowledge, we could reach the ultimate power for these songs. We wanted to start with the right foot.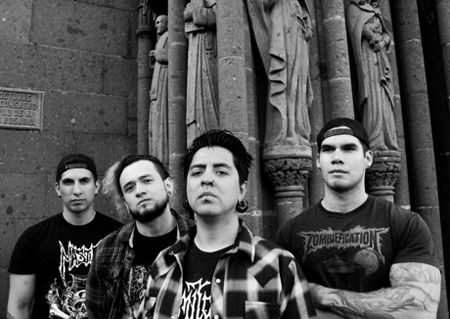 4. Do you consider this first recording as a demo, a MCD or an Ep? The CD version comes with 4 songs and also two bonus tracks, namely "Bringer of hate" and "Drowned in terror". Why do you view these two as bonus tracks?
It's an EP. The four songs were 100% composed by the band during the period of our formation to the ending autumn of 2019. The bonus tracks are the last remains from our previous band named Iron Force, but with some modifications.
5. For a lot of fans, old school death metal is the only way to play death metal, and this can reflect in the artworks... For your release you choose the arts of Juanjo Castellano...
Yes, I was looking for something traditional but at the same time very special. The classic black and white art with the "holy death" on that style of artwork, something taboo from the Mexican culture. We praise death, and that goes against what society expects.
6. We discovered your release on the french distro "Nihilistic holocaust". The underground is not everywhere, it has some good and old dealers, but it's very difficult to find good bands. How is your scene in Mexico? Are death metal bands like "Rockstars" or is the music the most important before anything else? What about your local scene and the physical market for CDs and Lps in your country ?
I think you are going to find the «rockstars» everywhere, peoples who only live for the moment. They only think about stepping on the biggest stages with their empty music. Here in our local scene we have Covid-idiots… Metalheads making presentations in times of pandemic! 100% live in the local bar. It's a shame. But luckily, many peoples stay at home and play their records, tapes and CDs. Concreto Records also has a store and they ship worlwide, if peoples from France want to check for a new place. Here in Mexico, we have a lot of Metal stores from the north to the south: El dispensario Underground, Alto Voltaje Store, Metal Inside Records and Store…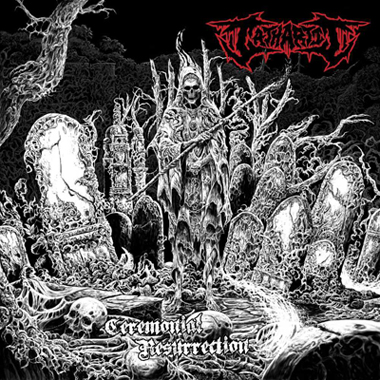 7. Which equipment do you use to have such a fat sound on your recording?
Marshall amplifiers, HM-2 and Tequila… Heavy gear only !
8. Are you able to reproduce this thick sound in the rehearsal place or live in small bars? It's not always easy to sound brutal and remain intelligible in "rough" conditions (I saw some local bands live that sounded like noisy "Brrrrr") and I came to the conclusion that sometimes it's better to lower the level of overdrive during gigs, to gain some impact…
I think with the correct sound equipment and a good audio engineer you can get good results in any space. Our rehearsal room is small for example, and we got a good sound there.Unfortunately we haven't had a chance to play live yet, but we will be prepared with the necessary gear to sound great in each presentation in the near future.
9. Can you explain a little the meaning of the word "Cathartic" to our readers? I think this is a quite good name for a death metal band, and surprisingly it wasn't already used (While you could expect everything decent would already be taken in 2021...). Where did you find the idea?
Thanks! "Cathartic" is the relief through the open expression of strong emotions; causing catharsis. I really wanted a name that could be related with this form of extreme music. For me, as an introvert, it's a cathartic experience to be the vocalist/guitarist and the person who writes the lyrics of the songs. It fits perfectly with what I wanted to do in the band and luckily I found a one word name that sounds like the names of bands I like (Cathedral, Carnage, Carcass…)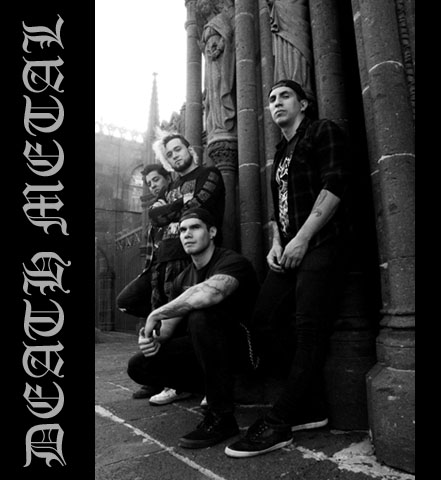 10. Inspiration can be awaken by very different things, from watching a horror movie, to hearing your heavy guitar sound after turning on the amplifier, to discovering a killer new band... What usually "clicks" inspiration the more often for you?
Yes, playing guitar helps to release what we carry inside. Personally, I listen to music all day, specially Heavy and Death Metal. So when it comes to music I enjoy playing alone in my room among my cds, tapes and vinyl collection, that gives me inspiration. As for the lyrics, it's more related to what I like to read and what I feel during the days. I don't like to write about cannibalism or a zombie apocalypse for example, because it gets so boring for me. That's something I can't relate with.
11. I wasn't very familiar with the old Mexican death metal scene, until few years ago when peoples started to talk more often about it, and some labels also re-released some of it... What can you say about the old death metal scene from Mexico? Which bands or recordings should metallers absolutely know? Can we say CATHARTIC is influenced by old Mexican death in a way?
Definitely. There were excellent bands that I really like: Cenotaph, Shub Niggurath, R'lyeh, Blackthorn and many more but particularly Bloodsoaked was a source of inspiration for me. I recommend listening to that band, specially "Autist Decay" and "The Omen" EPs. Another band that blew my mind was Sarcastic with their demo tape "No Forgiveness", it's raw and chaotic in a badass way. I even have the cover artwork of this tape tattooed on my right leg!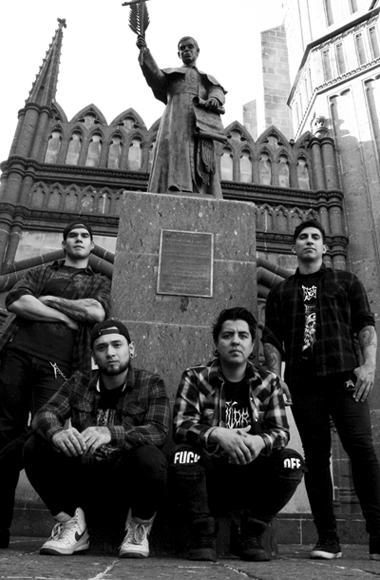 12. Due to the heaviness of your music, I imagine you should enjoy the old 90's Finnish death metal, but also perhaps this new wave of obscure cavern death metal from Usa... Tell us a bit more about your tastes in death metal: What are your favorite bands and genres? Do you regularly drown into the old school, or do you also enjoy newer bands as much? And is it only about death metal morbidity?
Each of the band members has their particular tastes and I know each one injects that into the band keeping the old school sound as the foundation bases. We go from Heavy Metal to Death Metal, Black Metal, Doom Metal, Thrash and Speed Metal. I can be listening to Sortilège and switch to Thergothon, same as a classic band like Judas Priest or a new one like Vultures Vengeance. I don't listen to genres like technical death metal but I know our drummer likes it a lot. So everyone has their tastes but we have a solid base of traditional Metal, don't be fooled by our short hair hahaha!
13. Okay, we hope that Cathartic will have a really good career, like Zombiefication. How do you see the future for Cathartic, for old school death metal, and the time to come with Covid-19 ?
Thanks, I hope so too. Right now, we are working on our full-length album, I hope it can be released at the end of August. But time will tell. We are not going to do a livestream ever! I don't care what peoples spect haha! But I really hope things improve soon. Don't forget to put all your links to support Cathartic! Thanks a lot for this interview! All Metal Maniacs can keep in touch via Facebook and Instagram : Catharticdm / Email : catharticdm(a)gmail.com Salud! Erick B.

https://www.facebook.com/catharticdm
https://instagram.com/catharticdm



BLEED THE TAPES!


>