----------------------------------------------------------------
INDEX INTERVIEWS GUESTBOOK
----------------------------------------------------------------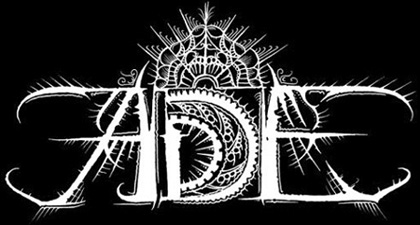 TECHNICAL DEATH METAL
WITH INFLUENCES OF ANCIENT ROME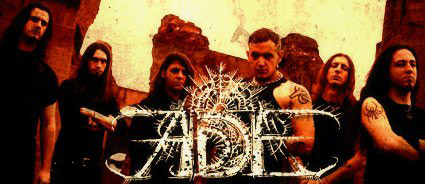 1. Hello. To begin with, what could you say to introduce ADE to the readers?
Ade was formed in 2007, with the purpose to mesh death metal with ancient Roman and mediterranean music. We studied and researched and tried to make the experience as authentic as possible.
2. You play quite technical Death metal influenced by the ancient Greek music that was used by Romans. This is unusual in the Death metal world. What has lead you to embrace these themes and influences? (Maybe a member of the band has studied ancient music, or did a history thesis?)
A couple of decades ago some northern-European bands decided they wanted to tell the history of their Viking ancestors, we just did the same with ours. I am both a death metal and Roman history fan, so this project is really fun for me.
3. How long did it take to compose your last album "Spartacus"? Does it contain only new material, or were some parts created a few years before? What are your favorite tracks from this album? (I have problems to believe it when some bands say each track is so good... There are always stronger moments, and it's logical as far as I understand the creativity process)
It took about a year, and most of the stuff has been written in a couple of months (although our guitarists were jamming with new riffs since a while before then). My personal favourite is "Duelling the shadow of Spartacus", which is probably the most versatile track in the album, but also "Mars unpredictable favour" is a big wall of sound that never misses to make people bang heads and mosh.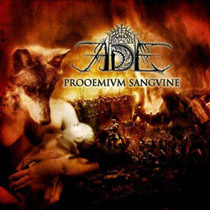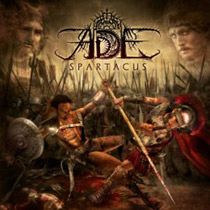 4. Would you say ADE has more to do with cinema than the average Death metal band?
Yes and no. We surely have some "Soundtrack moments" in "Spartacus" but there's much more to experiment.
5. Could we say ADE is destined to fans of NILE?
Yeah, why not? The only thing we share with them is the drummer (G. Kollias has been the guest drummer on this album), but our sound is definitely to Polish bands like Behemoth and Decapitated.
6. How do you reproduce the samples and old styled instruments during gigs? Do you use a laptop computer, a synthetizer or something else? (Some electronic pads can launch samples, so your drummer might take care of it)
We use a laptop indeed, and the songs are launched by the drummer. We would had love to keep on have real live played instruments on stage like we did until a couple of years ago, but it's too complicated when you also have two guitars and a ferocious drumming underneath.
7. Do you think it could be a good idea to wear Gladiator armors and helmets during gigs? On one hand you would go deeper in the concept, on the other hand it could be harder to play with heavy armors...
Our current uniforms (that can be seen here http://www.youtube.com/watch?v=VaBYjlneKds) are meant to resemble those of ancient Roman priests. This is because our point of view is the one of the gods, not the one of the mortal beings. We don't take sides but just tell the stories and the myths, therefore we don't want to wear armours, neither Roman or gladiators.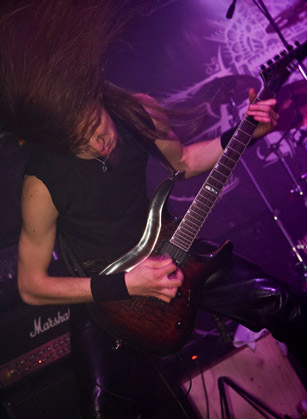 8. Think about a gladiator fight during ancient Rome. Would you rather see yourself (And the other band members) as the gladiators fighting in the pit, or as the powerful masters and beholders in the tribunes who vote for the death or victory of the fighters?
As I said before, we would more likely be getting drunk in the backstage and carrying the corpses outside after the battle, or using some imagination, sitting with the gods and betting on the winners.
9. If an inhabitant of Rome from the ancient times was teleported in our modern days, what would you think his feelings and thoughts would be? All the more, the countries from our old Europe are much less powerful compared to the ancient times, so it could be very disappointing.
They would be pissed as fuck. Not only politically, but also for the general lack of culture and pride in being part of such a vast and powerful Empire.
10. How is the Death metal scene in Italy? Are there bands worth to check out? The current old school death metal revival lead to the birth of a little ''scene'' in your country... Is this something you are interested in, or do you prefer more technical and brutal kinds of death metal?
Actually we listen to a lot of bands, and Italy is a gold-mine of good ones. The scene is slowly emerging, with all the difficulties we can have in this Country. There are bands like Hideous Divinity or Eyeconoclast that can satisfy the ears of every death metal fan, but also bands like Blind Horizon and Nero Di Marte for prog-heads like myself.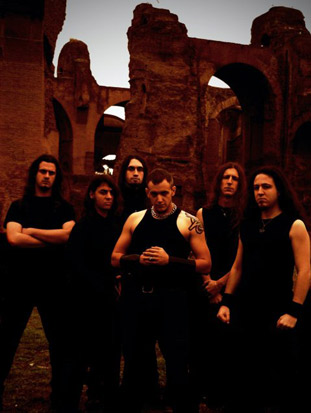 11. I'm not familiar with your previous recordings. Was it the same kind of death metal, dealing with the same themes, or did the ancient Greek/ Roman influences develop more recently?
We had our first demo out (Vltima Ratio) and the first full length (Prooemivum Sangvuine) both dealing with Roman history and myths. The next one is also going to be about Romans and, while I didn't use so many Latin lyrics on this album, there might be a lot more in the next.
12. Do you know the French band IMPUREZA? Even if the styles of the two bands aren't really the same, you are both influenced by NILE and occur to explore quite close realms (At least the way some string instruments are used bring some similarities in the sound).
I'm checking them out while answering your questions. They're really interesting, and I think that while themes like Vikings and Pirates are overused nowadays, it's cool to find people who want to tell another kind of stories. Also using other languages than English it's a refresher.
13. If ADE was a fruit, what could it be? Perhaps a poisoned apple...?
Maybe a pomegranate, sacred to the gods, symbol of life and death.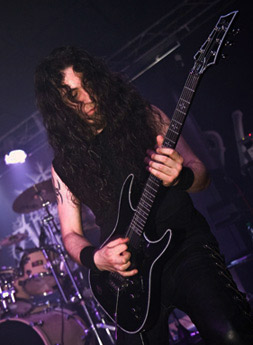 14. What were the members of the band listening to lately? What were the albums that kicked your ass the most for the end of 2012/ first half of 2013?
Personally, I loved Autotheism by The Faceless, Yellow and Green by Baroness and Koloss by meshuggah. Speaking of death metal, I really like the way the whole genre is evolving towards new solutions and finally finding a tasteful way to merge synths and ambient moments with fat guitars and growls. It was about time!
15. What are the future plans of ADE? It's time to conclude. Greetings
We are planning on doing European mini-tours and write the new album, while we're also preparing a surprise for our fans, so stay tuned everyone! Thanks Nihilistic Holocaust and their readers. Si vis pacem para bellum!
Web page: http://www.reverbnation.com/adeproject
>