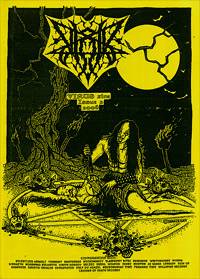 VIRUS #3
SICK AND TIRED OF FEELING YOUR ASS STERILIZED AND COMPUTED IN ALL THIS CYBER SHIT? YOU NEED SOMETHING REAL! YOU NEED MORE PAPER ZINES MOTHERFUCKERS!
ARGH! This third issue of VIRUS zine from Malaysia was obviously printed on real paper, and what you can expected to read in the 60 pages is almost totally black, thrash and death metal in an old sense of the once hellish words! The lay-out is done on a computer for most, but it looks cool, obscure and quite varied. Not bad to re-bath in tormenting flies.
The interviews are quite long and quite interesting, not bad, expect for the fact the English of the editor isn't always the best... I already read worst, and it's understandable, but an effot for the future issue would be welcome.
The zine-vomitor seems to like many bands as long as it is demoniac and quite bestial sounding, I always prefer when the level is a bit more up and the writer shows more difficulties to be satisfied... but one more time it's a matter of putrid tastes! Mothersucker!
I know the name of the zine VIRUS that do not sound that metal, and the fact the fanzine comes from Malay might turn a bunch of peoples off, but it's not a bad shot, and they seem to be quite serious at least...
INTERVIEWS FROM HELL: RELENTLESS ASSAULT, TORMENT, KRATORNAS, NECROMANCY, NECROMANIAC Zine, BEHEADED, WEAPON, RUDRA, DEVASTATOR, WINTERHORDE, PYURIA, MOURNING BELOVETH, CIRITH GORGOR, SADISTIK IMPALER, LEGION OF DEATH Recs, LEPROSY, NIRNAETH, SIGN OF DARKNESS, AS SAHAR, INSIDE, BELZER, MORTEM, FRANANG Zine, HELLSPIKE Recs, KULT OV AZAZEL...
It's time to close the circles of circumcision, castrate the preachers of sodomy and reptilize ourselves a bit more with more metal of death, motherfuckers! So, contact Fauzi if you dare, and play it loud again! DEATH IS OUR SAVIOUR!
c/o Fauzi, Box 129, Felda Chini 4, 26690 CHINI, PAHANG, MALAYSIA.
Email: virus_zine@yahoo.com