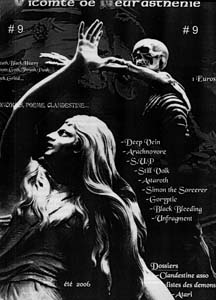 VICOMTE DE NEURASTHENIE #9
I had the possibility to read several issue of this zine, but never wrote a review... Maybe it's the right time to speak about it.
VDN is an underground fanzine that seems to focus mostly on the French underground. French extreme metal bands are most of the time very numerous in the interviews' summary, and this is a good thing since there are quite a bunch of cool bands in there... So I appreciate this support... The problem lies in the fact interviews are often very short, and the questions didn't take a long time to be found... It's kinda the same problem for the reviews, it's often very short, and do not bring much personal opinions nor feelings; rather brief descriptions... And I have problems to easily read some of the fonts.
In this issue, you could also find some live reports, poems, a list of demons (I don't see the use at all... huh??) and a nostalgic article about Atari computers.
I have very mixed feelings about V.D.N; is it usually done in a rush, or is there some special state of mind I didn't detect? It tastes very tired.
Anyway, I think it might turn on some very underground guys who basically like black metal, and some bands would like to be exposed in there... But it lacks of personality, opinion and burning will to kill for my own use. Quantity has won.
c/o Huysman Emmanuel, Centre Emetteur Tdf, 60130 St Juste en Chaussée, France.
Email: Neurasthenie@wanadoo.fr