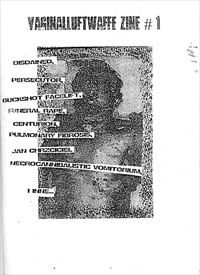 VAGINALLUFTWAFFE #1
I thought my last name didn't sound too polish... Because after all it doesn't contain many menacing "Zkzkzkz" nor any complicated "Znekzstikzuk" or some occult "Kuzkuszkult", but anyway I keep on receiving Polish fanzines totally written in fucking Polish! Ah! So you will have to read another review of "the zines I can't understand" Ah Ah...
Vaginalluftwaffe is a very underground fanzine, it's not really surprising since the editor also runs an underground distro (With many demo stuffs) and plays in the small brutal death band SPLATORGY, but I'm a bit more surprised about the content: According to his activities, I imagined something very much into the Brutal death and grind-core-gore spectrums (You know these brutal things that can get you hammered easily) but in fact there's also some old school stuffs (Might it be Death or black metal)... It might be due to the tastes of the other editor (Who knows, I don't read polish :-P). So just say it's a fanzine focused on the deep underground... The layout is cut'n paste, but rather raw than into old school moods (Maybe I don't see enough pictures... It's full of text) and it contains a lot of reviews (A bit more more than 100 "Recenzje" (Yes, it's a polish word) is quite a lot for a 36 A5 pages zine)
The interviewed termites and interrogated dirt eaters are: DISDAINED, PERSECUTOR, BUCKSHOT FACELIFT, FUNERAL RAPE, CENTURION, PULMONARY FIBROSIS, JAN CHRZICIEL, NECROCANNIBALISTIC VOMITORIUM...
The editor seems to be quite active and motivated, so if you want some support in the deep underground, you might consider sending him something, in this case add flyers because he spreads them.
c/o Pawel Grudzien, Ul Dobra 63A, 05410 JOZEFOW, POLAND.
Email: vaginalluftwaffe@autograf.pl