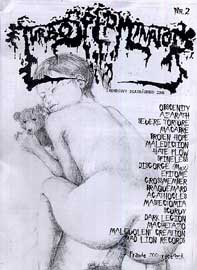 TURBOSPERMINATOR #2
What you get here is a Brutal death/ Grind/ Grindgore and the likes focused zine. It's full of extreme bands' interviews, reviews, infos... written in polish! So I can't tell you more about the underground focused containing! The content is well balanced between the various Death metal and Grindcore styles, and there are a bunch of reviews. The layout could be improved but that's ok. The crappy aspect in here is the stupid grindnoise gore ideology that seems to make its appearance from time to time: what's this stupid pedophile cover artwork??
Want some decent promo in Poland? That might be a right adress to send yer package.
Interviews: OBSCENITY, AZARATH, SEVERE TORTURE, MACABRE, BROKEN HOPE, MELEDICTION, HATE PLOW, SPINELESS, DISGORGE(Mex), EPITOME, GROSSMEMBER, BRAQUEMARD, AGATHOCLES, MASTECTOMIA, SCURVY, DARK LEGION, MACHETAZO, MALEVOLENT CREATION, MAD LION Recs.
c/o Marcin Calka
Ul. Naftowa
67/15 41-200 Sosnowiec
POLAND.
Email: rectal@wp.pl