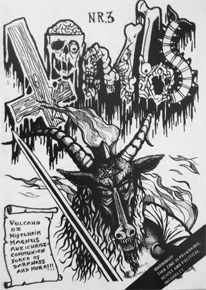 TOMBS #3
Cunnilingus Creutzfeldt-Jakob.
When there's no pussy left on earth, the perverts have to visit the tombs!
I heard about this Swedish fanzine a few years ago through a myspace page, but didn't find more traces of existence so thought it disappeared... Until I found a copy in a small French distro. So here we go:
The content is old school, as you would expect from old school zines in the middle of old black, thrash, heavy and 80's death metal. (Sometimes we're not far from an old dirty hard rock state of mind, well it's old school so it's not surprising...)
The layout (Especially margins) reminds me some old issues of SLAYER Mag, but the written content (Mostly interviews) isn't so historically bothered and sounds a bit more fucked like "I drink beer"... The interviews aren't bad, but it's something like the regular old school questions if I can say so (Maybe I read too much of zines?)... I guess he doesn't give a fuck about originality and only wants to ask what he wants, under the influence of beer or old metal records.
There are also a few reviews of stuffs the editor liked, rather short and positive ones. There are also a few English mistakes.
It's pro printed on quite heavy paper (Something like 180 Grams), which makes the 36 x A4 pages look more solid.
TOMBS isn't standing out from the other old school metal fanzines, but it's not in the bad average for the genre, so peoples who like underground old school black metal/ thrash/ death with a bit of 80's heavy could like it.
Interviews: GRAVE DESECRATOR, OZ, NIFELHEIM, VULCANO, BATHORY (Old int from 1996), ANTICHRIST, FORCE OF DARKNESS, COMMUNION, CENOTAPH, MAGNUS... And an HELLHAMMER article...
c/o David Herrerias, Kalendervägen 6, 41511 GÖTEBORG, SWEDEN.
Email: tombs(a)live.se