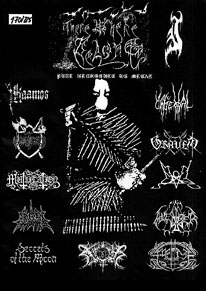 THERE WHERE I BELONG #1
Totally obscure and fucking necro looking Black death metal fanzine following a cult underground metal highline! They call it "Pure necrocult underground metal", and that fits! Spiked as fuck and intensively beer drinking maniacs will find long enough and interesting interviews with: KAAMOS, VOMITORY, MUTIILATION, FROZEN SHADOWS, URGEHAL, GRAVEN, AVENGER, CHRIS MOYEN, BLOODY Zine, AMNION, XASTHUR, MINAS MORGUL and SECRETS OF THE MOON. There's also a nice blind test, some live reports, CD/ demos reviews, old school reviews, zines chronicles... The editors doesn't seem to be too much your freshly newcomers; it's a good point to run a zine with a minimum background.
As always some reviews and the choices of interviewed bands can be discussed, but it's always cool to read this kind of underground devoted, yet not abusively close-minded underground zines!
The layout is dark for most, with enough images and dark background pictures to fit the atmosphere. It was apparently pro-printed on classical paper. The next issue might be more balanced between old school death and black metal (Many death metal bands failed to answer the questions for this issue).
I'll try to get a copy of their next offering! A worth reading paper zine for maniacs of necro, underground and ugly METAL!
c/o Necrorain, Julio Garcia Condoy 11, 1°D, 50018, ZARAGOZA, SPAIN.
Email: necrorain@hotmail.com