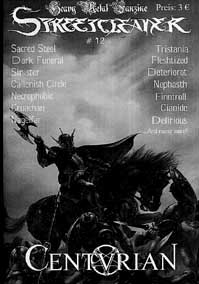 STREETCLEANER #12
Here's a big photocopied zine covering all the genres of Extreme metal from Heavy metal to Grind, Black metal, death metal...
In fact, it's the paper version of the ADNOCTUM webzine, and as the father webzine. it's unfortunately german written, so I can't tell you anything about the quality of the content (but it's serious, for sure). The zine looks quite clear and offers a good amount of infos, reviews and interviews. I'd like to see more artworks, some personnal layouts and more compression in the reviews' layout here. It looks more serious than underground but it offers you 100 pages of extreme music for 3 Euros only, so German speaking metallers may find some burning interest into it!
Interviews: Sacred Steel, Dark Funeral, Sinister, Callenish circle, Necrophobic, Cruachan, Nagelflar, Tristania, Fleshtized, Deteriorot, Nephasth, Finntroll, Cianide, Delirious, Blutaar, Imperial sodomy, Pissing razors, Centurian, Shadow, Scythe...
C/O Wolfgang Schmeer, Kirchstr. 11a, 64823 GroB-Umstadt, Germany.
Email: Streetcleaner@darkworld.de