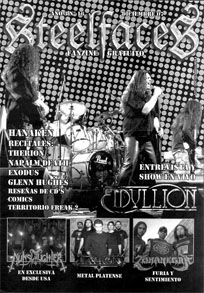 STEELFACES #16
This is a kinda pro-printed alike alook zine I directly got in trade with the editor who resides in Argentina. This issue isn't so big, but it's given for free, so you're not particularly in the right position to complain, you little clicking beggar. It's all written in Portuguese or Spanish (Not sure how to make the difference) so I won't be able to talk about the real content (Some peoples might say I'm a master at reviewing zines without reading! héhé) but a little description is always possible, so here you go: You can find quite a lot of articles in these 16 A4 pages, mostly interviews, live reports and reviews, but also some adverts for local shops and stuffs like that... Well these adverts probably pay for the printing costs, so why would you complain, you little clicking beggar? The interviews seem to be a bit short, but it also depends on the bands' talkative abilities (And Satan knows how the tongues of some bands occur to shorten so much, in these days of massive robotic myspace use...). The kinds of metal it deals with are quite varied, but not particularly modern; According to what I see I'd say the editor is between 25 and 30 years old. Well I'm not able to say much more. I did a trade with this guy and it went Ok, so STEELFACES might be a cool contact if you want to trade some stuffs or get some support in Argentina.
Interviews: Nunslaughter, Zona negra, Eidyllion, Bayron
Live reports: Napalm death, Exodus, Glenn Hugues, Therion...
c/o CARLOS RENDA
CALLE 8 Nº 3776
BERAZATEGUI (1884)
BUENOS AIRES
ARGENTINA
Email: steelfaces2005@yahoo.com.ar