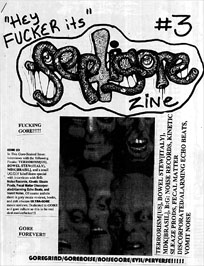 SEPTIGORE #3
No, this new fanzine has nothing to do with the old and dead Belgian fanzine SEPTICORE!
Welcome to the most putrid, noisy, unlistenable, (and half of the time childish) ear sodomizing harsh part of the underground: SEPTIGORE focuses on noisegrind, noisegore, grindgore... and other kinds of "music" I never heard about. The whole is cut and paste as fuck, with flyers and sexy pictures of gore everywhere.
You can find some interviews with: TERRORISM, BOWEL STEW, MDK, B:G:, KINETIC SLEAZE, FECAL MATTER DISCORPORATED and VOMIT NOISE, as well as some demos reviews and few torture movies goreviews.
So, if you are into the noisy kinds of harshness quoted before, self sodomizing video tortures and these kind of stuffs... You know where to write.
c/o Erik Raddatz
33768 Fairview Dr
Yucaipa, CA 92399
USA
Email: eraddod@earthlink.net