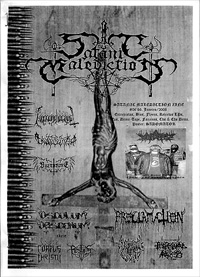 SATANIC MALEDICTION #666
This fanzine is totally representative about the malignant and old school spirit that reigns in the South American scene: It's narrow minded and focuses strictly on brutal black metal and evil Death metal, without any compromise. Obviously the bands has to offer some burning atmosphere to be featured, some burning passion in the initial (Bestial?) meaning of the word. One could expect SATANIC MALEDICTION to deal only with bands from Brazil and around, but it's not the case since evil metal resistants from the whole world can be found. The interviews seem to be long enough, even if sometimes a bit short (And few of the questioned outfits seem to be quite average, but I guess they have the right atmosphere). There's quite a lot of quite long reviews, a bunch of flyers, and some biographies from the depths (Maybe fewer bios and more interviews would be something to change? In Europe, we aren't used to read printed bios anymore since years... But I didn't say it's a bad thing)
The dark, the ugly and the morbid can easily be found in the moods of the layout, but it doesn't look chaotic nor randomly cut'n paste, as it's well paste and organized to offer decent reading pleasure, always in darkness...
I can not say much more, since I don't easily read Brazilian, but these 60 A4 pages of evil extreme metal could be strong enough to satisfy underground Brazilian readers.
Interviews: OSCULUM OBSCENUM, BENEMMERINNEN, ROTTENNESS, VAMPYRUM SPECTRUM Zine, SIGN OF HATE, PROPHECIES OF PAGAN FIRE Zine, NECROHOLOCAUST, VULTURINE, CORPUS CHRISTI...
c/o Asaradel, Rua 2 de julho, 528, Centro-alagoinhas/ BA. CEP: 48051-190. BRASIL
Email: S6m6z6@yahoo.com.br