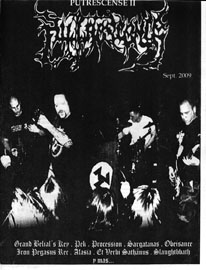 PUTRESCENSE #2
If you say "Putrescense", I will answer with what happens in the underwears!
This underground fanzine is ran by two guys, including the drummer of DEMONIC RAGE, and the content follows what you'd expect: An underground mixture located right in the middle between the underwears... Errr, Death metal and black metal in a quite obscure, bestial, or anti-juicy approach.
The interviews contain an average of 9 questions, and answers aren't too short (Yes, it's not English written... So I don't understand, doesn't it sound familiar?)
There are also a bunch of reviews of a normal length, for a total amount of 64 pages.
The layout of this A5 zine was made from cut'n paste computer typed text, with some pictures and flyers here and there. It looks quite old school, but globally nothing special to say; It could look quite nice for fans of the style, at least it's not too fucked and remains easily readable.
If you want to know more about PUTRESCENSE, rent the services of a Chilean brain who could tell you more about the written content. Unfortunately I'm not informed about the prices of Chilean brain cells, so you will have to search for yourself.
Interviews: SARGATANAS, PEK, OBEISANCE, IRON PEGASUS Recs, COMMUNION, SATHANAS, GRAND BELIAL'S KEY, UNAUSSPRECHLICHEN KULTEN, PROCESSION, HASTUR, AFASIA, ET VERBI SATHANUS, DEMONIO, BLACK GRAIL.
c/o Victor Abhorer Low, Po, Box 799, Puerto Montt, CHILE.
c/o Roberto Caro, Po Box 894, Puerto Montt, CHILE.