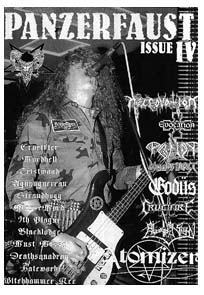 PANZERFAUST #4
Here's a zine focused on what I consider as real metal with the good old metal roots! PANZERFAUST is beerly balanced between old school Death metal and raw black metal, with few hints of old school thrash metal! The interviews are quite long and varied enough for an efficient water-closets' pleasure, the reviews are detailled enough to decently inform the patched as fuck readers!
The editor don't hesitate that much to say his opinion in his writings and questions, so you can learn quite interesting things about the stupidity (in the Polish scene for exemple) and you could read nice articles about DEVILYN or the American Black metal elite... As always it's a matter of opinions, and you could disagree, but it's immediately cooler when the guys don't hesitate to scream "BEEEEEER METAAAL!!!" ;-)
This issue includes interviews with: NECROVATION, EVOCATION, PAGANIZER, BLOODTHIRST, GODÜS, CRUCIFIRE, BLOODY SIGN, ATOMIZER, CRUCIFIER, MORDHELL, TRISTWOOD, STRANDHOGG, AUYNGUERRAN, 9TH PLAGUE, BLACKLODGE, MUST MISSA, DEATHSQUADRON, HATEWORK, WITCHHAMMER Recs, BESTIAL RAIDS, DEATHSQUADRON, ANCIENT RITES, CALVARIUM, DELIRIUM TREMENS, MASSEMORD... Well, there's quite too much black metal for my tastes! If there were more Thrash-as-fuck and Total-Death, I guess I would be much more into Marcin's writings! ;-)
The layout is decent and clear. If you enjoy the old schools of both death metal and black metal, if you have a neverending thirst for unknown or obscure underground bands and if don't bother when the zinemaker have fun saying what he thinks, it would be clever enough to advice you to get in touch with the guy and send him five pieces of pink underwears! ONLY PINK BEER IS REAL...Uh?!
c/o Marcin Olczak, Wyszynskiego 1/35, 86105 SWIECIE 5, POLAND.
Email: p_faust@poczta.onet.pl