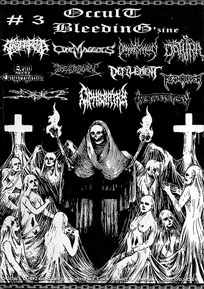 OCCULT BLEEDING #3
Eventhough this name might seem fresh and new in your putrid mind, Occult bleeding isn't really a new fanzine since it was previously called PAGAN Zine.
The name change didn't lead to a change of content (Mostly Death metal and Brutal death, the underground way), but shows an improvement at various levels...
There's more content, the layout looks more professional (And the zine comes with a pro B&W cover)... This effort looks much more like a real zine.
Now I have to insert my fingers in the inner of the bowels to tickle purulence: The main problem of O.B. lies in the fact the English level of the editor isn't very good... After minutes of adaptation, your mind is set on the right emulation so it's easier, but sometimes my brain has to make quite weird zigzags to really get the idea... (It seems he thinks his English a serbian way or something...). Hopefully, Milan do not answers his own questions during the interviews, so the English level increases during some answers, and so the whole is easier to read.
I appreciate the fact a part of the featured bands were totally unknown to me. Some interviews are cool, some aren't so cool... He would really need to ask more questions, because an average of 10 questions can't be very informative.
I appreciate the improvement of this zine, and even if it's average and there are still defects, I think it can be a nice item for big fans of underground death metal and brutal death.
Interviews: ARSEBREED, DEAD CONGREGATION, DEADBORN, FLESHRIPPER, JASAD, OPHIOLATRY, DEFILEMENT, DATURA, DAGGERSPAWN, RETRIBUTION, CUNT MAGGOTS.
c/o Milan Mandic, D. Karajzovci 38A, 78418 Nova Toploa, Republic of Srpska (Bosnia).
Email: occultbleeding@lpwireless.net