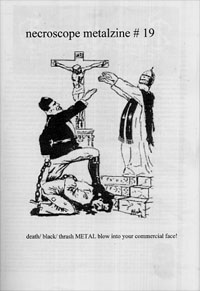 NECROSCOPE #19
Adam the Polish cadaveric zombie keeps on releasing his underground as fuck big A5 zine, with the same conservative state of mind: Keep it retro, raw and old school!
There are many reviews, something like 200 or more. The editor is trading tapes and CDr all over the world, so you will likely cross deeply obscure names you didn't know before... Into these 144 pages that come with minimalist layout (There are few pictures, due to the printing costs. But it's all computer done, nothing hand-written lol) you''ll also see quite long interviews with: Embrace of thorns, Pek, Antacid, Begrime exemious, Enshadowed, Demonic rage, Hellspirit, Bestial holocaust.
Sometimes the English is quite strange, I need an effort to understand everything. This is a deeply underground zine that might turn on the lights of biggest maniacs, exclusively. Anyway there's no email address inside, so how could the "unmaniacs" get a copy?
(Ps: Notice this review was totally written during a hard and painful session in the Wc, while building a strong "castle of big shit". No joke, the inspiration can also come from "this" inside Ah Ah)
c/o Adam Stasiak, Ul.Zakopianska 42/3, 80139 GDANSK. POLAND.