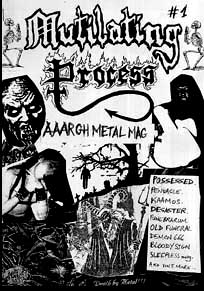 MUTILATING PROCESS #1
Here's the new zine of Nathaniel who contributes to this webzine you're reading! It covers only the old school styles of extreme metal! Death thrash and few other obscure ones! Long and interesting interviews are offered! Read: POSSESSED, KAAMOS, PENTACLE, DESASTER, FUNEBRARUM, OLD FUNERAL, DEMON 666 webzine, BLOODY SIGN, SLEEPLESS Mag, ACT OF GODS, UNHOLY TERROR, DESECRATION OF VIRGIN Zine, DEVIL LEE ROT, NECROMANIAC Zine, LEATHERS AND SPIKE Zine, SCARVENGER... and a bunch of honnest reviews! The whole is done in the good old cut'n paste style! But beware because the guy is devoted to old school Death metal and he's a beer maniac!! Some of the zine is written in French, some is in English.
It's a big 72 pages one that can please the maniacs of the old school!
Email: nathanieldeathmetal@hotmail.com