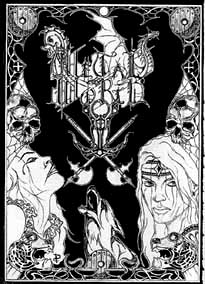 METAL WORLD
This new issue of Metal World brings a quite important amount of changements.
The zine is now the synergy of the Italian zine INFERNAL CRUSADE and of the past METAL WORLD team, and the whole stuffs are now in English as it was French written before. About the content, their tastes are quite varied as they doesn't cluster in a given metal style. The choice of interviewed bands doesn't fit my tastes though. A good amount of reviews are present and bands' contacts are here this time! :). Even if I don't find myself that much in their tastes, the zine will be cool to a quite large underground audience.
Interviews: ERYTROSY, TANKARD, THE GREAT KAT, NOMINON, FATAL EMBRACE, SECRET SPHERE, ASTARTE, BELENOS, NENIA, SARGATHANAS, PROFANITY, MAGISTER, DISPATECHED, LEGION OF SADISM, MALESANCTUS, LEGION, DISEMBOWEL, STRANGULATION...
C/O Thierry Gaquiere, 72 rue Victor Hugo, 62210 Avignon, France.
Gaquiere@club-internet.fr