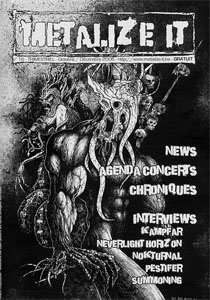 METALIZE IT #16
As you can't kill what's already dead,
As you can't metallize what's already already purely metallic,
The hordes of industrials robots will invade the earth... Brrrr
METALIZE IT is a small fanzine from Belgium (And not Itally or outer-space, the "It" doesn't stand for a country suffix or an ET things, right?) that was printed with content of their webzoom, and is distributed for free (600 copies). The 28 A5 pages contain both underground and not so underground outfits, between Black, Death metal and melodic variations of the styles. The interviews aren't very long, generally a little bit more than 10 questions, but the interrogations are personalized so it works a cool manner.
The reviews reminds me a bit of IN EXTREMIS from France, but with less criticism and words-playing... Sometimes I feel they could dig digger in the bowels and minds of the bands to extract the pulp of asskicking. It's written in French. Some cool Belgian bands are inside. This is a cool paper thing for peoples who don't shake the meaning of the word metal in every ways, but rather like to feel the milky ways of relaxing metal after an hard day of work.
Interviews: KAMPFAR, NEVERLIGHT HORIZON, NOKTURNAL, PESTIFER, SUMMONING.
Webstring: http://www.metalize-it.be