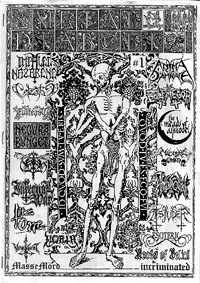 METAL EST DIABOLI #1
This Polish black metal fanzine happens to remind me of his PANZERFAUST comrade for the fresh and seriously quite well driven long enough interviews, minus the "Ahr Ahr" touches of sarcasm (If I can say so). The zine looks serious and computer made. You can see interviews with: IMPALED NAZARENE, CELESTIA, EVIL FEAST, NEGURA BUNGET, SETH, INFERNAL WAR, THE ONE, VORKREIST, MASSEMORD, ANIMA DAMNATA, BELPHEGOR, THE MEADS OF ASPHODEL, MACABRE OMEN, THRONEUM, TSJUDER, ESOTERIC, WOODS OF BELIAL, INCRIMINATED...
I can't say much more about the real interest of the content, since I'm not a black metal fan, but various ideas and opinions are present enough to keep me reading. There are quite few reviews, but it might be due to the fact it's only a first issue.
METAL EST DIABOLI isn't much different from other cool zines of this kind I could read, but are there many original zines? Not really, I'd rather read something "unoriginal" but quite well done, than some "oooriiiginal" craps some editors do not stand for... No fake milk in our beers!
So, I think this fanzine can bring quite interesting hours of reading for hungry underground black metal fans. Stop clicking, and send your cash here:
Dariusz Gapski, Przytorowa 17, 05180 Pomiechowek, POLAND.
Email: gapraf@yahoo.com