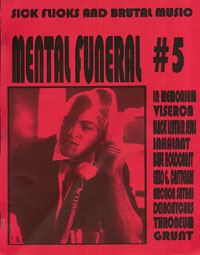 MENTAL FUNERAL #5
Finally, after some fucking shit of delays due to various email problems, job changes and laziness, I'm able to read MENTAL FUNERAL zine! As it was worth the wait enough for my putrid flashing screens. The content is very underground and more varied than the usual suburban zines, as it takes both from Grindcore, Death metal, black metal, harsh noise/ industrial... and movies! (There's an intie of a western movies direction and few reviews...). It seems the "No melodic shit" slogan would fit these pages... As you can see, it's varied but no homo or mellow! (He maybe got the fact open minded doesn't mean legs wide open! Ah Ah!).
The interviews are long enough and the questions work to make the interrogated ones speak. There are many reviews.
The lay out is cut 'n paste. There are some printing problems on few pages, but I think I'm the happy owner of a quite fucked up promotional copy! Ah Ah!
Anyway, I think it's a cool zine for those who have quite varied tastes stuck in the deep underground and who like to read.
Expect next issue sometime in 2006. (I think I'll have some copies in the distro).
Interviews: IN MEMORIUM, VISCERA, BLACK LEATHER JESUS, INHALANT, BLUE HOLOCAUST, ARCHON SATANI, DEINONYCHUS, THRONEUM, GRUNT, ENZO G. CASTELLAR.
Contact: MENTAL FUNERAL, PO Box 6609, BRIDGEPORT. CT, 06606, USA.
Email: mentalfuneral@hotmail.com