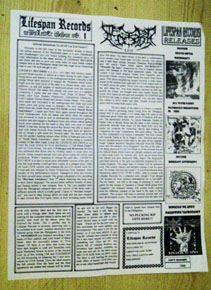 LIFESPAN Records Newsletter #1
This is a newsletter about underground metal from the Philippines, thrash, black, death and affiliates.
Contrary to the usual newsletters I saw the last years, it doesn't contain reviews or interviews but only news (So one could say it is something like a "real newsletter").
It contains quite detailed infos about what happened and will happen for local bands, with for example Paganfire, Pathogen, Incisor, Interment, Demonic and others; As well as the activity around LIFESPAN Records (which released mostly philipinese bands).
It's composed of a two sided A4 page, with compact text.
Apparently it was published in 2010, and I'm not sure if it's still released (The editor seems to focus on his band), but I know it's nice to read such kind of underground paper to learn more about your local underground.

c/o Ser Edward R. Natividad, Maulawin Street Green Village Subd., Sta. Cruz, Laguna 4009, Philippines.
Email: morbidlifespan(a)gmail.com;