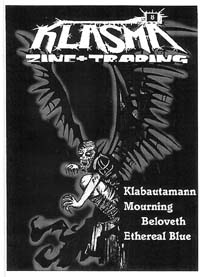 KLASMA #8
Here's a nice looking 24 pages mini-zine focused on underground subjects, and dealing with extreme metal.
Since it's german written, I can't tell you much about the content, except there are interviews with MOURNING BELOVETH, ETHEREAL BLUE and KLABAUTAMANN and about 40 reviews.
The guy is a reliable trader, distributes his zine for free and runs a small underground mailorder, so it could be a good idea to get in touch with him if you need some promotion in Germany!
c/o M. Riedel, Falkenstr. 73, 73035 Göppingen, GERMANY.
Email: klasma@gmx.de