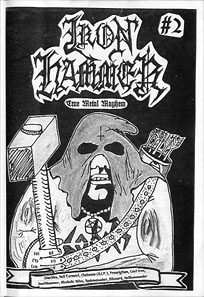 IRON HAMMER #2
It's time to get hammered for the second time with this new issue of German old school metal fanzine IRON HAMMER. I'm quite glad to see some improvements has occurred since the first strike that wasn't skull breaking enough, now the content is more "more"!... But wait doesn't "More more" sound a bit too fresh and happy like some funny ANTHRAX-style thrash metal band from the 80's that weren't METAL enough? It might be, because the content of the zine is still into quite ugly old school metal that apparently wouldn't show much mercy to sober posers... Anyway, I prefer this new issue because the content of reviews show more personal opinions, so some average/ bad reviews can be tasted this time... And there seems to be more reviews... The interviews also seem to be quite longer and more talkative, maybe he found some nice tricks such as "Sending some free beers with the questions", "Asking his girlfriend to cum all over the page and give hem some underwears" or "Hiding a bear into the free beers mentioned before"... But my opinion might also be a bit fucked by the fact I changed job something like 3 times since the previous review was written and so I'm not in the perfect position to make something totally coherent (At least you know this factor could mislead my opinion… Re-browsing the older zine wasn't enough, I feel like in a spatiotemporal washing machine sometimes…).
The content is still globally cut and paste in A5 pages, this time the texts are written a bit smaller (Which is better) and as always the libidinal teasing can vary from a band to another (Didn't listen to all the interviewed outfits, but I found less "weak bands" as far as I'm cumcerned).
If you're into the current wave of underground «metal metal» bands that take it very old school, might it be thrash, black, death or heavy, and if you spend some time in the underground dust with your friends the termites, you might get into the pages of this zine that choose a nice way: Improvement while remaining metal.
Interviews: RADEMASSAKER, BLIZZARD, ALCOHOLIC RITES, SHACKLES, HELL TORMENT, HELLKOMANDER, DEATHHAMMER, CAST IRON, CHAINSAW/ PROSELYTISM...
c/o Marius Greza, Banrain 10, 73660 URBACH, GERMANY.
Email: ironhammer@arcor.de