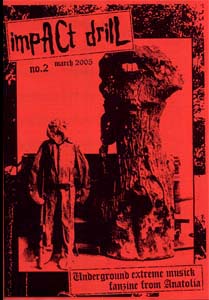 IMPACT DRILL #2
This A5 sized fanzine is run by an underground guy who also takes care of SUKK Prods, a Turkish DIY label specialized in tapes and CDr... Some of the peoples who usually visit the forgotten paths of snail-mails, and still happen to paste flyers on their ugly walls, probably already know the content deals much more with blastasfuck and noisechaos, than death and putridity. In clearer words, the content is more focused on the the grind side, than the metal side of the extreme, even though the whole remains quite opened to various extreme styles.
The zine looks clear, it was cut and paste, but in a clean way. There are a lot of little things everywhere; you could find a lot of reviews, cool live reports (Hungary, India, Macedonia) plus two interviews (ONE STEP BEYONG, BARBATOS).
This is the typical underground fanzine, so there's no real surprise, but nothing really bad either... I regret there aren't more interviews (Interrogate them all!) and the reviews aren't more cutting the flesh like razors.
You can get in touch with him for reliable underground business of death.
c/o Semih Orhan, Fethiye Mah, Isiktepe cadn Akkent Sitesi n/3 Nilufer, Bursa. Turkey.
Email: impactdrillzine@hotmail.com