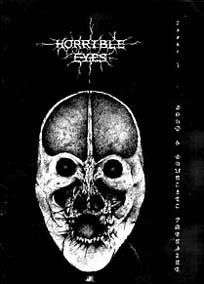 HORRIBLE EYES #3
When I received this fanzine I said AAARRRGGGHHH! This third issue of HORRIBLE EYES Zine looks impressively dark and heavily packaged with many obscure underground metal bands everywhere! This is full of articles rather focused on the old school Death and Black metal bands, with few tendencies for Doom, and the artwork looks professional yet with a dark underground edge! So you can read a lot of honest enough reviews and quite long interviews with: FURZE, STARGAZER, GOSPEL OF THE HORNS, WATAIN, NECRODEATH, NORTHWINDS, REVEREND BIZARRE, KATHAARIA IRON MAN, DEMONCY, INFERNAL, PERDITOR, ARES KINGDOM, GOATFIRE, ALTAR OF PERVERSION, UNCREATION'S DAWN, KATHARSIS, SUBVERSION, DROWNED...
The packaging reminds me the good old TALES OF THE MACABRE Zine (Cult!!), but HORRIBLE EYES tastes like an improving method of this great zine from the past since the reviews are longer and the zine is bigger! As a bonus: Two posters of PENTAGRAM and WAR HAMMER.
As always tastes can be discussed, the choice for this band to be interviewed or the way that review says one band sucks isn't always of my taste... but HORRIBLE EYES does it informative and expressive enough to please the underground ones who always search for real metal infos and an heavy obscure reading! This is the way semi professional underground zines should look and taste! Total underground motherfuckers! Worth reading for sure! Get it and drown in their 88 pro-printed pages of darkness!
c/o HORRIBLE EYES, PO Box 0648, 09006 CHEMNITZ, GERMANY.
Email: horribleeyes@web.de