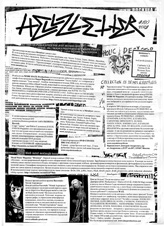 HELLZLETTER #1(1)
Funzining is very nice, but sometimes it's a bit too much of patience and some peoples feel like they need to ejaculate now! So it's time for newsleterring.
This "infoletter" is written in Russian, on the first matriochka side you can find news of Ug stuffs that occur in Russia, on the second matriochka side you could read some music reviews and a few more news... Well, "read" might be a quite big word since Russian is not a very sexy language, when I see the letters I imagine old caviar boxes, rusty elder boats, or factories... The visual aspect is more or less "severed and glued" (Weren't you bored with "cut'n paste"?) but the texts were computer typed.
This page of newslettering was done by the guy of WINGS OF DEATH recs and the guy of DEAD CENTER Recs.
The emails:
Wod_prod(a)mail.ru
Dcpacz(a)gmail.com